I have this sort of love affair with linen. Anytime I'm asked what my favorite fiber is my response is always linen. If I could marry linen and have little linen babies, I might just do that. You get the picture.
We recently added 6 glorious new shades to Flax, our 100% linen yarn in the Fibra Natura line.  When I started out to do this Weaving Wednesday project, my first inclination was to do a sort of sophisticated plaid, using mostly the new Flax shades. I had a skein of every color of Flax laid out on the floor, grouping them together, ungrouping; just playing around. Before I knew it, I had a rainbow all lined up begging to be used! Unable to say no to the pretty arrangement, I immediately began direct-warping my 15″ Cricket.
I like my scarves wide. I decided to use up every last hole on my 8 dent reed and make the most of my 15″ weaving width. For anyone wanting to reproduce this scarf, here are the specs:
Colors used:  102 Poppy (A) , 03 Orange (B), 02 Tangerine (C), 01 Lemon (D), 101 Butter Cream (E), 104 Wild Lime (F), 12 Tarragon (G), 11 Adriatic (H), 103 Regatta (I) and 18 Pewter (X). Pewter is the only new color I ended up incorporating. I decided the rainbow needed to be tamed with a dose of neutral. I used only about 1/3 or so of each 50 g skein. If I had it to do over again, I would have warped 3 times as long so I could have gotten 3 scarves!
Because I wanted a very drapy scarf, I went with the 8 dent reed. I'm going to touch more on choosing reed size in future posts. But briefly, a good rule of thumb is to go with a reed size that is half of the WPI (wraps per inch) of your yarn if you want a fabric of "average" density. Because I wanted a more open scarf, I chose a reed that had fewer than half the WPI so there would be more space between strands. My threading went: 12A, 12B, 12C, 4X, 12D, 12E, 12F, 4X, 12G, 12H, 12I; then at each end I did 2 double strands of X. My warp length was about 100″; I also like my scarves plenty long.
Be sure to click on each image for a nice close-up!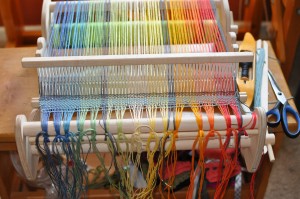 I wove a few picks with scrap yarn and then started right in with my color progression without doing a header. I decided I wanted natural looking ends without the structure of a header. Because I like to do things the hard way, I decided to weave according to my warp, in the same order, thereby making checks. Because there's so much going on with color in this project, I decided to stick with plain weave. I started out with 4 picks of X, then 12 I, 12H, 12G, 4X, and so on.
Because the warp threads are spaced on the airy side and my goal was to have checks of color that were as tall as they were wide, I was very conscious of my "beating" of the weft thread. Instead of firmly pushing the weft down, I was sure to have a gentle hand and simply push it into place. After a couple of color changes, I measured the work on the loom to make sure I was on track. I could see my touch was a little too gentle, so I started again, pushing a bit harder. Hand weaving isn't an exact science; it takes the right touch, just like any other craft.
Which brings us to our next lesson: adding in new colors to a row.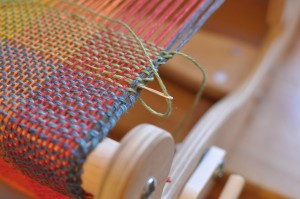 Every time I started a new color, I began from the opposite side (right or left), so the ends wouldn't be all grouped on one side of the scarf. I wove a few rows, and then wove in the ends. It's easier to do this while the piece is still taut on the loom and also nice to not have a bazillion ends to deal with at the finish. I have a special tapestry needle that I use whenever I'm working with Flax. It has a large enough eye that the strand easily passes through, but with a sharp point. Plant fibers are slippery and require special care when dealing with.
When weaving in the ends on my scarf, I basically "wove" this strand in, following the strand just above it, but actually pierced the yarn as I wove. So, not only is this strand "woven" in, it is also further secured through the center of the strand above it. Once woven in, I clipped it but left a couple of inches. After washing, I then clipped all the strands close to the piece.
You may have noticed a fun looking thing back in photo #1, which is a special shuttle called a boat shuttle. The Cricket comes with stick shuttles which work just fine, but it only comes with 2. Since I was weaving with 10 different colors, that wasn't going to work for me, as having to rewind a shuttle every other color sounded like a lot of work. Schacht also sells boat shuttles, and these are really handy for weaving with many colors. Inside the "boat", fits a little plastic bobbin. You can purchase these bobbins by the dozen typically, and they're pretty inexpensive. You can wind them by hand, but I love to use the bobbin winder on my sewing machine.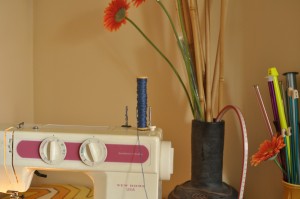 After doing 5 repeats of my striping/check sequence, 75″ of weaving, it was time to call it quits. I'd decided prior to starting the project that I was going to finish with twisted fringe. I separated my warp strands into groups of 4, and twisted it up. Although I don't have any in-progress pics of doing that on this particular scarf, here's a handy quick video of the technique:
After twisting all my fringe I threw my scarf (with the woven-in ends still hanging off the scarf, unclipped) into the washer on a gentle cycle and warm water. Even though the yarn label says not to machine dry, I've had good experiences washing and drying knitting projects in Flax, so I threw my scarf in without hesitation. It came out soft and with incredible drape. The finished size on the loom was 15″ x 75″; final size after blocking was 13.75″ x 72″. Because the weaving was so loose, there was fairly little draw-in, which is what I wanted! The only thing I wasn't crazy about were my edges. To be fair, they didn't look so great on the loom either, or before going into the washing machine.
Not to be discouraged, I decided it was time to break out the sewing machine once again. I had the perfect piece of fabric in my stash – a nice lightweight grey-blue rayon blend. I cut 2 strips (straight on the grain, no bias) that were 75″ long x 1.5″ wide. I folded in the sides, sandwiched my edges, folded under the edges, and sewed it onto the sides of my scarf, much like a single-fold quilt binding.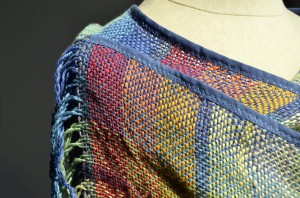 I'm wearing this new scarf draped around my neck this very moment. Although it's sweltering here in North Carolina right now, this is the perfect thing to give me a little warmth in our air-conditioned offices.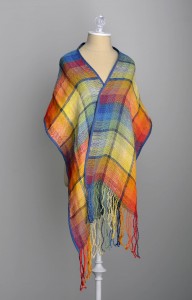 Getting tired of plain weave? So am I! I love the look of a plain woven fabric, but I'm ready to move on. Join me next time for Garden thread and pick-up patterns!