One of the super fun parts of my job is getting to see projects other people are making in our yarn. Recently, Linda Davis, owner of Tail Spinner in Richlands, NC sent us photos of a fantastic weaving project. Although not woven on a rigid heddle loom (as most of our projects  in this column will be), I had to show this beautiful throw to the world! Made in Deluxe DK Superwash this throw will be able to be machine washed.
Meet Claire, a high school student local to Linda. Claire doesn't knit or crochet (yet!), but her favorite subject in school is environmental science. Here are some details on this lovely project, courtesy of Linda:
In our county, each senior is required to do a project their Senior year to learn about something which they had never done before.  Claire's grandmother has a countermarch, 8-shaft loom that she wants to give to her, and Claire was very intrigued by the thought of weaving.  So, she decided that learning to weave would be a great project.  She found out that I taught weaving after some investigating, and she called me last September to see if I would mentor her for her Senior project.  I said I would be glad to, and we proceeded on with her journey.  Her first project was done on the rigid heddle loom.  She created a moebius scarf using chenille and ribbon as the warp on an 8-dent heddle and weaving loosely with a simple fingering wool.  Then, we moved on to doing the throw on the 32-inch, four-shaft table loom, using a 10-dent reed.  She used the Deluxe DK Superwash for both the warp and the weft.  The throw is basically a sampler using a point twill.  She had to choose the yarn and the colors and decide the repeats of color throughout the warp and then figure out the weft repetitions.  Another of Claire's assignments was to select the patterns she wished to use and alternate them every nine inches.  She chose a Bird's Eye repeat over 6 ends: 3/2/1/2/3/4; and then, she mixed up the patterns using 2/2 and 1/3 twills.  So, she essentially designed the whole piece, which ended up being 30 inches wide and over 60 inches long.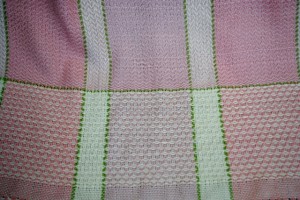 Thanks Claire and Linda!