Do you think I just came up with that out of the clear blue sky? Ladies Who Lunch? Nope, not me; but I love it! This is the title of the scarf project for this week's weaving Wednesday, taken from Jane Patrick and Stephanie Flynn Sokolov's book, Woven Scarves, 26 Inspired Designs for the Rigid Heddle Loom.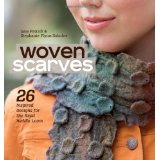 If you haven't seen this book, I'm here to tell you it is inspiring, creative, and full of beautiful scarves all woven on rigid heddle looms. As I was deciding on a project for the blog and happened upon the Ladies Who Lunch scarf, I knew we had two yarns that would be just perfect: Felicity, a shiny ladder yarn with a unique a luscious wool slub; and Whisper Lace, the sweetest wool/silk laceweight yarn in our Fibra Natura line.
I don't want to give away too many details since this is a pattern in a book. But here are some in progress photos.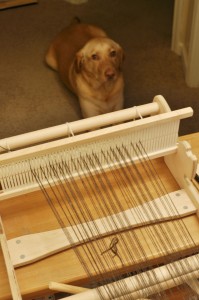 In order to direct-warp to the loom I altered the warping plan slightly. Suzy, my yellow lab, may or may not approve of this plan. It's hard to tell with her sometimes. I typically clamp my Cricket to a bench while I'm weaving. Here, this bench is in front of the door to my weaving/sewing/yarn room, blocking Suzy from entering. For this, she absolutely does not approve.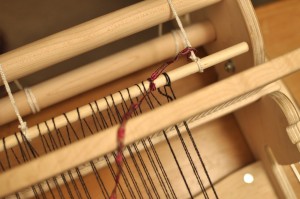 While warping the Whisper Lace (dark gray yarn), I left empty slots where I would later attach the Felicity (ladder yarn).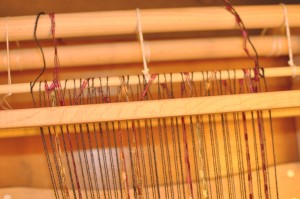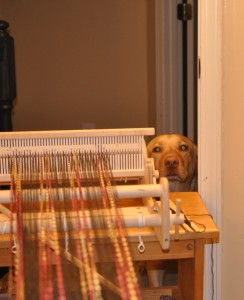 Yes, Suzy, it's almost time to un-dog-block the door.
I'm pretty sure I said some unfair things about plain weave a couple/few blog posts ago. We had started out with a couple of simple projects and I was all raring to learn new tricks. But you know, plain weave doesn't have to be "plain". With some simple color changes and interesting yarn choices, it can be anything but "plain"! I am so sorry plain weave, I never meant to hurt your feelings.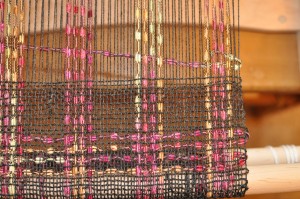 As you can see, this is really just plain weave plaid. But with the textural difference between the  two yarns, this piece of weaving is really fun!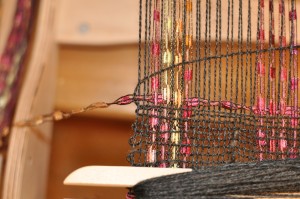 We've been working with machine washable cottons over the last few projects which has been nice! But this scarf is on the delicate side and required a gentle handwashing. After tying some simple fringe and said washing, ta-da: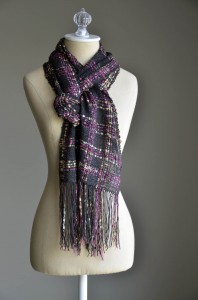 Incidentally, Heather Hill who does most of the blogging around here also does most of our in-house photography. She's responsible for making things look super-awesome. Thanks Heather!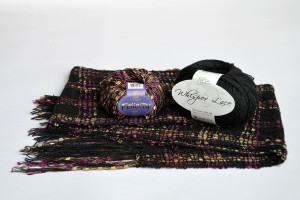 The scarf pictured took just one ball of Felicity 02 Autumn's End and one ball of  Whisper Lace 111 Charcoal. The price is right, and the weaving is fast.
See you next time with some more speedy weaving, color-shading style!