I've seen it in myself many times before, and it's been so much fun to see it in my coworker, Katie: the New Craft Addiction Honeymoon Period. After we had a little learning session here in the office with basic warping and weaving, Katie took home the 15″ Cricket to play with. It was quite evident from the three (yes, 3!) scarves Katie finished over the course of just one week, that Katie had been bitten by the weaving bug. Today, I want to talk about two of these scarves.
Both scarves were taken and adapted from Jane Patrick and Stephanie Flynn Sokolov's book, "Woven Scarves", and both used an 8 dent reed.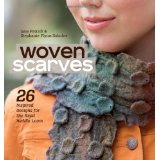 The first was based on the "Chunky Check" pattern from the book. It's a plain weave technique that's all about strategic color change in both warp and weave. Katie used our Ready to Dye angora blend yarn for warp and weft. Half was undyed, and half was dyed using…get this…Crystal Light packets! I've heard of Kool-Aid dyeing before, but never Crystal Light. Makes sense it would work in the same way!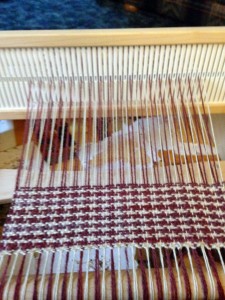 Here's an in-progress pic. Katie is obviously a natural – her selvedges look perfect.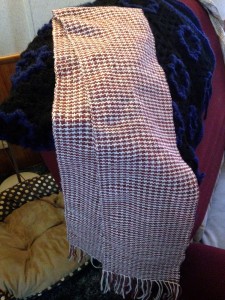 Off the loom. Katie opted for hemstitching at each end with tied fringe. This scarf took only about a third each of her two Ready to Dye hanks.
And beauty shots here in the office. Katie gets tired of hearing me harp about the importance of blocking. But look what a difference it makes! With a few exceptions, I never consider a knit, crochet, or woven project to be complete until either wet or steam blocking have happened.
Scarf number two is based on the Posh Plum scarf from "Woven Scarves". This project is another excellent illustration of how plain weave can often look anything but plain. Two yarns, in this case Llamalini and Whisper Lace, both from our Fibra Natura collection come together in an indescribable harmony. Colors are 204 Cloudy Morning in the Whisper Lace, and 101 Birchbark in the Llamalini.
Because Whisper Lace is a laceweight yarn, working this project on an 8 dent reed made for an extremely light, airy scarf.
Here it is on the loom, and just off the loom. Katie also went with hemstitch and fringe finishing on this scarf. After handwashing, it measures 80″. Can you believe she used less than a ball/hank of each yarn?
As you can see, Heather really likes this scarf; lots of glamour shots! I must say, I covet this one myself.
Stay tuned for next time when Weaving Wednesdays breaks into fall projects!