If you've been following along with our Uptown Afghan knitalong, you'll know that we're on a plaid kick 'round these parts. There are few patterns as timeless or versatile as plaid. Whether knit, woven, watercolored, or expressed in some other form, there's a plaid out there for everyone.
With autumn approaching, I decided it was a great time to do another exercise in woven plaid. We've been doing lots of scarves and other smaller projects on the Cricket tabletop loom. But did you know it's possible to make larger items like blankets on it? Natural-born weaver Katie agreed to take on this project.
To start, I picked out some skeins of Deluxe Worsted Superwash. We often have extra skeins here and there sitting around the office. To be conservative and use what we had, I picked the following 6 colors from our "honker" area:
Katie dutifully wove and blocked a swatch with the Superwash using an 8-dent reed, so we knew about how much take-up there would be in the finished pieces.  Next I had to do a little math. I decided a 36″ x 50″ blanket would be a nice size for a couch, and could be done in 3 separate panels. A 14″ woven piece would shrink up to about 12″. 14″ of weaving on an 8-dent reed = about 112 ends.
From there, it was time to plan the actual plaid pattern. I often turn to a graphics program like Adobe Illustrator when planning designs, etc. But for this project, I decided to see what the internet had to offer in terms of apps. I was not disappointed! I came across this website: www.plaidmaker.com. I was able to customize a plaid pattern and mirror it, using any colors I chose, any number of strands per color, etc. It was super easy! I ended up transferring the pattern to Adobe Illustrator so I could easily make notes on how many ends per color, etc: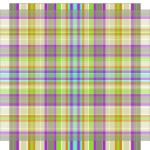 I also wanted to do a full mock-up of the finished blanket, just for fun: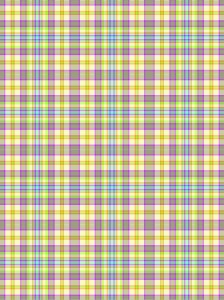 The above mock-up represents 3 panels, each identical. One panel is woven following the same plaid in the warp. After doing some quick calculations, I determined Katie should be able to weave the entire blanket using 2 balls each of 728 Pulp & 729 Neutral Grey, and 1 ball each of 721 Honeysuckle, 709 Lime Tree, 705 Orangesicle, and 739 Turquoise. Who says plaid has to be boring! I ran the plan by Katie and got her approval.
Here are some in-progress pics from Katie:

Katie makes great use of the warping peg. I can't say enough good things about the ease of direct-warping to the Cricket!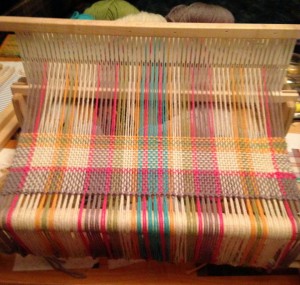 Katie shows off her hemstitching. She plans on finishing the blanket with a natural fringe.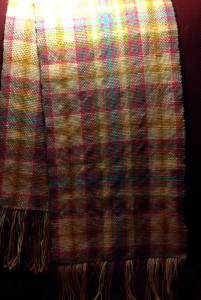 And…panel 1 complete!
I really do find plaid fascinating. The way the colors blend can be entrancing, depending on whether a particular strand is crossing over another strand of the same color or a different color; it's like an optical illusion.
Be sure to check back in a couple of weeks for a finished blanket, some how-to photos for sewing the panels together, and some beauty shots from Heather!