Win a magazine and yarn! Keep reading!
One of the many fun parts of my job here at Universal Yarn is getting to see all the new projects about to go live in magazines. Not long ago I received an email and photo from the folks at Crochet! Magazine letting us know about an adorable pair of slippers made in our Deluxe Worsted Superwash yarn. This project is the Lucy Slippers by the talented Dora Ohrenstein.
This particular issue of Crochet! is jam-packed with tons of great projects. We're so proud to have our yarn featured in such a cute, wearable item! I was so excited about these slippers that I wanted to do a small crochet along here in the office. Katie in customer service (you may know her for her recent weaving obsession) is also an avid crocheter. She was happy to participate!
Katie decided to do her pair in the same yarn used in original Lucy, but opted to mix things up by using several different colors. She chose 709, 710, and 731. After skimming the pattern and construction, I decided these would look great in one of our self-shading yarns. Poems was my yarn of choice, in color 584 Aurora.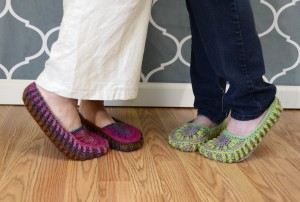 We're partnering with Crochet! magazine to bring you a great gift, either for yourself or a loved one. We're right on the tip of the beginning of gift-crocheting season, right? All you have to do is answer this question in the comments:
Who would you make the Lucy slippers for, and why?
One lucky winner will receive  a copy of the Winter Crochet Gifts in 1-2-3 issue of Crochet! Magazine, 2 balls of Poems and 2 balls of Deluxe Worsted Superwash in colors of her or his choosing. The cut-off for the contest is midnight, September 30. We can't wait to hear your answers!