Ever since I acquired a variable dent reed for my 15″ Cricket, I've been wanting to play around with it.  I happened upon this blog post by Jane Patrick over at Schacht, where the folks there had a variable dent reed challenge a few months back.  Jane based her scarf on one from "Woven Scarves" by Stephanie Flynn Sokolov. Here, I present you with my scarf based on Jane's scarf based on Stephanie's scarf. Whew!
First, let's touch on this variable dent reed. It is just what it sounds like: a reed that can have varying dents in it. This is achieved by having multiple pieces of the reed with different dents (widths of holes) which can be arranged to one's liking in the wooden frame of the reed.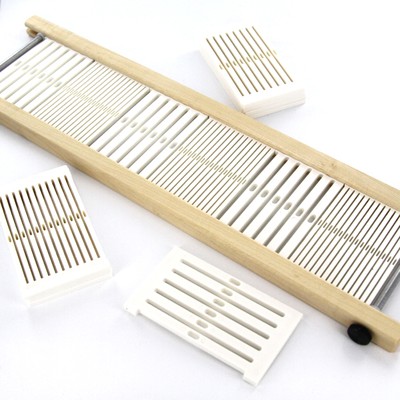 For my scarf, I arranged the dents such from right to left such that I had 1×12 dent, 1×10 dent, 1×5 dent, 2×10 dents, and 1×12 dent.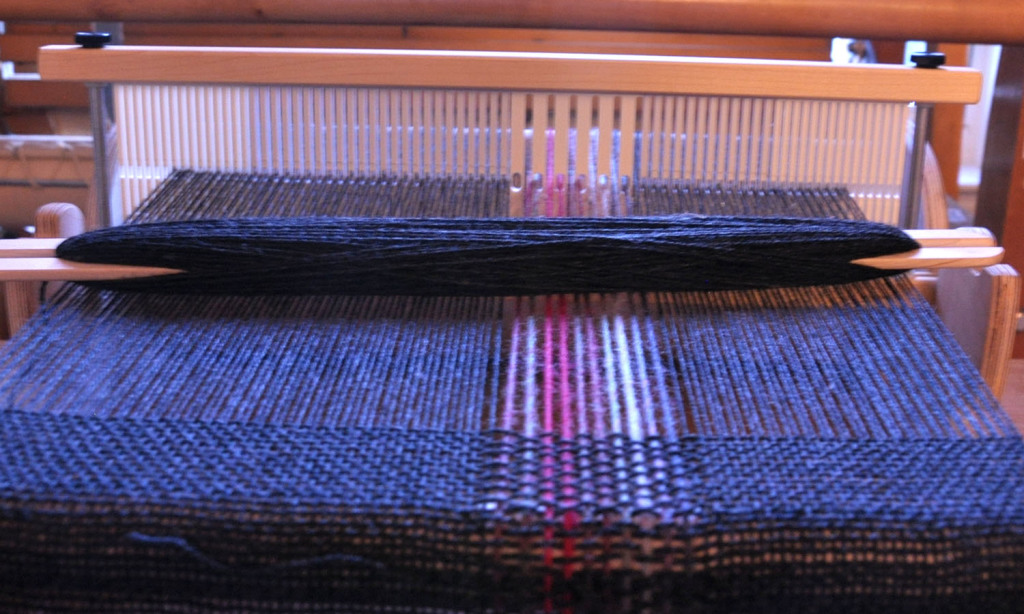 I warped my Whisper Lace #111 through the 10 & 12 dent sections, and Poems #606 through the 5 dent sections. Poems is 100% wool, meaning it has the capability of being felted. Stephanie's original scarf employing this method is a brilliant way of taking something simple and adding interest. As you can see, the scarf is just plain weave using Whisper Lace.
I hemstitched both ends and added knotted fringe at each end.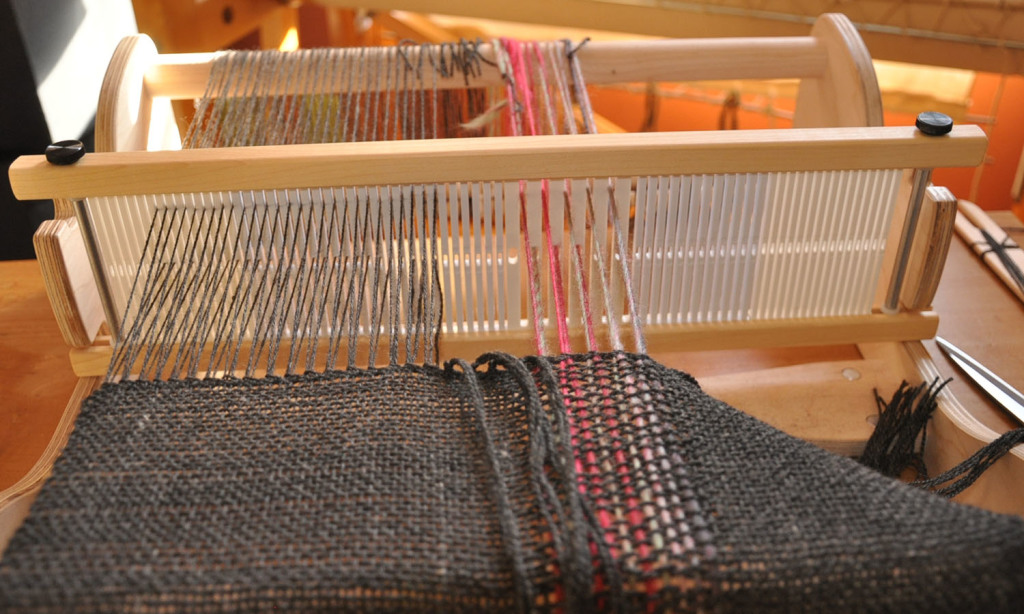 Directly off the loom, it's a perfectly nice scarf.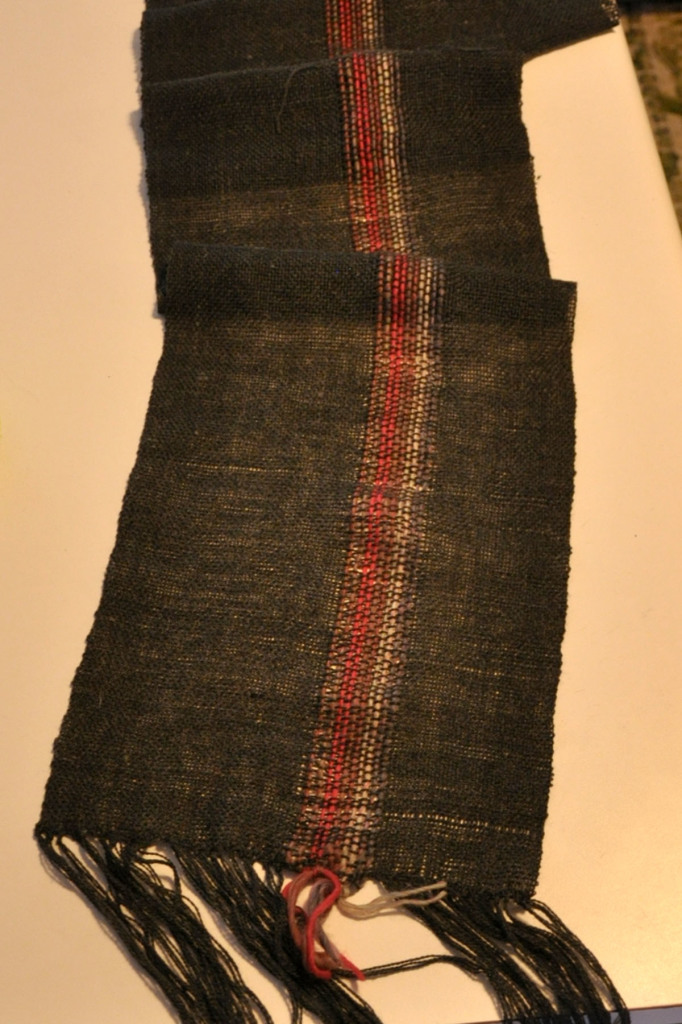 I love the way Whisper Lace weaves up. It has a great classy yet rustic feel. But the real magic is yet to happen! Off the loom, I then hand-felted the center stripe of Poems, causing the yarn to shrink up. The result of this shrinking, is that the surrounding yarn that was not felted gathers causing a gentle ruffle.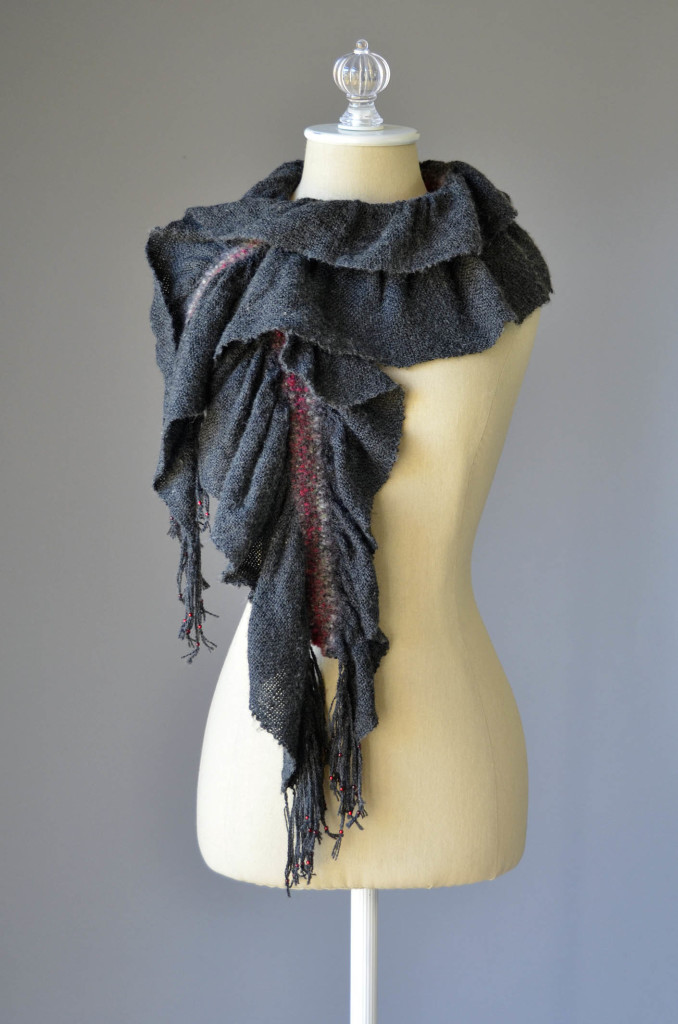 Because one side of the Whisper Lace is narrower than the other, it can overlap for a nice layered look.  Stephanie's scarf in the book incorporated beads on the fringed edge, which I really loved and wanted to do for my scarf too.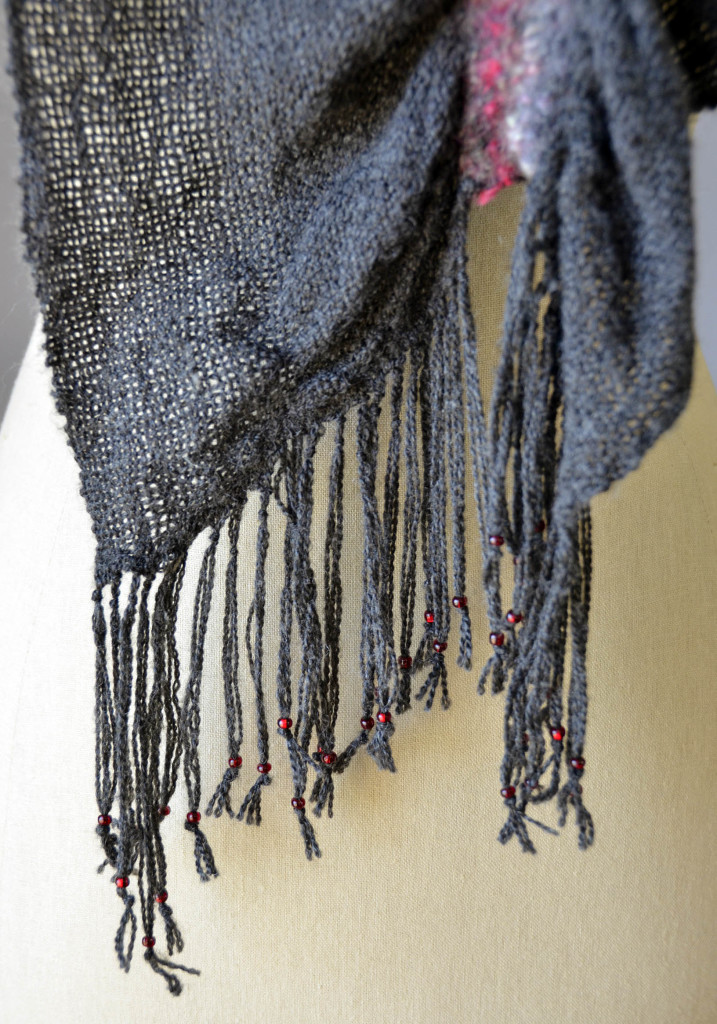 When hemstitching, I had grouped my ends into 3s. I added a single bead to each group of 3 ends and tied a couple of knots to secure. I had this project on the loom a couple of weeks ago when we were at Stitches East in Hartford. I knew at that point I wanted to add beads, and found just what I wanted at the Bead Biz booth: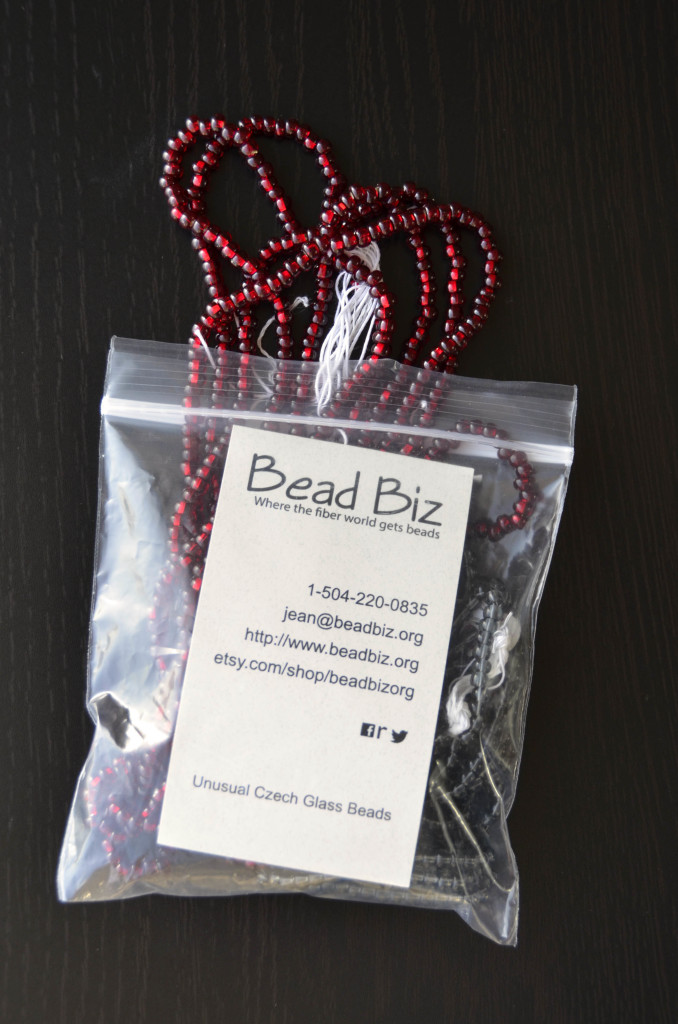 Beautiful glass beads, and very affordable! I only used a small fraction of what I purchased, so now I'm feeling the need to incorporate more beading into my projects!
For anyone wanting to make their own felted center scarf, here are my specs:
Whisper Lace, color 111 Ebony, 2 balls (I used only 1 1/2); warp and weft
Poems, color 606 Time Travel, 1 ball (I used only a small portion); warp only
Warp Length: 100″
Width on loom: 13″
Scarf off loom: 12 1/2″ x  85″
Center stripe after felting: 45″ long
Weave structure: plain weave using Whisper Lace only
I think I've just embarked on a felting kick. Join me next time for more adventures in intentional shrinking of yarn!