It's Throwback Thursday!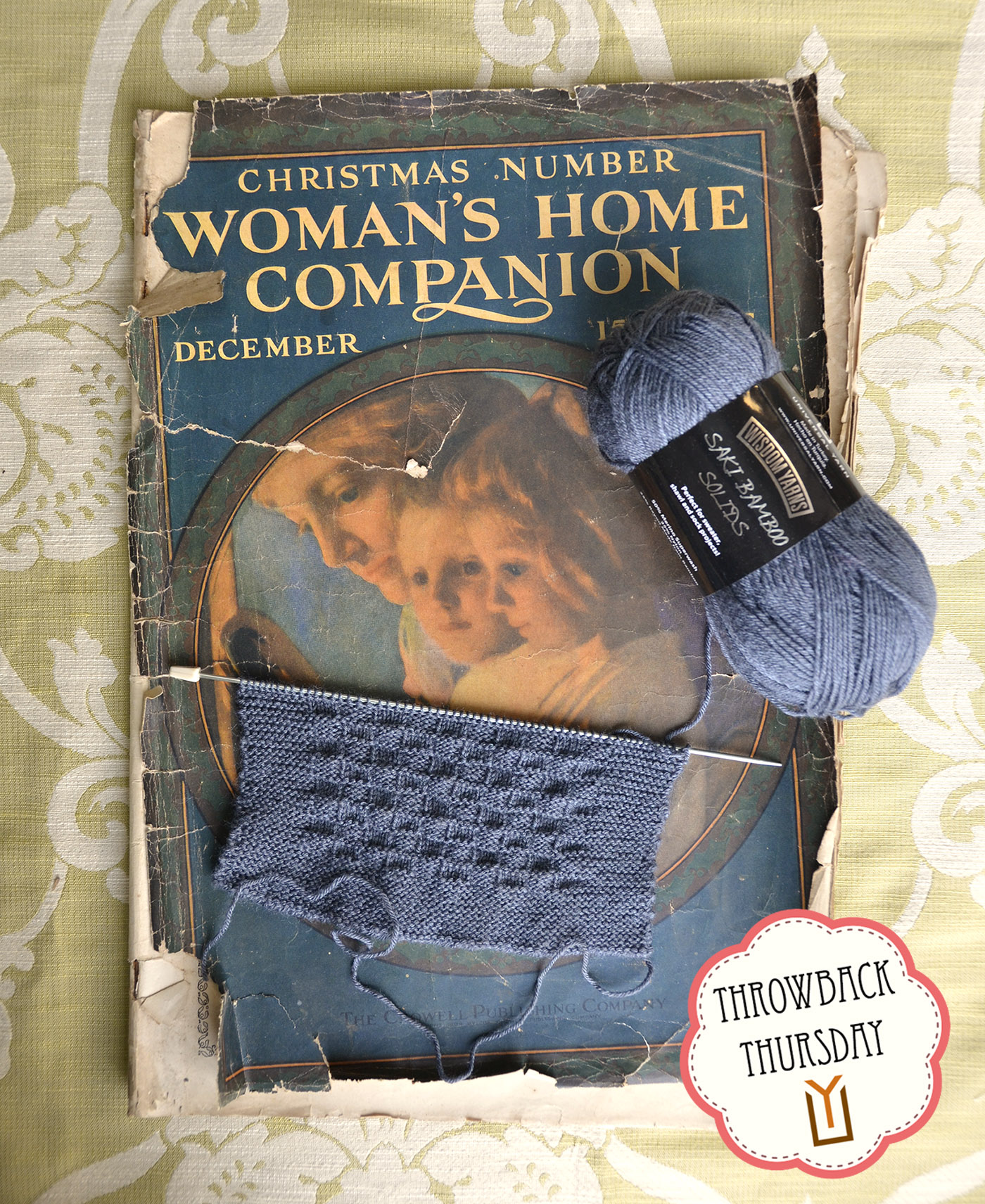 Today, we're throwing way back.  A century back.  Let's look at the Knitted Motor Scarf from 1909.
I love to look at old craft magazines for inspiration.  This week, I turned to a special Christmas edition of the December 1909 Woman's Home Companion and decided to try one of their gift suggestions.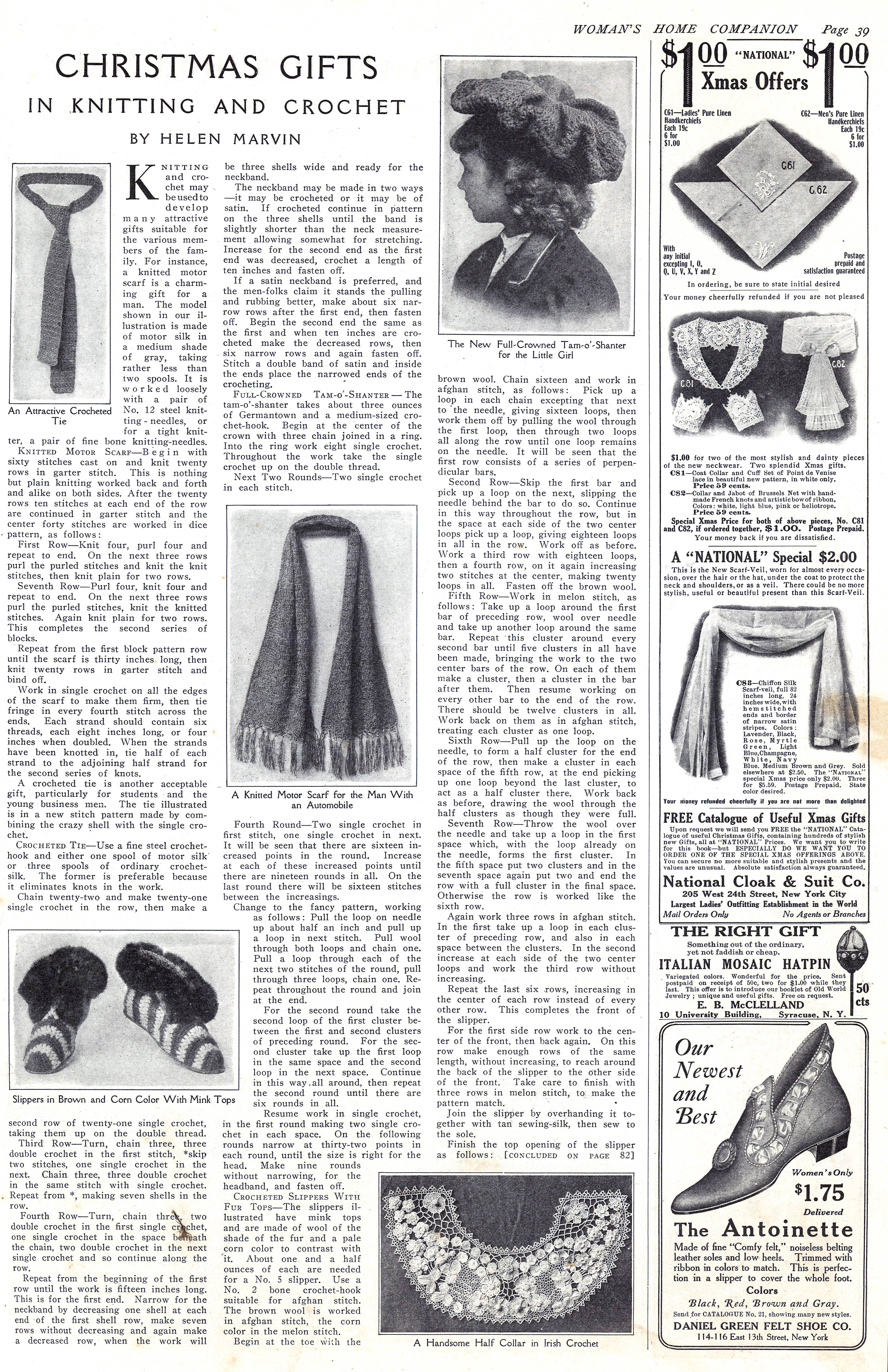 The photos aren't that great, what with it being near the dawn of the 20th century, so it's hard to see exactly what's the finished objects look like.  But smack in the middle of the page is a picture of "A Knitted Motor Scarf for the Man With an Automobile."  Well, I know a man with an automobile, so that sounds like a winner to me.
First obstacle in the pattern: "made of motor silk in a medium shade of gray."  I have no idea what motor silk is, and for once Google has failed me.  If any of you know what motor silk is, please write in.  I'm dying to find out.
However, what I do have is Saki Bamboo (230yds/50g).  This is a blend of superwash wool, nylon, and rayon from bamboo.  The bamboo should provide a good silky sheen and the nylon will give the durability that my giftee will need when he's out on the open road in his Model T.  I'm always happy to have a chance to knit with Saki Bamboo – it's very smooth and even, and has a medium gray (Color 211 Steel Grey) that should fit the bill nicely.
Second obstacle: "worked loosely with a pair of No. 12 steel knitting- needles, or for a tight knitter, a pair of fine bone knitting-needles."  Here, the internet does not fail me.  Fibergypsy's site says that No. 12 needles back then would translate to 2.25mm/US Size 1 needles today.  Great, perfect for my Saki Bamboo!  There's no gauge given, but I decided to cast on and hope for the best.
So I started to knit.  And knit.  And knit.  Actually, I'm quite enjoying this pattern, but… it's 60 stitches wide on tiny needles.  How the heck was someone receiving this magazine in winter supposed to obtain motor silk (?) and find time to knit this before Christmas?  Don't get me wrong, this is a good pattern, but given all the other knitting I have to do, I probably will not be polishing this off in the next 21 days.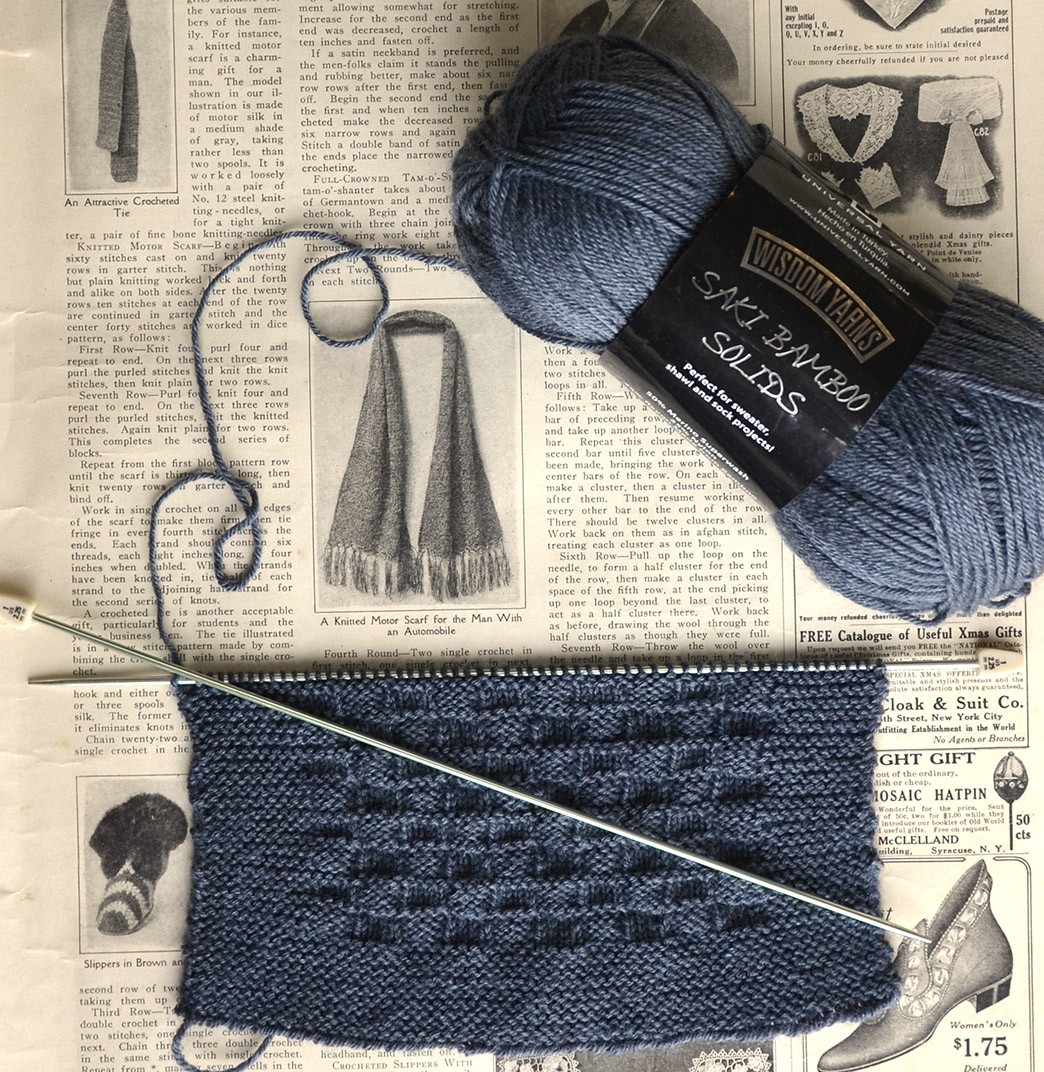 Nonetheless, it's rather elegant and quite easy!  The dice pattern is fully reversible, an excellent choice for a scarf.  So we've written it up in modern terms and shared it, along with the original version.  Please enjoy the Knitted Motor Scarf by Helen Marvin from the December 1909 Woman's Home Companion.  The magazine was originally 15 cents, but the pattern is free to you.
Happy knitting!