Bamboo Bloom Handpaints is a unique and lovely yarn. It's a customer favorite and is just so pretty on the hank: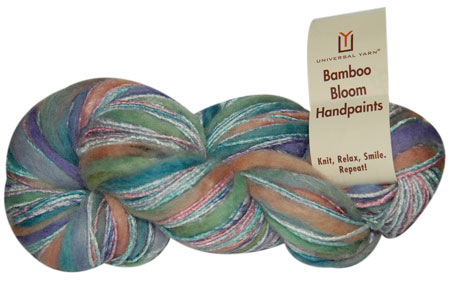 A blend of wool and rayon from bamboo, this is one of those yarns that doesn't need much in the way of fancy stitches or weaves. Its innate beauty does all the work! It's a thick-thin yarn with tufts of soft wool here and there.
We also just updated the palette with some scrumptious new colorways. We have some really nice one skein knit patterns for cowls, including this Persephone Cowl.
The beauty of this simple cowl is that all you do is knit until you come to one of those tufts of wool. At that point, you work a dropped stitch by yarning over which enhances the tufts. I wanted to try a similar technique, but with weaving.
First, I set out to warp my loom. For the warp, I chose Little Bird in color 113 Shoe Polish. I opted for this yarn partly because I wanted a light yarn that would allow the Bamboo Bloom to shine, and partly for its strength (100% microfiber acrylic). For this project I used a 10″ Cricket and the only reed size I have for this loom is a 12 dent. I knew I didn't want the scarf to be too dense, so I threaded only half the slots/holes, making it 6 ends per inch.
The weave structure is simple plain weave. The fun happens whenever the tufts of wool appear.  First I pass the shuttle through the shed, and then lightly beat.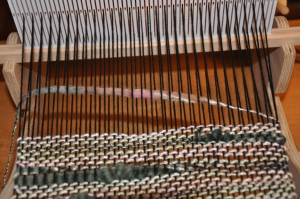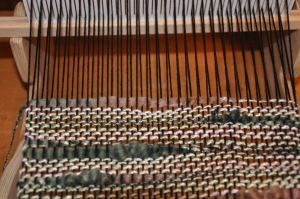 See where the thick wool slub is? I just used my fingers to pull up a little loop through the warp threads.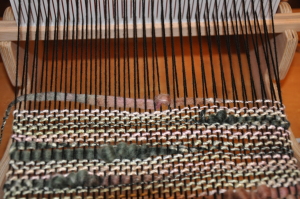 Then I pulled up 3 more little loops, and then beat again to hold everything in place.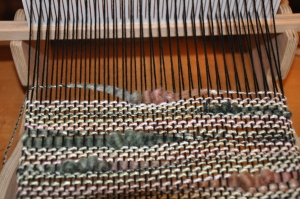 It's as simple as that! You'll notice that the wool slub extends beyond both sides of the 4 loops.  In order to avoid stacking the loops, I pulled them up sooner or later after the slub began so that a staggered effect happened. Just a little extra extra action makes this plain weave scarf more interesting to weave and to wear!
And now, dear friends, it's learning time. My weaving project did not happen without incident. I don't know where my head was while warping, but this was not my best warping job ever.
I made one crucial mistake: the paper I used to roll onto the back roller was not quite wide enough, so a few of my warp threads slipped outside the paper and had tension that was very different than the others. I really didn't even notice the problem I was about until about halfway into my scarf.
It began with a single warp thread that was much looser than the others. To combat this problem, I wrapped a double pointed needle around this thread behind the reed to even out the tension. Every time I advanced the warp, I would have to re-position the dpn.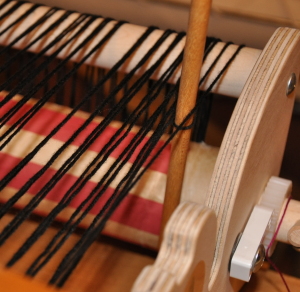 Then, after a few more inches of weaving, many of the surrounding threads were showing to be too loose. I inserted my pick-up stick underneath these threads to make the tension consistent with the rest of the warp.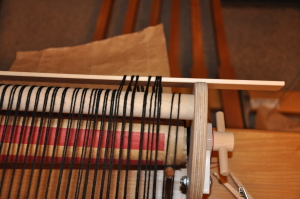 These are just a couple of the tricks I've used to combat my  occasional poor warping skills.  If you have any tips, I'd love to hear about them!
Oh yes, and the reward for sticking with it all is this: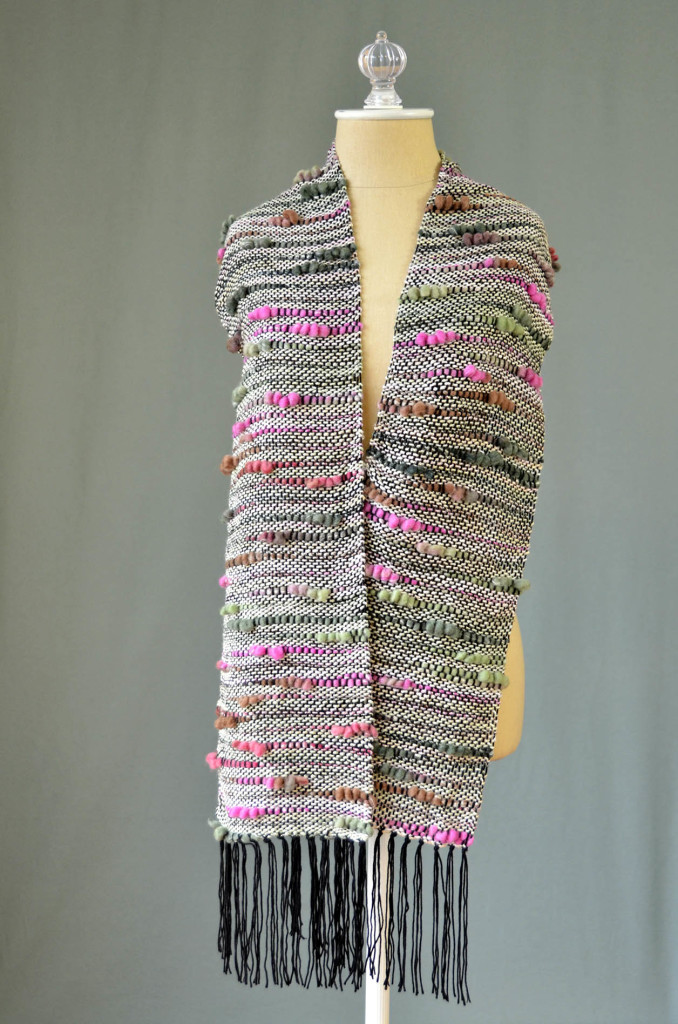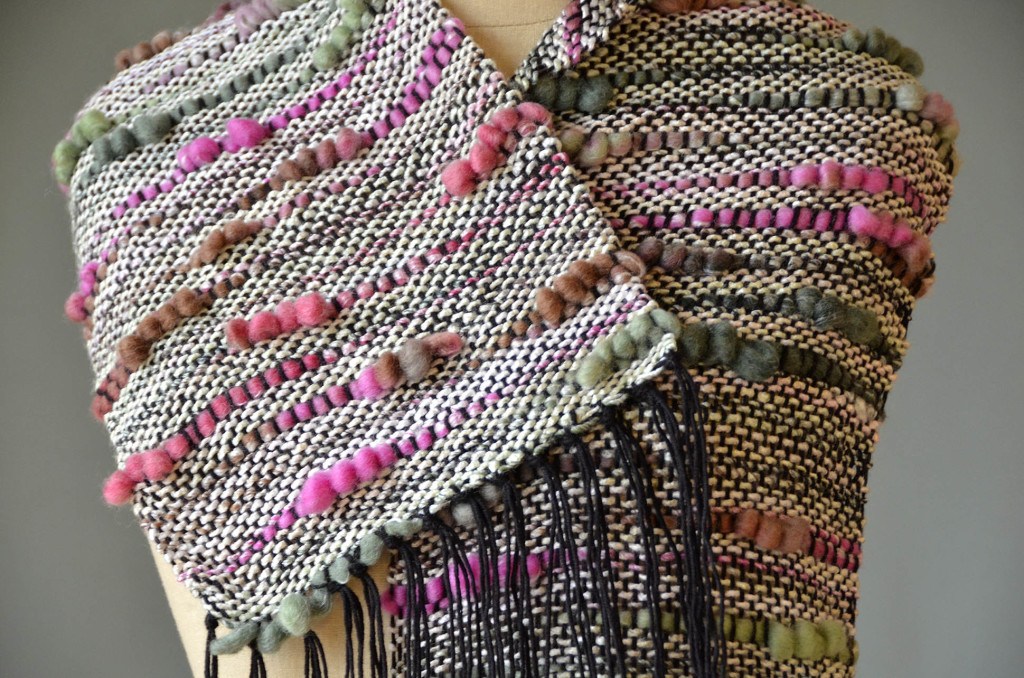 And here's what the back (loop-less) side looks like: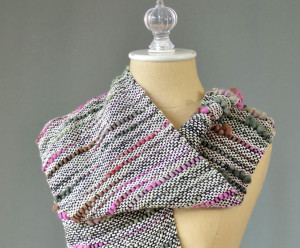 I used about half the 100g skein of Little Bird for the warp, and one skein of Bamboo Bloom Handpaints #315 Cherry Blossom.  I'm thinking these will make great last-minute gifts for a few special women on my list.