Confession time!  When it's cold outside, sometimes we break into the trunk show garments.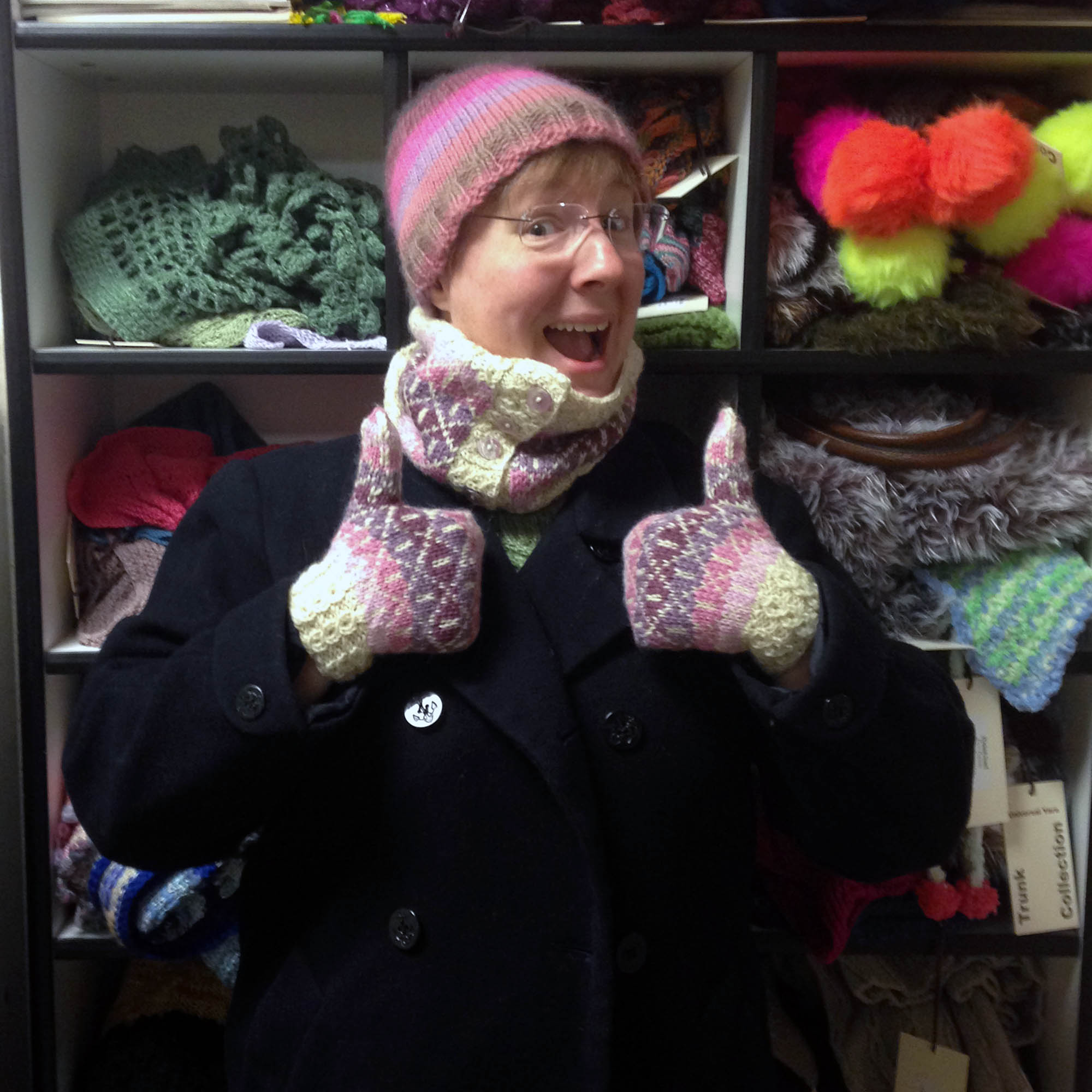 But come on!  How could we resist?  We are so fortunate to be surrounded by so many beautiful yarns and garments, and as knitters and crocheters we truly appreciate them.  The happy knitter above is me, Heather.  I'm wearing my own hat in Poems (1 ball of color 590 Sakura, US size 8/5mm needles, 84 stitch caston).
T
he cowl and mittens are part of Sandi Rosner's Rose Quartz Set in Deluxe Worsted 100% wool.  There's a hat, too, but mine matches so well I stuck with it.
Sandi's Rose Quartz set is available as a single pattern or part of the Walk in the Woods e-book, full of gorgeous colorwork and felted designs in Deluxe Worsted and Deluxe Chunky.  It's perfect for this time of year.
Also in Deluxe, I spotted our Design Lead in this stunning sweater the other day.  Valentina is one of my favorites.  It uses Deluxe Chunky 100% wool.  The pattern is written and charted with design features like lovely saddle shoulders to show off the cables.  It comes in sizes from 34″ to 54″ bust, and – believe it or not – is a free pattern.   Home run!
Our Sales Manager can frequently be found in designs by Yumiko Alexander like Braided Fog, recently made available online as a download or as part of Yumiko Warm Earth Book 3.  It also uses Deluxe Worsted.  Are we wearing a lot of Deluxe?  That's not surprising – it's great for cold weather.  I suspect, however, that our sales manager wears this not because it's warm but because it looks fabulous.
The best thing about being surrounded by these designs is that it's inspirational.  We find that seeing beautiful things awakens a desire to create something beautiful ourselves.  We hope you find inspiration and happiness in your crafts throughout this new year.
Happy knitting!