I am lucky enough to work with a great group of ladies here at Universal Yarn. We mostly consist of Yonca (sales manager), Heather (social media goddess), and Katie and Jackie (customer service wizards), me (Amy) the design person. We're a small group of 5 women, but we all knit, crochet or both. There's hardly a day that goes by where one of us is not wearing our handmade preciousness.
Thus begins a new series I am calling "IRL", or In Real Life. Every day I come to work in a building that houses more yarn than you can imagine. It can be overwhelming to look at it all boxed up in the warehouse, sitting on shelves, or piled on my desk. It's always calling to me, "knit me! make something out of me!" We sell yarn here, but we also love using and wearing it. I thought you might be interested in some of the things we make, so here goes.
I'll start first: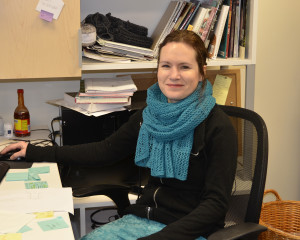 I'm wearing a scarf I knit up last year made out of Whisper Lace. With just 2 balls of color 103 Harbor, I came up with a whopping 20″ x 60″ scarf/stole. It's long enough that I can keyhole it, or when it's really cold, double wrap around my neck like the photo above. The pattern is a modified Wisp by Cheryl Niamath, free on Knitty. I didn't add buttons; I just cast on extra stitches, added a couple of random vertical garter stitch columns for interest, and knit until I ran out of yarn. For me, a person who almost exclusively knits garments, it was a refreshing change!
How about you, what Universal Yarn are you wearing today?