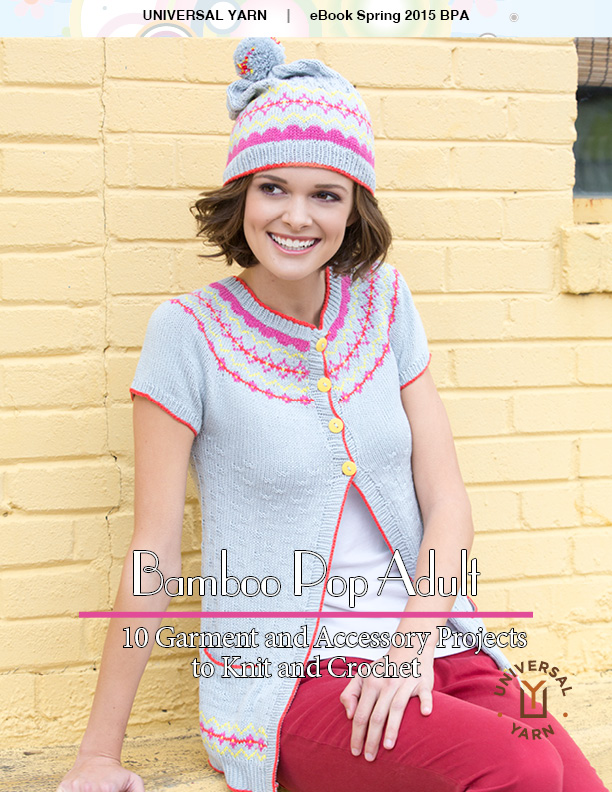 It's here!  Our new e-book Bamboo Pop Adult is finally available for download from Ravelry and Craftsy.  Patterns are also available individually.
Bamboo Pop is one of our most popular yarns.  Our e-books Bamboo Pop Kids and Bamboo Pop Dolls were well-received, but we had a lot of people requesting grownup designs.  Here they are!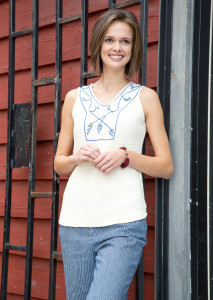 The Boho Tank is an A-line top worked from the bottom up.  Sandi Rosner provided the embroidery detail, showing once again that what designer Charles Eames said is true – "The details are not the details. They make the design."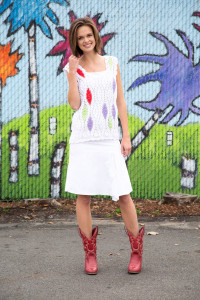 The crochet Dewdrops Tank is worked in two pieces and seamed.  While I love the bright contrasting colors Amy Gunderson chose for the "dewdrops," this would be a great piece to customize.  Just use your favorite colors as accents!
The Drape-Front Cardi above may be a candidate for "most wearable design."  The flow of the fabric flatters a range of frames.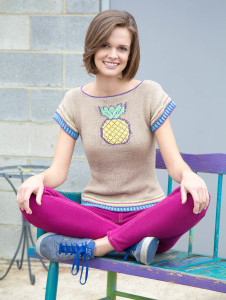 Here's my favorite – the Hospitality Tee! Down South, the pineapple is the symbol of hospitality, so as a native Southerner this feels like a very welcoming design to me.  As a knitter, I appreciate details like the corrugated ribbing at the sleeves and hem and the pink applied crochet chain stripe that gives it an extra pop of color.
Love love love.  The dramatic Staggered Shawl has the graphic styling that is so popular, and it's so easy to knit.  No purling – just garter stitch!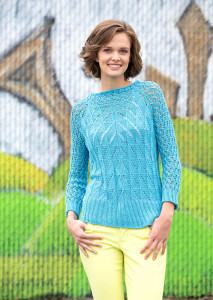 The Steeple Pullover has been an early favorite on Ravelry.  Work it bottom-up in the round, then separate for the armholes.  The pattern is written and charted, like all patterns in Bamboo Pop Adults (except the super-simple Staggered Shawl). Sized from extra small to 3X, this is a great breezy design to dress up or down when the weather has just a hint of chill.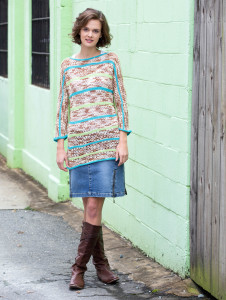 Surf 'n Stripe is a simple eyelet design accented with bands of color.  Knit in two pieces and seamed, this slouchy and comfortable dolman-sleeved top strikes me as great vacation knitting!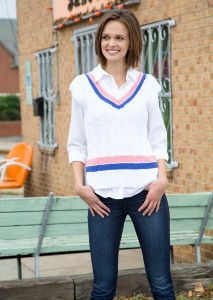 The Tennis Vest  is a classic design.  The twist cable and rib pattern is quite stretchy, making it a perfect layering piece.  I hate feeling like a stuffed sausage when a sweater over a shirt doesn't breathe with me – this is a great vest for looking as cool as you feel.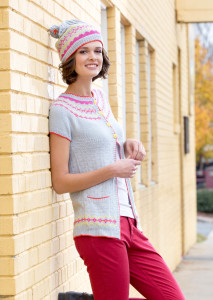 From the cover, the Colorwork Cardi and Colorwork Hat featured on the cover are two super-cute coordinating patterns.  The cardi is a top-down seamless sweater (with pockets!) and the hat can be customized to be taller or shorter as you wish by adding or subtracting pattern repeats.
I'm not sure what I'm going to knit first.  I'm thinking maybe the Staggered Shawl.  I've been wanting a very modern accessory, and that looks fabulous.  We'd love to see what you make!
Happy knitting!