Are you ready to cast on for your Rocked yet? I have a confession to make – I just couldn't wait until our official kick-off date and cast on over the weekend. I've made it through almost my first ball of Garden 5 and am about 5″ into my piece.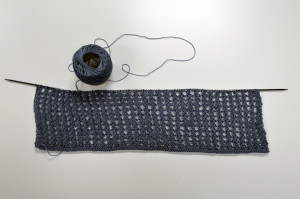 But actually I'm more than 5″ in, because my work thus far is UNBLOCKED. If I refer back to my blocked swatch, I can see that 8 repeats of the pattern (32 rows) = 4″. Currently, I have 12 repeats done of the pattern, which should block out to 6″. So, yay! I'm further along than I thought.
Sandi cast on using Flax and has finished her first pattern repeat.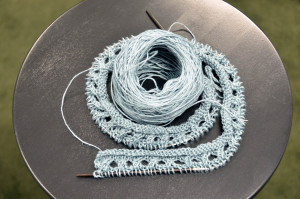 If you'll remember after her swatch post, she ended up with a gauge of 22 sts x 32 rows/4″. Compare that with my gauge of 26 sts x 32 rows = 4″. My yarn and needle size (Garden 5 & US Size 2) are smaller than hers (Flax & US Size 5), yet our row gauge is the same. I find that fascinating!
Heather has opted to go for Bamboo Pop in her Rocked. Heather is unselfishly knitting this for her teenage daughter – lucky girl!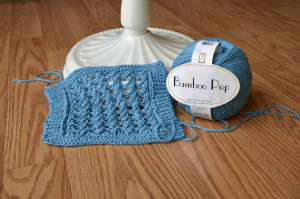 Heather swatched in color 107 Ocean and got the gauge listed in the pattern on US Size 4's. I was surprised by this, because Bamboo Pop is just a bit heavier than Cotton True Sport. But again, everyone's gauge is unique!
And now, let's talk a little more about the gauge swatch. I've been knitting for several years and have done a bazillion gauge swatches. Okay, maybe not quite that many, but I've done lots. Being an experienced knitter, I sometimes overlook things that I assume everyone, even newer or less experienced knitters know. Case in point: the gauge swatch.
Yonca (as in the lovely lady in this week's IRL) came to me last week and told me her gauge swatch was not working out. Yonca is a very smart woman and is not new to knitting, but is somewhat new to swatching. There it is, I've outed Yonca as a typical non-swatcher. (Sorry Yonca!) But apparently she's listened to my harping long enough that she decided to take the plunge this time and buckled down. But she ran into a snag with her swatch.
In the Rocked pattern, the gauge is listed at 21 sts x 27 rows = 4″ in the Mesh pattern. It is standard practice to list gauge in a pattern over 4″ (or 10 cm).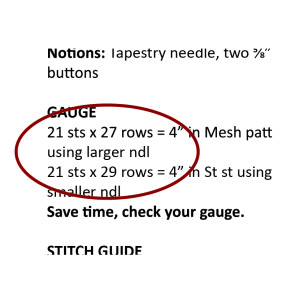 Most stitch patterns require a certain number of stitches in order for them to work out. In the case of the Mesh pattern, you need a multiple of 4 stitches plus 6.

If you look at the cast-on numbers for each size in the pattern, you will see that they are all multiples of 4 stitches plus 6. This means, multiple a number by 4, add 6, and you will have a number of stitches that works with the pattern. For example, for my gauge swatch I cast on 30 stitches, which is (4×6)+6. Sandi's gauge swatch consisted of 38 stitches (4×8)+6.
Yonca, however, thought that the gauge listed in the pattern (21 sts x 27 rows) meant that she should cast on 21 stitches for her swatch. It is easy to see why she may have thought that! I forget sometimes the things that are second nature to me now are not necessarily common knowledge for all knitters. When Yonca started working the Mesh pattern over her 21 stitches, it did not work out because 21 is not a multiple of 4 stitches plus 6.
So let me break down the gauge swatch once and for all:
Before beginning most projects, particularly a garment (that needs to fit!), it is very important to know your gauge, or # of stitches/rows per inch. Knitting is pure math. Well, it's also a lot of other pretty things. But math is what makes things a certain size.
In order to figure out what your actual gauge is, you must do a gauge swatch. To choose a needle size, try starting with the recommended needle for your pattern and/or yarn. It's a good idea to cast on enough stitches for around 6″. You want to be able to measure in the middle of the swatch avoiding the edges. If you are swatching in stockinette stitch, then any number of stitches will do, as long as your swatch is big enough to get a good idea of your gauge. When swatching in pattern, you must cast on the appropriate number of stitches relative to that pattern, as described above.
For my swatches, I cast on with a smaller needle size than the needle used in the pattern stitch. Because Rocked begins with a stockinette stitch rolled hem using a smaller needle, I wanted to test my stockinette gauge at the same time as the Mesh gauge. I followed the hem pattern as written, switched to my larger needle, and then continued in pattern.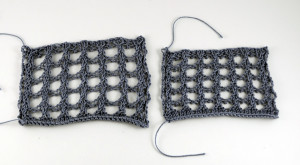 After I bound off my swatch, I wet-blocked both and pinned them on a blocking board. I plan on hand washing my finished top, so this is how I blocked my swatches also. After the swatches dried, I unpinned them and then measured.
Have any more questions about swatching or anything else? Leave your question in the comments section or join us on Ravelry! I'll be  back here on the blog over the next month discussing other aspects of our knitalong.