My contribution to the Spring 2013 of knit.wear was the Colorblock Tank knit up in Flax. This is one of those pieces I have just as much fun wearing as I did designing and knitting it.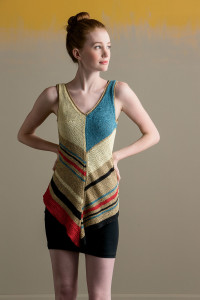 (image courtesy Interweave/Joe Hancock)
But more awesome than that are the other versions I've seen out there in the world. Of the projects listed on Ravelry, maybe half use the color combination of the original which incorporates 6 different shades of Flax.
Katie decided to go her own way with her version of the tank.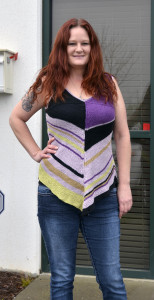 This turned out so great, I love it! Katie used 15 black, 08 purple, 07 lilac, 104 wild lime, and 105 natural; so just 5 shades instead of 6. And it worked out fine! I love the colors Katie chose to go with her red hair. She is obviously a purple lover, and shades of purple are so in right now, too.