For me, there are more than a few yarns here in the office that inspire daydreams of beautiful projects.  One of those is Llamalini, a decadent blend of linen, royal llama, and silk bourette.  I'm not the only one – designers are picking up on this gem too.  May we show you what our own Amy Gunderson has done recently?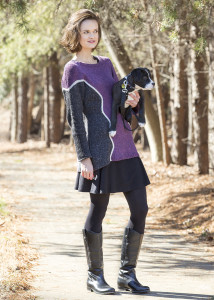 Dichotomy looks great with the very in-style color blocks that meander up the body and across the arm.  Worked flat in pieces from the bottom up, it uses a circular needle strictly to accommodate the large number of stitches required for a pullover with up to 10″ of positive ease.  Sleeve cuffs are worked by picking up stitches off the sides of the body piece and knitting downward.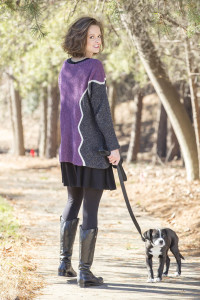 Color changes are achieved with the intarsia method.  The contrasting "line" is formed by working increases and decreases in the blocks of color – no cabling required.
You can purchase this pattern on Craftsy or Ravelry.  (Puppy not included)
In the Spring/Summer 2015 knit.purl, the Swingback Hoodie is turning heads.  Amy wrote an in-depth guest blog post about her design process for this piece.
A dramatic feather-and-fan panel makes a pointed back hem. The hood, fronts, and back are worked from the top down, while sleeves are worked from the bottom up.
As part of the knit.purl blog post, Lisa Shroyer asked for Amy's suggestions for personal styles that would work well with this cardi.  We got a little happy in the studio with Amy modeling.  We couldn't resist giving you all a little taste of the fun we had.
Happy knitting!