Today I'm delighted to share a Bamboo Pop FO from Jen who works in our accounting department.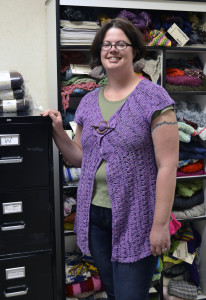 Jen always has multiple projects going on, as she is an avid knitter, crocheter, and spinner. This versatile summery cardigan was a free pattern Jen found on Ravelry. Crocheted using Bamboo Pop in color 210 Orchid Smash, it does look smashing on her – am I right?
Here is Jen in her own words on her fabulous project:
It took 3 balls with a 4mm hook.  The original pattern called for a worsted weight cotton and a 5mm hook I think,  but I knew it would be too heavy and cumbersome for everyday wear.  Since it was top down changing the gauge was easy peasy, I'd like to talk about all the swatching I did and the math I used,  but I really just crocheted until I liked where it was and then transitioned to the shell stitch.  Its ended up being one of my favorite FO's.  The fabric is very drapey so it feels really nice and fancy to wear.  It looks great over the single black dress I own if I ever decide to go somewhere swanky and it also looks good with a t-shirt and jeans.  It's very lightweight and breathable so I can wear it over a long sleeve top in the winter or a tank-top when it gets warmer and it isn't hot or anything.  I knew the bamboo/cotton would grow a lot so I only crocheted until the bottom hit just below my navel, as I suspected, after washing/blocking and wearing it grew to the perfect length for me.  The pattern also called for buttons but I hate sewing buttons on so I just ignored them and use it to showcase my growing collection of shawl pins and brooches.
Thanks for sharing, Jen!