In preparation for casting on for the launch of our Rocked knitalong, I did some swatching over the weekend. I mentioned in the first post on the knitalong that my plan is to use Garden 5 instead of Cotton True Sport.
For my first swatch, I cast on 30 stitches using a US Size 4 (3.5 mm) needle. I did the 5 hem rows of stockinette stitch, and then worked 5 repeats of the Mesh stitch pattern. For my second swatch, I did exactly the same thing, except with a US Size 2 (2.75 mm) needle. Here are both of my swatches on the blocking board: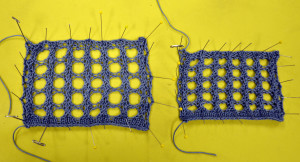 And here they are, unpinned and relaxed: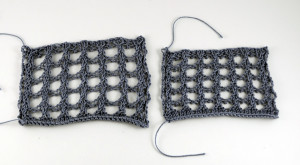 The swatch on the left gave me a gauge of 22 sts/4″, pretty close to the gauge called for in the pattern (which is 21 sts/4″). The swatch on the right gave me a gauge of 26 sts/4″.
Now is where my discretion comes into play. There is nothing wrong with either of my swatches. The swatch on the left is a bit looser since it was worked on larger needles, and therefore a bit drapier. The swatch on the right has a little nicer stitch definition but would obviously make for a more time-intensive garment. In either case, because my gauge does not match the pattern, I will have a little math to do.
First, I need to decide what kind of fit I want. The pattern tells me that this top is meant to fit with 4-10″ of positive ease. That's a pretty wide range of ease, right? It also tells me that the garment in the pictures is the smallest size (40 1/2″ bust) modelled with 8″ of postitive ease. I know I like clothing that is oversized, so I know I want a reasonable amount of ease (postive ease = extra room to breathe!).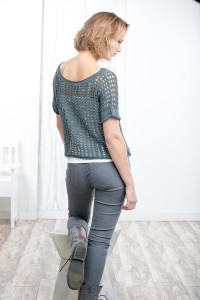 My bust size is about 34-35″, and I think a 40″ bust will work fine for me. If I liked even roomier clothing, I might go to the medium size. If you are unsure what type of fit you want, go to your closet and do some measuring. Find a top that you feel has a similar fit to what you're trying to achieve with Rocked and measure it. The fabric in Rocked is fairly lightweight, so positive ease is not going to add a lot of bulk.
Another thing to consider is the length. If you take a look at the schematic, you can see the length measurements. This top is inteded to be somewhat cropped. I've heard from some of the people here in the office that they plan on making a longer length. I do plan on keeping the length in the pattern. I'm on the short side at 5′ 5″, and plan on layering my Rocked over a tank top. If you plan on lengthening the top, you'll want to pay even more attention to the ease, particularly if your lower half is larger than your bust like mine is! Most of us don't like shirts clinging to our behinds, so you'll want to be sure you have ease to accommodate this measurement.
Try this: determine the total length of the top and where you'd like the lower edge to sit on your body, whether it's your waist, hips, or wherever. Now, measure the circumference of this location. For me, if I were going to lengthen my Rocked, I would go to a larger size. My hips are several inches larger than my bust, so I would probably knit the medium size, or something between a small and a medium.
So, back to my swatches, I still need to decide what I'm going to do. Both fabrics are perfectly nice, but I think I'm going to go with the option on the right, at 26 sts/4″.  Because I have more stitches per inch than called for in the pattern, it's time to do a little math. 26 stitches per inch breaks down to 6.5 stitches per inch. The measurement I'm aiming for on both front and back pieces is 20.25″ (half of the full bust measurement). To figure out approximately how many stitches to cast on, I will multiple 20.25 x 6.5. That gives me 131.625.
Looking at the pattern, I can see I need a stitch count that is a multiple of 4 stitches + 6.  If I round down to 130, I get a number that will work. Or I could round up to 134, and also get a number that will work, which is what I'm going to do. I'd rather err on the side of a little more ease than a little less. I'm not getting any younger or smaller, and I'd like to get the most use I can out of my new shirt!
Be sure to join us in the Universal Yarn Ravelry group to participate in the knitalong. I'll be there to help with questions and join in the fun over the next several weeks. See you next week here for cast-on fun!