I finished up the second side of my Rocked over the weekend – man, that felt good!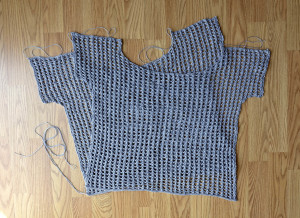 You'll notice those long ends hanging off the finished pieces. When I know I'm going to be seaming, I like to leave generous tails both when casting on and binding off. It means I have less ends to weave in which makes me very happy.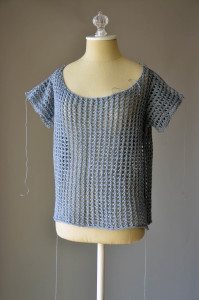 Here she is all pinned up the dressform. The end is so near! But first, I've got some seams to sew. My go-to method for seaming is almost always good ol' reliable mattress stitch. If you joined us for the afghan knitalong last year, you may have already read our post on mattress stitch. It is a way to produce an even, sturdy seam. Here's that video again:
But mattress stitch is not your only option. You could also try the crochet slip stitch seam:
Or you could hold the pieces right sides together and whipstitch, although I find it difficult to produce a nice looking seam this way.
In the Rocked pattern, you are instructed to sew the shoulder seams first. Then, pick up and knit stitches for the sleeves, and then sew the side and sleeve seams. Personally, I'm going go ahead and sew all my seams first so I can knit my sleeves in the round. This will require the use of double pointed needles or a long circular needle in order to employ the magic loop method. If you prefer knitting your sleeves flat, then I would advise following the pattern instructions. But it's nice to have options, right?
Regardless of how you sew your seams, an important next step is to steam them. This will help to even out any unevenness with the seam, and will smooth them down helping the garment to drape better. I like to take my iron, hold it a few inches from the seam, and shoot steam at it. I then take my hand and help to press it down and relax.
I'll be back in a couple of days to talk about picking up stitches off of your Rocked to work the neckline and sleeves. Wherever you're at with your piece, I hope you're enjoying it!