We are fully immersed in balmy summertime weather here in North Carolina. I look longingly at my heavy hand-knits every morning, knowing I won't get to wear them for months. But with high heat also comes air conditioning, and we keep things pretty chilly here in the Universal Yarn office.
Many of us keep a lightweight sweater or jacket on the backs of our chairs for when the cold blast becomes too much. Heather, on the other hand, loves to knit and wear hats. She follows patterns sometimes. But Heather has knit so many hats that she is a hat-knitting pro and will often just cast on and start knitting, which was the case with this lovely hat in Poems: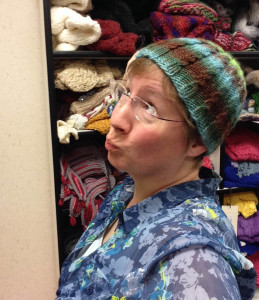 I asked Heather to tell me about her hat, and here's what she had to say:
"I was going to see Kingsman (loved it!) and wanted a fairly mindless project to work on in the dark, and hats are my go-to.  To keep it a little interesting, I added a right twist every other row.  I liked that technique in my Rocked Knitalong so it seemed like a good addition here.  For the decreases, I did a p2tog every couple of rows in the p3 sections, then did did my best to keep the twists going as I did k2tog for the final decreases. 
This hat will probably be set aside until I see what the Afghans for Afghans charity ( http://afghansforafghans.org​ ) is doing this year.  If they're in need of hats, that's where it'll go.  It gets cold in those mountains!"
Heather's hat took just one ball of Poems. We don't have an official pattern for the hat, but Heather cast on 90 stitches with a US size 8 16″ circular and dove right into k2, p3 ribbing and worked a right twist every 2 rounds.
Thanks for sharing, Heather!