It's still Free Pattern Friday!
This is Pattern Collecton PC538, Classic Worsted Tapestry Volume 2.  Up until now, it's never been available digitally, and never for free.  Happy Friday!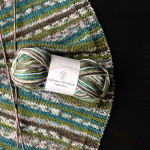 We've had several requests for this leaflet, not least because although the original yarn, Classic Worsted Tapestry is gone, the colors in Uptown Worsted Tapestry are perfect matches for it.  You could substitute Uptown Worsted Tapestry 809 Capri Breeze at right for Michele Wilcox's Mr. Whiskers and the only difference would be that the Uptown feels softer.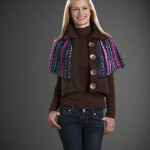 Likewise, Purple Power, Emerald, and Mountain Blues are all available in Uptown Worsted Tapestry if you want to tackle Thanh Nguyen's Cropped Cape-Cardi in its original color scheme.
We hope you've enjoyed this quadruple-dose of free patterns today.
Happy crafting!