From time to time, I see a pattern that makes me think, "Man, I wish I'd thought of that!" The Neck's Big Thing  is just such a project. Developed a few years ago by Shelley Brander of Loops Knitting in Tulsa, OK, this scarf transforms just one skein of special yarn into a wearable art piece.
Our dear friend Susan Whitmore who used to own Rainy Day Yarns in Pineville, just a hop-skip-and jump from our office here in Harrisburg, NC, introduced us all to the Neck's Big Thing a couple of years ago at TNNA. Then, recently I saw someone making one of these fabulous designs again it was reminded of how great a gift-project this is. It's got everything going for it:
quick to make
easy to knit (or crochet!)
requires just 1 skein of yarn
attractive
What is there not to love?
I whipped up a couple of NBTs the other day using two of our yarns that are just perfect for it: Classic Shades Big Time and Bamboo Bloom Handpaints.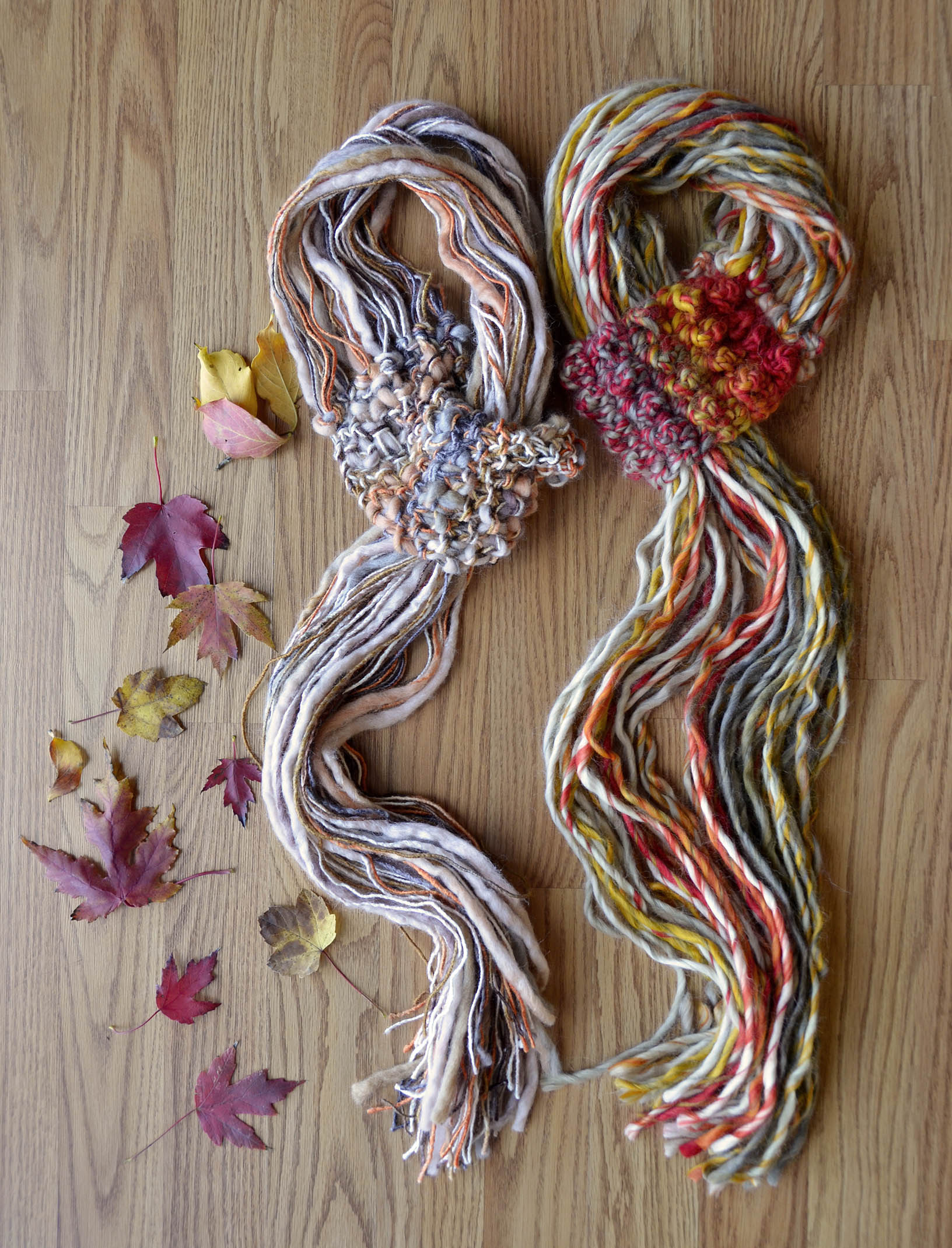 The one on the left is Bamboo Bloom Handpaints in color 317 Sensei. I held the yarn double throughout and followed the pattern exactly, except I cast on 11 stitches instead of 5. I also cut the fringe  longer, at about 80″.
The version on the right uses Classic Shades Big Time color 817 Natural Glow. As you can see, I was going for an autumn theme! I love how Heather styled these. This project looks cool with the fringe hanging free, braided, wrapped, and no doubt many other ways!
Though I later found out Shelley created a crochet version for the Neck's Big Thing, I just kind of winged mine. For anyone interested, here is the pattern I came up with:
US Size N/15 (10 mm) hook
Ch 10. Sc in second ch from hook and each ch across, turn.
Row 1: Ch 1, sc in first sc, [tr in next sc, sc in next sc] across, turn.
Row 2: Ch 1, sc in each st across, turn.
Rep Rows 1-2, 9 more times. Fasten off. Attach fringe as for knit version.
I could see this project in many other stitch variations as well, both knit and crochet. Other yarns that would make great Neck's Big Things are denims, Poems Chunky, and Poems Puzzle. It takes around 30 minutes to complete one of these – holiday gift-giving score!