It's Free Pattern Friday!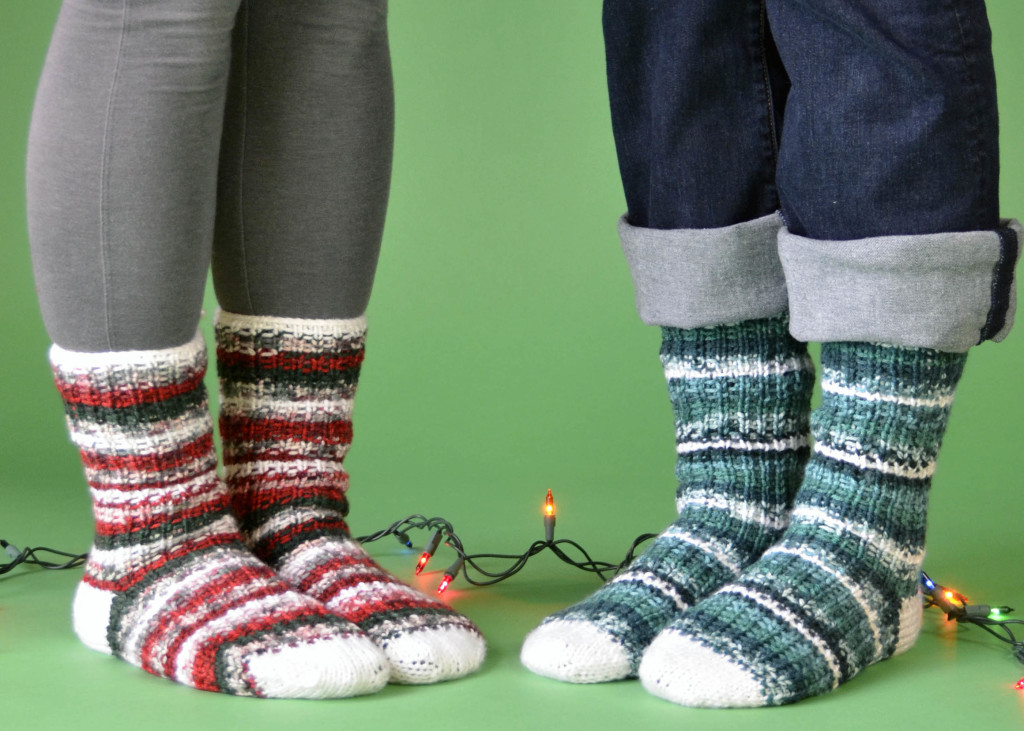 Today, Holly Jolly Socks or Stockings in Uptown Worsted Tapestry.
Ho ho ho!  Have you been very good?  A little bit good?  Well, Knitting Santa says you've been good enough, so we offer this holiday sock/stocking pattern as a gift!
Uptown Worsted Tapestry (180yds/100g) is a machine washable favorite for babies and adults, but there are a couple of colors that really stand out for the holidays.
812 Yule Time, with its classic red, white, and green color scheme, is used in the popular free Elfkin set for sizes 6 months to 6 years at right.  We're also partial to color 806 Emerald, which has a lovely blue spruce feel to it that fits right in under the tree.
These socks are worsted weight, knitted on US size 6(4mm) double-pointed needles.  As you can see, they're small enough to fit as socks great for sliding across the floor to see what Santa left you.  They also include a small crochet loop so you're free to hang them as stockings if you wish.  We use size 6 needles for a tight fabric so no little gifts fall through the holes.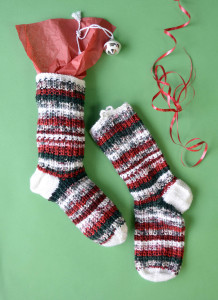 Knitted toe-up with a Turkish heel, one ball of Tapestry and one ball of Uptown Worsted 302 White Glow for the heels and toes ought to do it for small sizes.  If your feet are longer than 9″, consider grabbing an extra ball of Tapestry.  This handy guide to foot sizes from the Craft Yarn Council may be helpful in estimating, although I wear a US women's size 8 1/2 or 9 with 9 1/2″ long feet and these socks fit me just fine.
We hope you have a great weekend of crafting and good times.
Happy knitting!