It's Free Pattern Friday!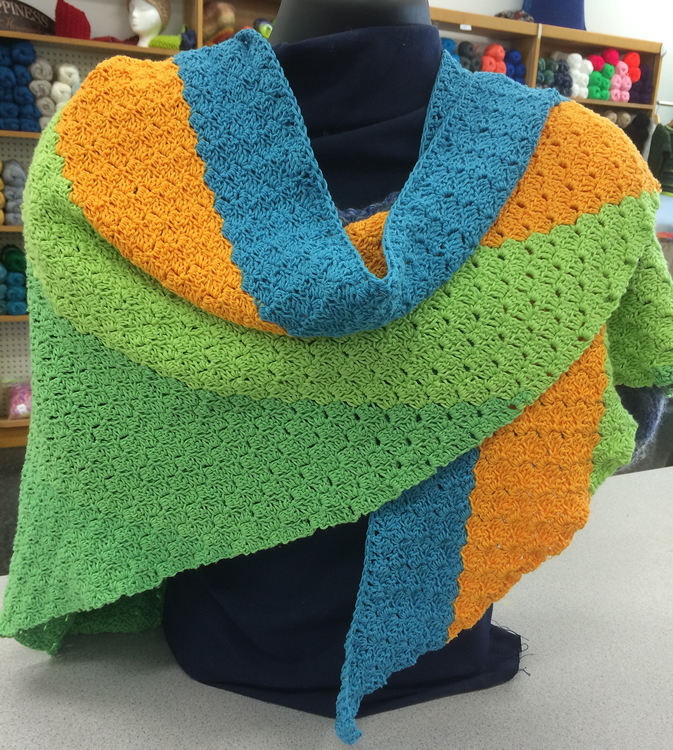 Today, the crocheted Summer Shawl in Bamboo Pop.
This pattern comes to us courtesy of Alice Gossette and Kat Koeller of LYS The Thankful Ewe in New Bremen, Ohio.  It's another example of why you should stop in at your local yarn shop – there are some really great ideas waiting for you there!
This is a five ball project in Bamboo Pop (292yds/100g) – 2 balls of 109 Clover for the large triangle, then 1 each of 108 Lime Green, 118 Marmalade, and 107 Ocean for the stripes nearer the top.  The designers note that the top stripe took almost all of the blue, so you might want to snag an extra ball, just in case.
I love the inclusion of the vibrant band of gold.  This would be an easy one to customize with your own personal palette, or to add a variegated color to.  Color 203 Golden Seas strikes a nice balance between all of the colors included here.
We hope you have a fantastic weekend, and find time to kick back with a project and take care of yourself.
Happy crafting!