And I do mean gearing up! Yarn, needles, hard hat, safety glasses, dark chocolate. You know, the usual.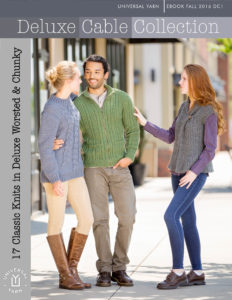 In case you haven't heard, we're having a knitalong! You can read all about it here, and join in the fun on Ravelry here. We've all chosen our projects and yarn here in the office and are anxious to cast on. Everyone is knitting something different from our newest ebook, the Deluxe Cable Collection. The official start of the knitalong is next Tuesday, August 9th. Let me introduce you to the players:
Hattie
Hattie has decided to knit Ashwood Run for her daughter. What a lucky daughter! She has actually cast-on already as she is a total over-acheiver.
She's opted to change her yarn from Deluxe Worsted to Deluxe Worsted Tweed Superwash in color 908 Navy. Ashwood Run is knit seamlessly from the top down, beginning with a ribbed collar. Hattie is a seasoned knitter, so she decided to use a stretchy cast-on, the German twisted. Look out for a tutorial featuring this cast-on in upcoming weeks.
Angie
Angie is the newest member of our customer service team, and is no stranger to yarn. She's been crocheting since forever, but is pretty new to knitting. I kind of had to twist her arm to get her to join in (not too hard), and she decided to knit Cold Mountain Hat.
As shown in the book, this hat uses both cables and lace. But because Angie hasn't ventured too far outside just knit and purl stitches, she's decided to do stockinette instead of the lace so she can focus all her mental energy on learning cables. Good move!
For anyone else who has never crossed stitches to make knitted cables before, there will be a tutorial on basic cable crosses here soon as part of the knitalong posts.
Cold Mountain Hat: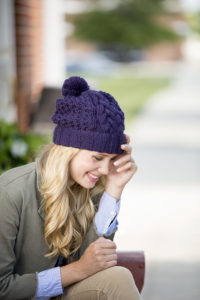 Heather
Heather is our fantastic social media person who also does a million other things here at Universal Yarn. She's decided to knit two projects from the collection, but we'll focus on the first today, Tillery Socks.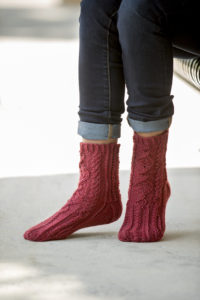 To me, socks are such a small item that I'll generally just cast on for the project and consider that my swatch. But I am pretty impressed with Heather, because she actually swatched for her socks! Here's what she has to say:
Before casting on for my Tillery socks, I swatched for gauge with Deluxe Worsted Superwash in Navy, 48 stitches in the round just as is called for in the pattern.  The swatch was machine washed warm and tumbled dry warm with a load of laundry.  I did this because I'm not the only one who does laundry in my house, and I can easily imagine a situation where these will accidentally get thrown in with all the other clothes, so I wanted to be sure these would last an accidental washing or two.
The washed swatch had the same gauge as the unwashed –  22.25 sts x 32 rows.  The ribbing pulled in height-wise after washing just a hair, but the gauge is over stockinette so that's not going to matter for me.  The gauge is tighter than called for in the pattern – I'm sure if I went to a size 5 I'd be dead on –  but the benefit of swatching in the round like this is that I was able to pull it over my foot and ankle and determine that it fits.  So I'm sticking with my size 4 and tighter gauge, confident that this is going to be a cozy and beautiful pair of socks.
Before Washing: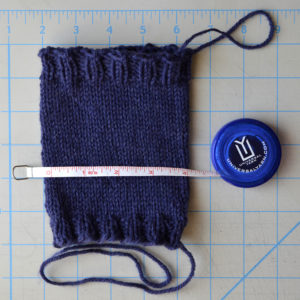 After Washing: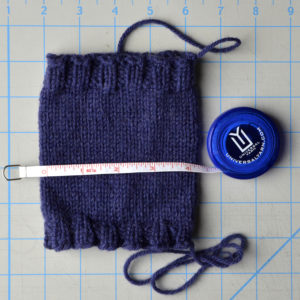 Tori
We're so happy to welcome Tori as our newest member of the design team here at Universal! Like a woman after my own heart, Tori selected color 13104 Slate in Deluxe Worsted to knit the Eastover Vest. Slate is a really lovely deep, heathered gray.  I am a sucker for gray. As written, the Eastover vest is knit in pieces and seamed, but Tori is considering working this in one piece.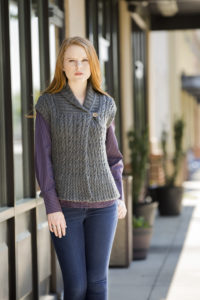 .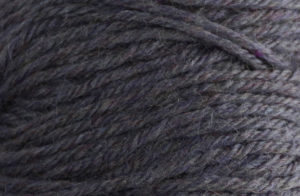 Jannie
Jannie has been knitting and crocheting for about a year now. I'm super impressed that she decided to learn how to do both after starting work here. Jannie chose the Greensboro Cardigan and this will be her first garment ever.
She has doubts about her abilities, but I have complete confidence that she will tackle this and come out on the other side with a brand new sweater. She does say that she's up for the challenge, and her first goal is to get through swatching in less than a week! She thinks this will be  a great learning experience and is looking forward to the process. Yay!
Jannie also opted to change from Deluxe Worsted to Deluxe Worsted Tweed Superwash, and she's going with  914 Charcoal (more gray!).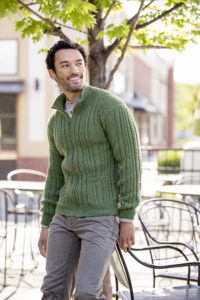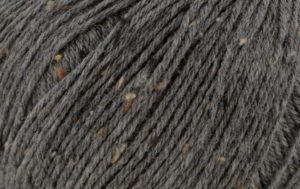 Jen
Jen (who works in accounting) is a total knitting pro. She's making the Ballantyne Tee in color 22285 Cactus in Deluxe Chunky. Jen is going to be applying her "standard" mods to this tee:
knit in the round
convert to an A line shape by adding in some waist decreases
possibly doing the cable pattern only on the front to make the project go faster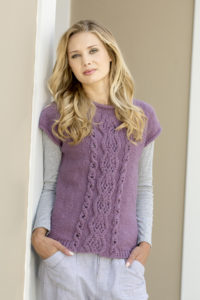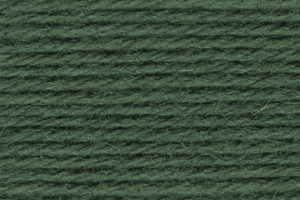 Katie
Katie is our customer service team lead, and also an avid knitter and crocheter. She's decided on the Catawba River Poncho in Deluxe Chunky. Katie will knit this in Deluxe Chunky Naturals (the undyed version of Deluxe Chunky), color 50003 Musket. This will make for a nice neutral piece that will go with just about anything.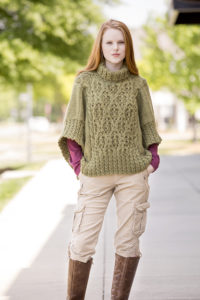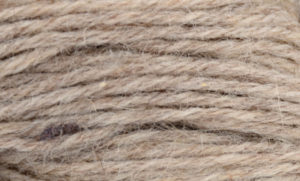 Amy
(Me) I'm going to be knitting at least 2 projects – Rutherford Beret and Wesley Heights. More on Wesley Heights later. I needed some instant gratification so I went ahead and cast on for the beret. A hat in Deluxe Chunky goes so fast!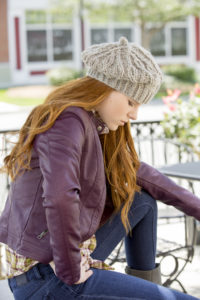 Rutherford Beret and Tallulah Cardigan have similar stitch patterns that consist of traveling, twisted stitches over a reverse stockinette background. I thought the beret could look cool in a two color stranded version with a contrast color forming the traveling lines. So that's what I'm doing!
I started out by using the main color only for the brim (91906 Azure Heather), and then added in my contrast color (71006 White Ash).
Pop on over to our Ravelry group and give a shout out if you're joining us for the knitalong – we'd love to hear from you!