Last time on Weaving Wednesday, I showed you how I warped for my Bamboo Pop color pool scarf. Over the last couple of weeks, I had a chance to do the actual weaving which went incredibly fast.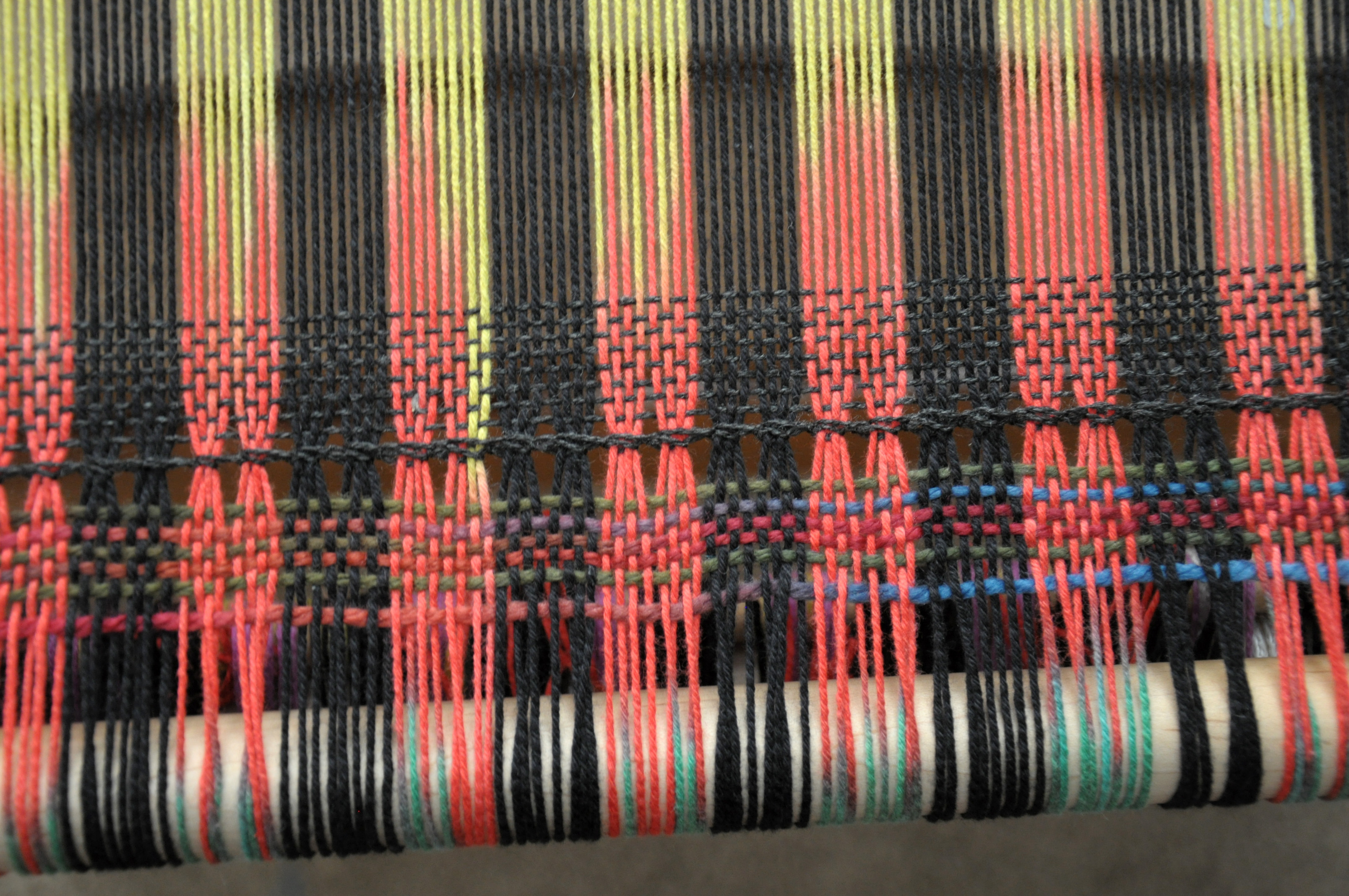 After weaving a few picks with scrap yarn, I did a bit of hemstitching with my weft yarn, Whisper Lace.  I left a good 12″ before beginning this in order to have long enough ends to do my fringe. I did a simple plain weave throughout the entire scarf, beating with a light hand to give my finished scarf nice drape.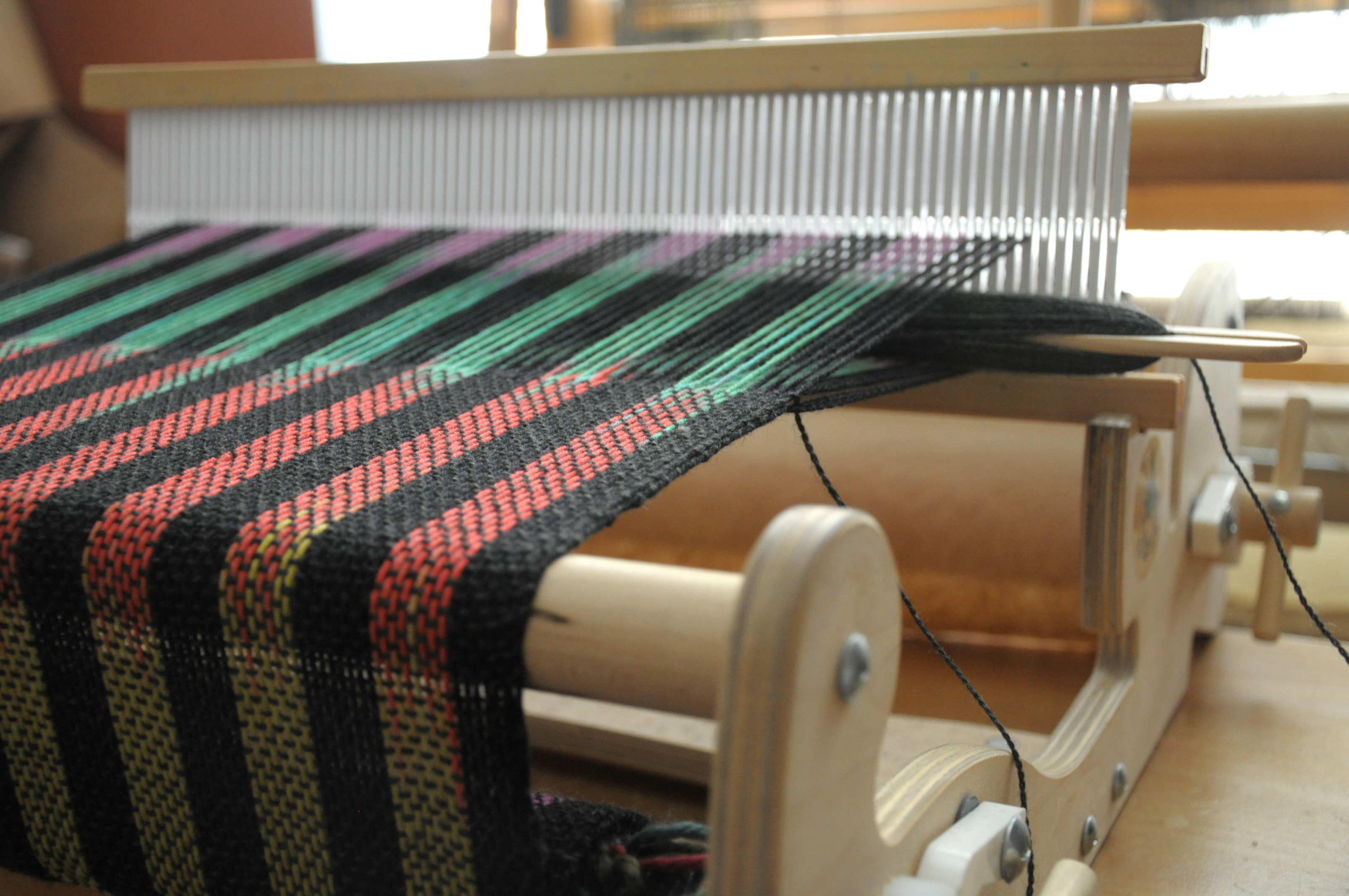 This scarf was a joy to weave. The motions and weaving were simple and the colors a delight to watch. Each time I advance the warp and a new section of color came into view, it gave me a little lift.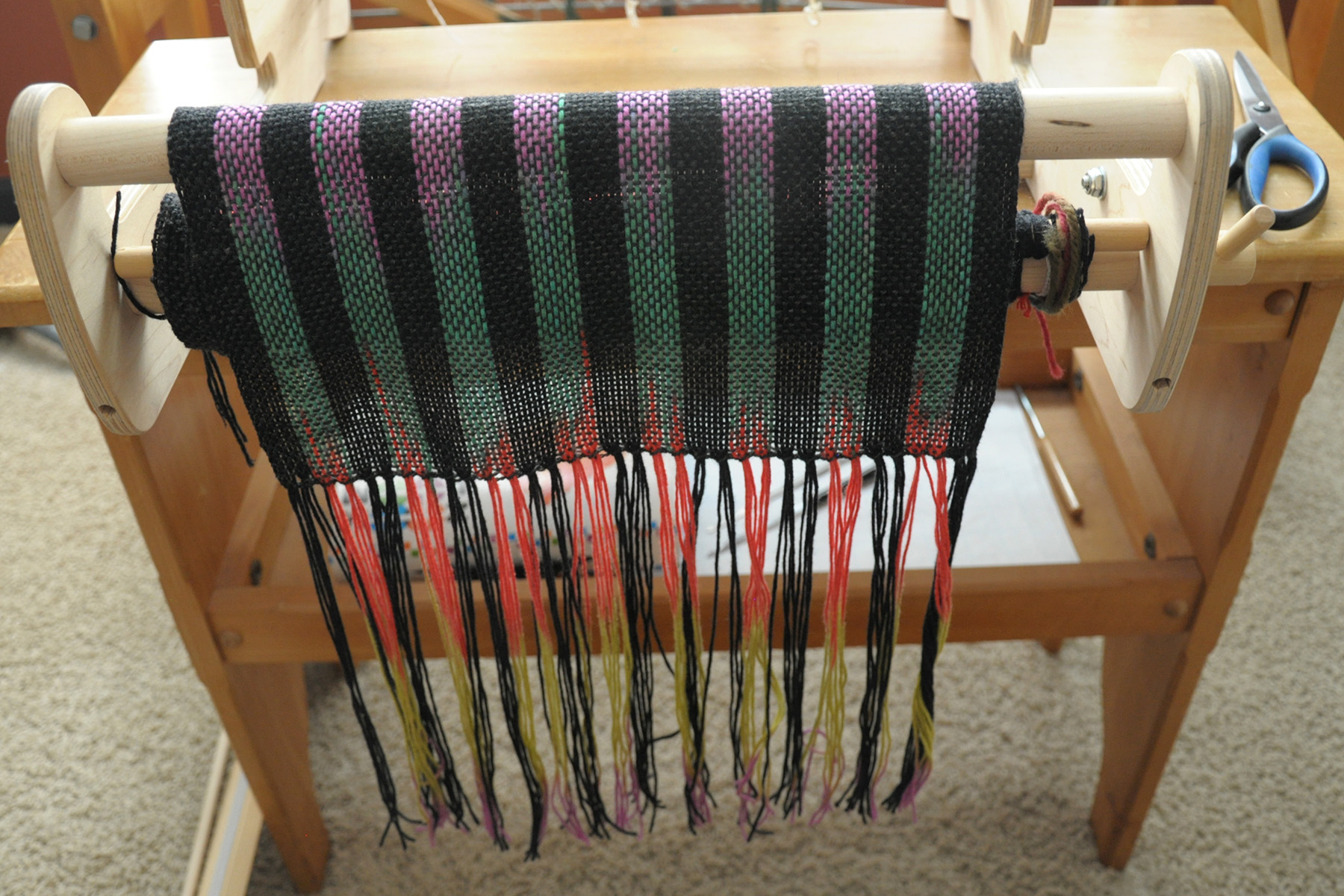 After hemstitching at the end of my scarf, I cut it free, leaving the beginning end still attached to the loom. I then trimmed all the fringe evenly, to about 11″.
Fringe is the easy and obvious way to go when ending a scarf. It eliminates the need for a hem. Fringe also adds a nice little bit of heft, allowing a scarf to hang nicely. An easy way to spruce up your fringe is to make it twisted. I've done this by hand before on a few projects, but it's tedious and I don't enjoy doing it. This time around, I decided to splurge and bought myself a battery operated fringe twister. Sometimes, you just need the right tool for the job.
See the two little prongs jutting out from the top of my tool? The item actually came with 4 prongs, but I removed 2 of them for this project.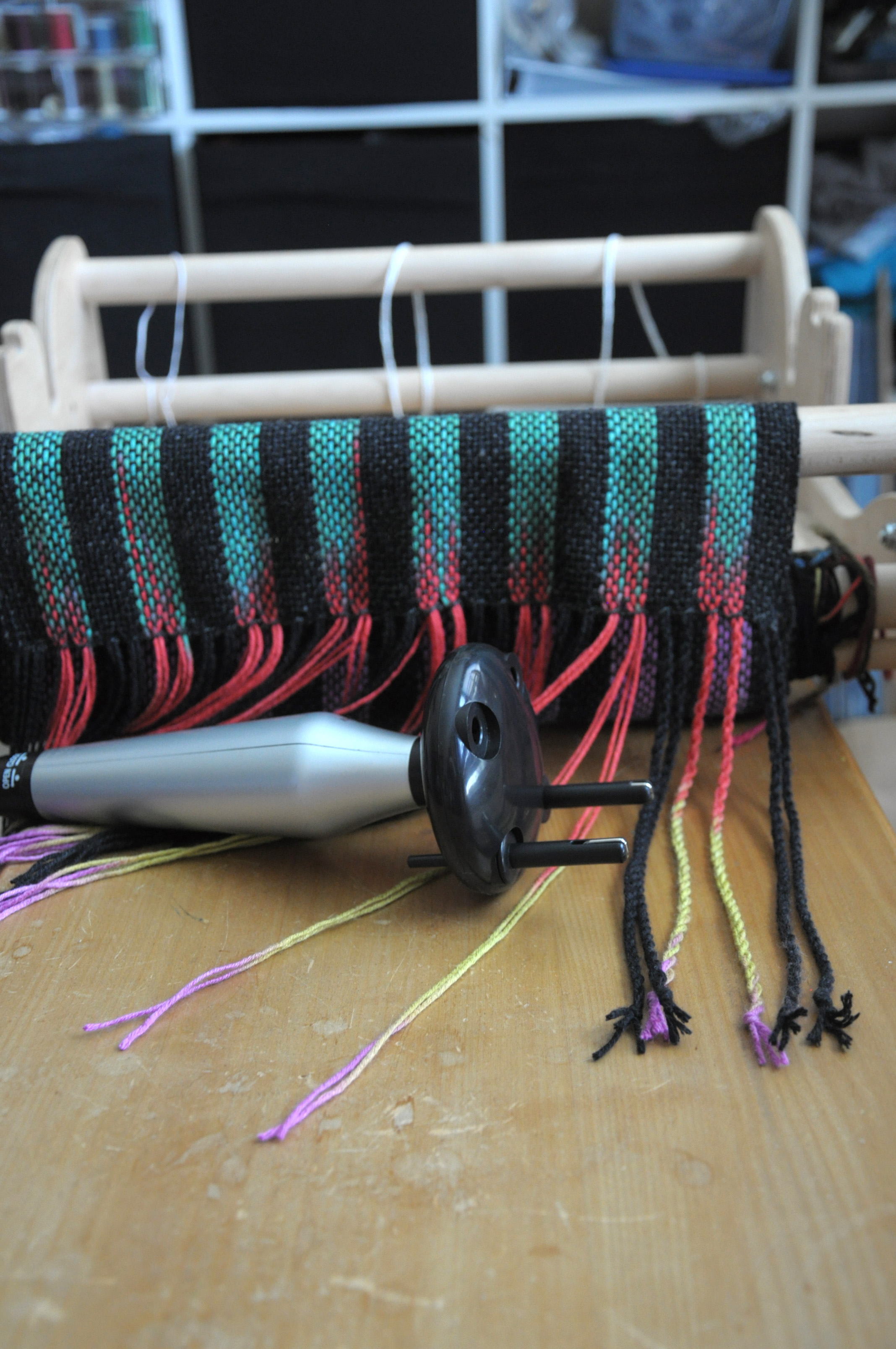 Each of my stripe sections of the scarf is comprised of 8 strands. I'm making 2 twisted fringes for each stripe, so each fringe is made up of 4 strands. To use my fringe tool, I attached 2 strands to each prong.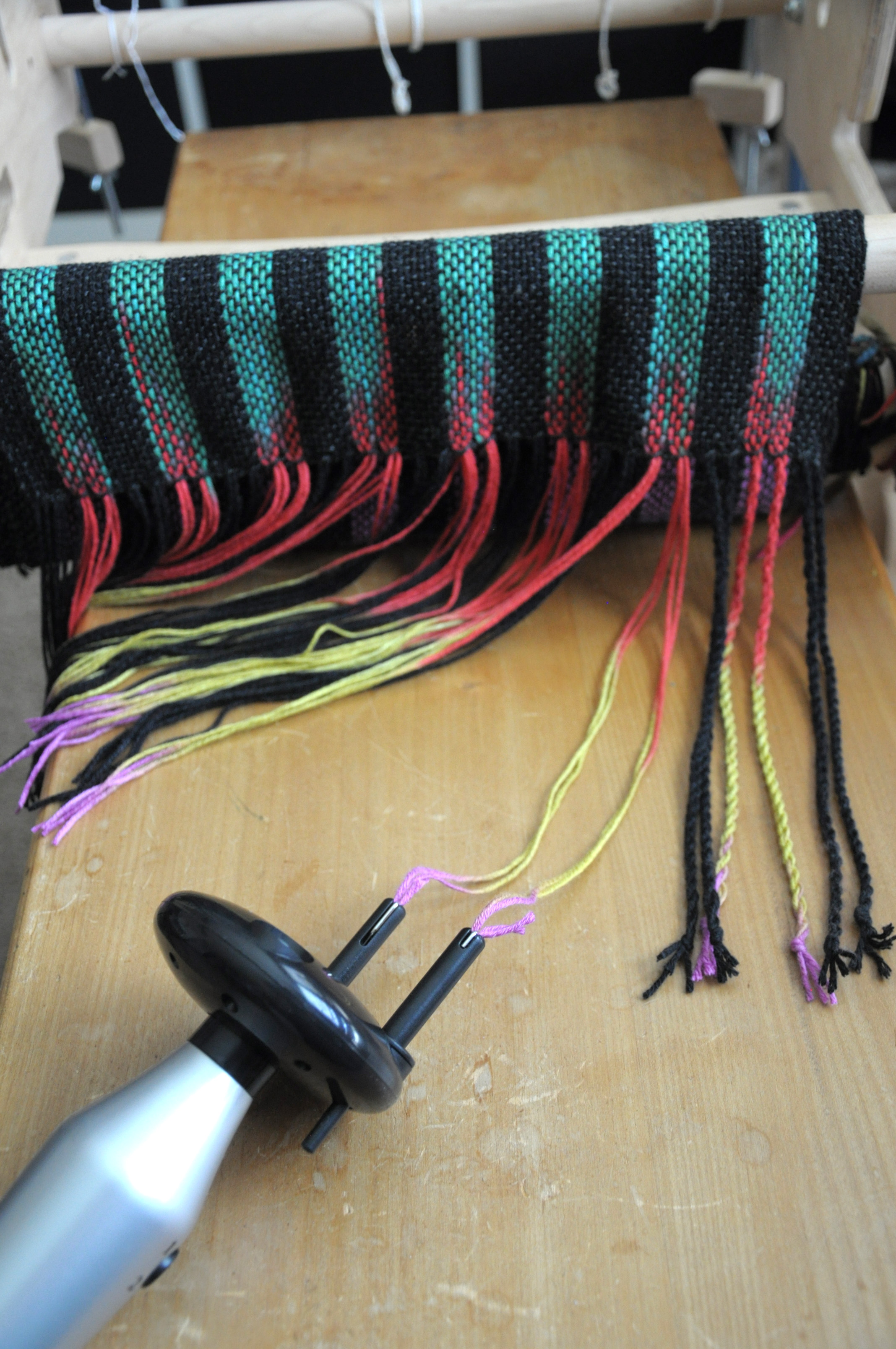 I didn't get a good photo of this step, but those little metal pieces in the top of the prongs will extend, grabbing onto the yarn, and then retract back down.
Next, I push the button on my tool into position 1, which twists each strand independently. To get consistent twist on all my fringe, I counted to 30, (sort of in rhythm to the noise of the tool) as the tool was spinning.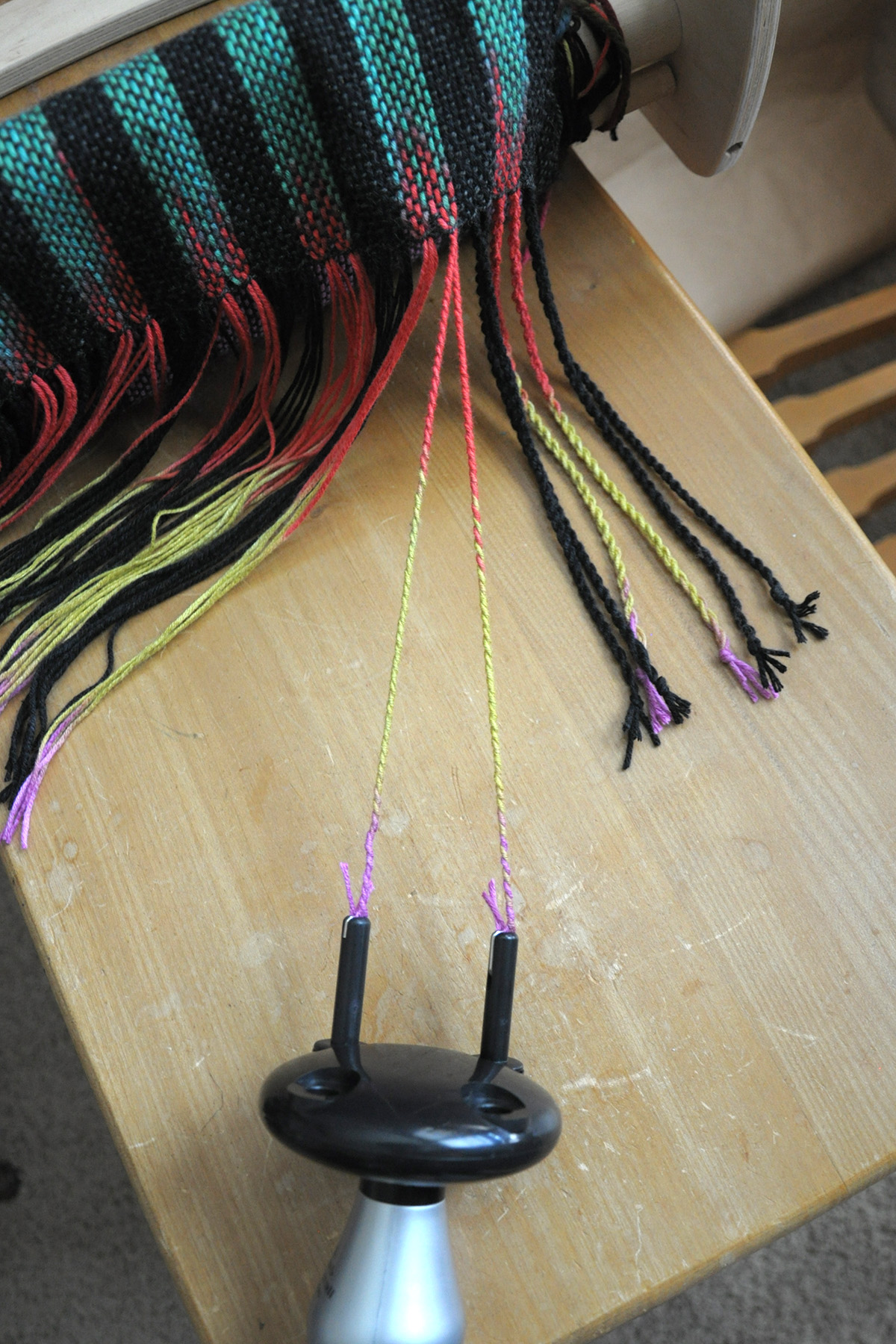 Once the strands are nice and twisty, I push my button down into position 2. This rotates the entire top of my tool in the opposite direction than the prongs rotated, twisting the strands around each other. During this step, I found that counting to 20 made a perfect balance of countertwist.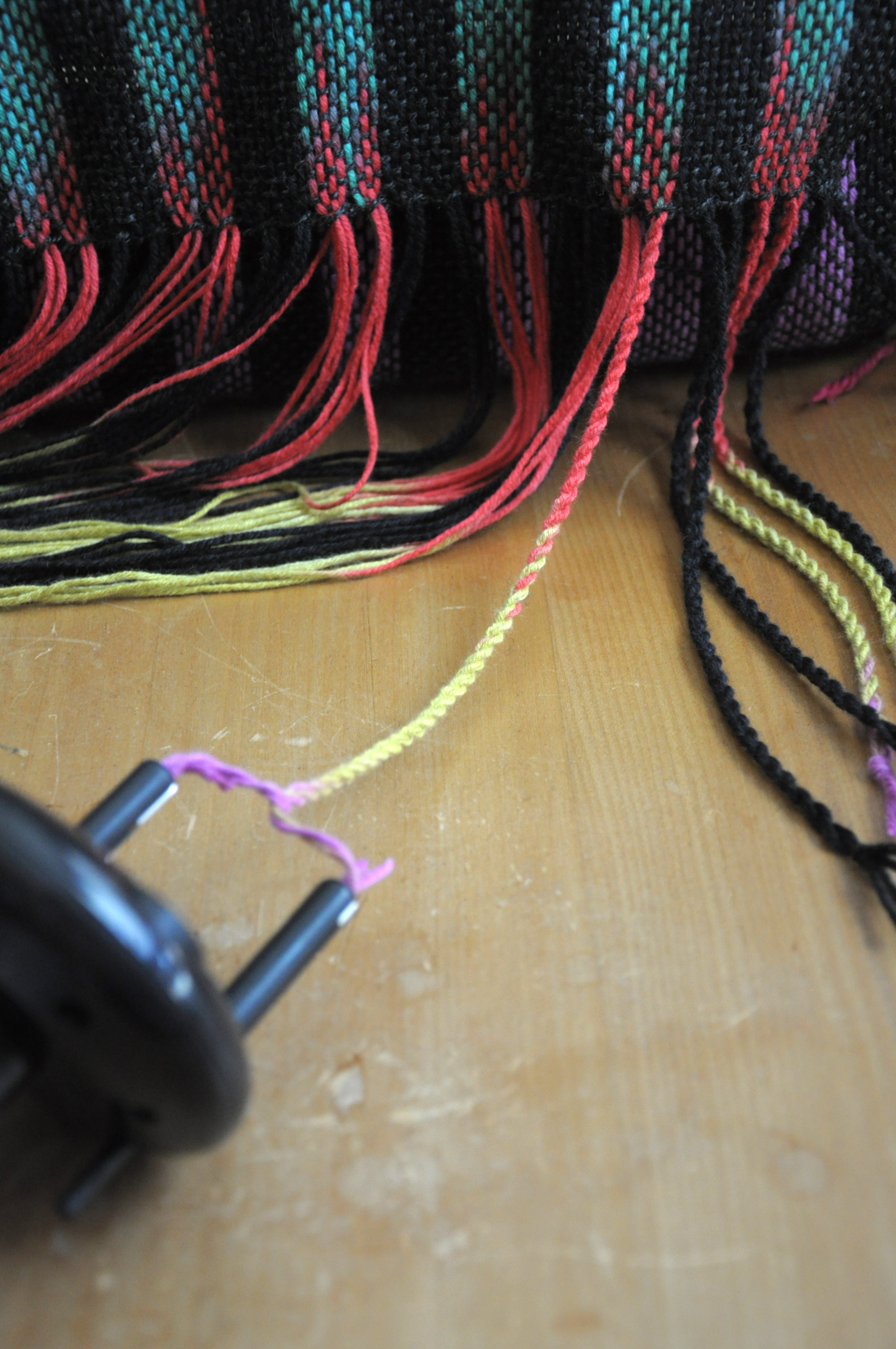 Then, release the ends of the yarn from the metal prongs and tie in an overhand knot. The twist stays twisted!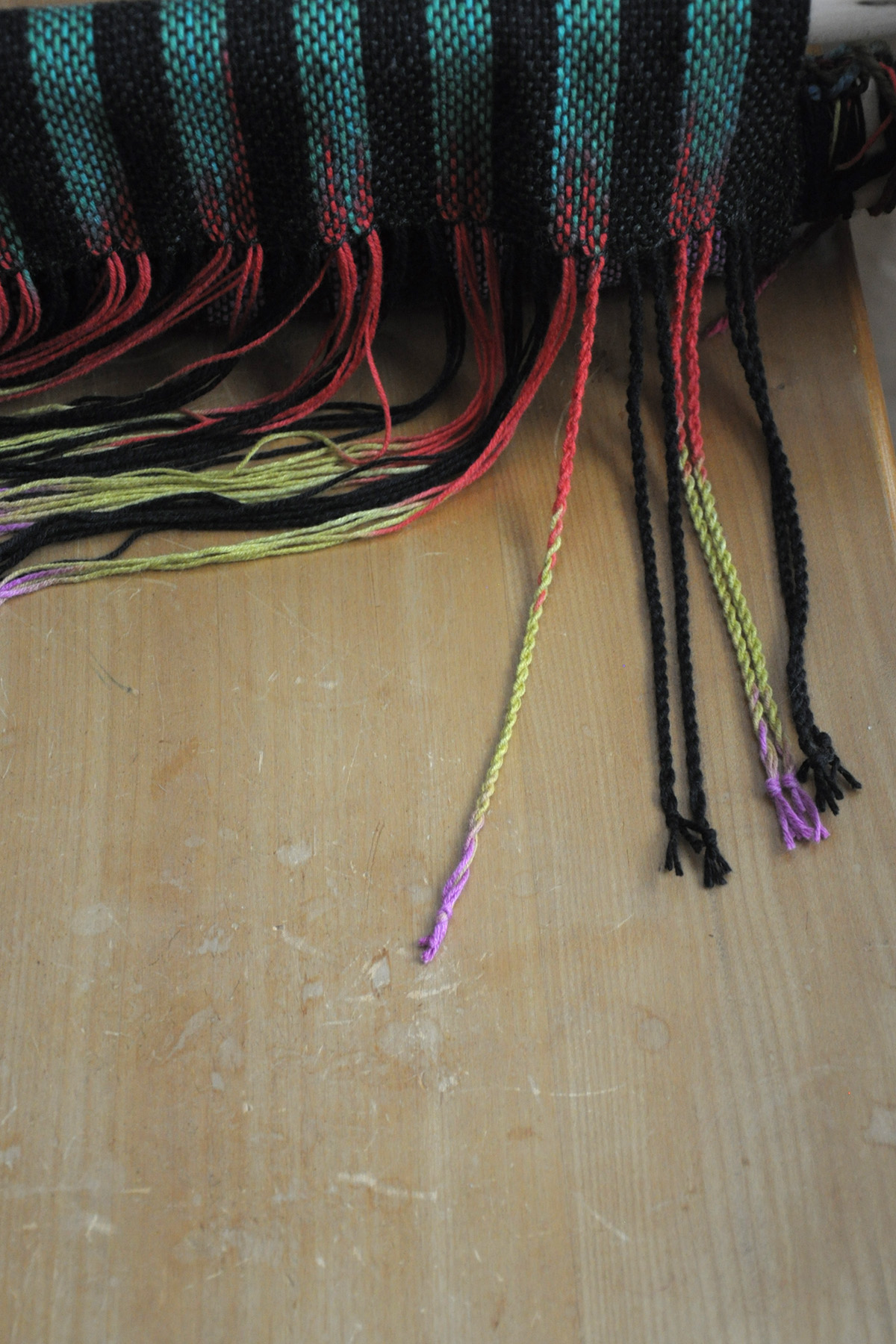 After I made all the twisted fringe on the final end of my scarf, I cut the beginning end from the loom. To keep this end of my scarf from moving around, I just set a heavy book on top.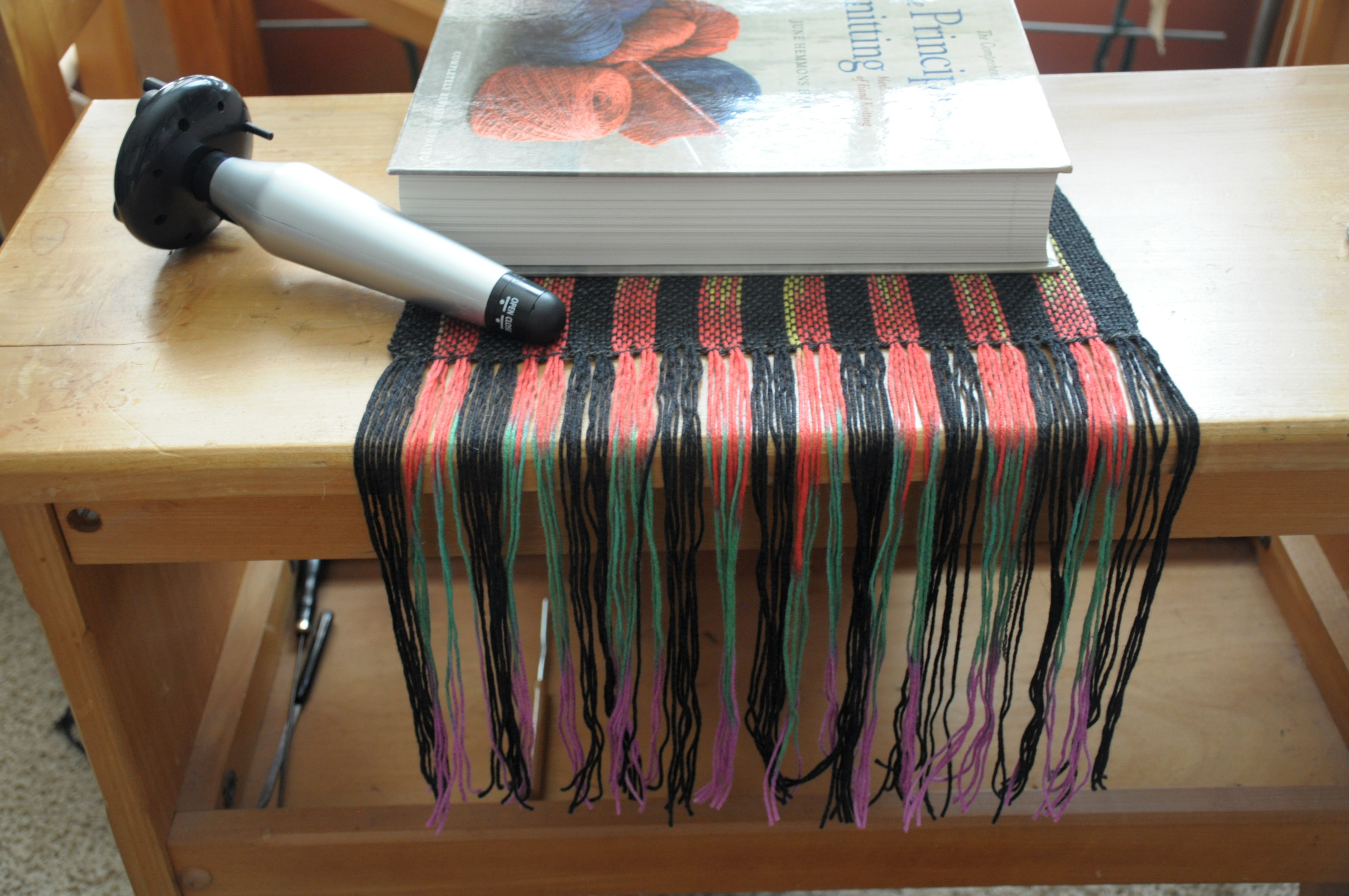 After handwashing and laying flat to dry, I had myself a very colorful scarf!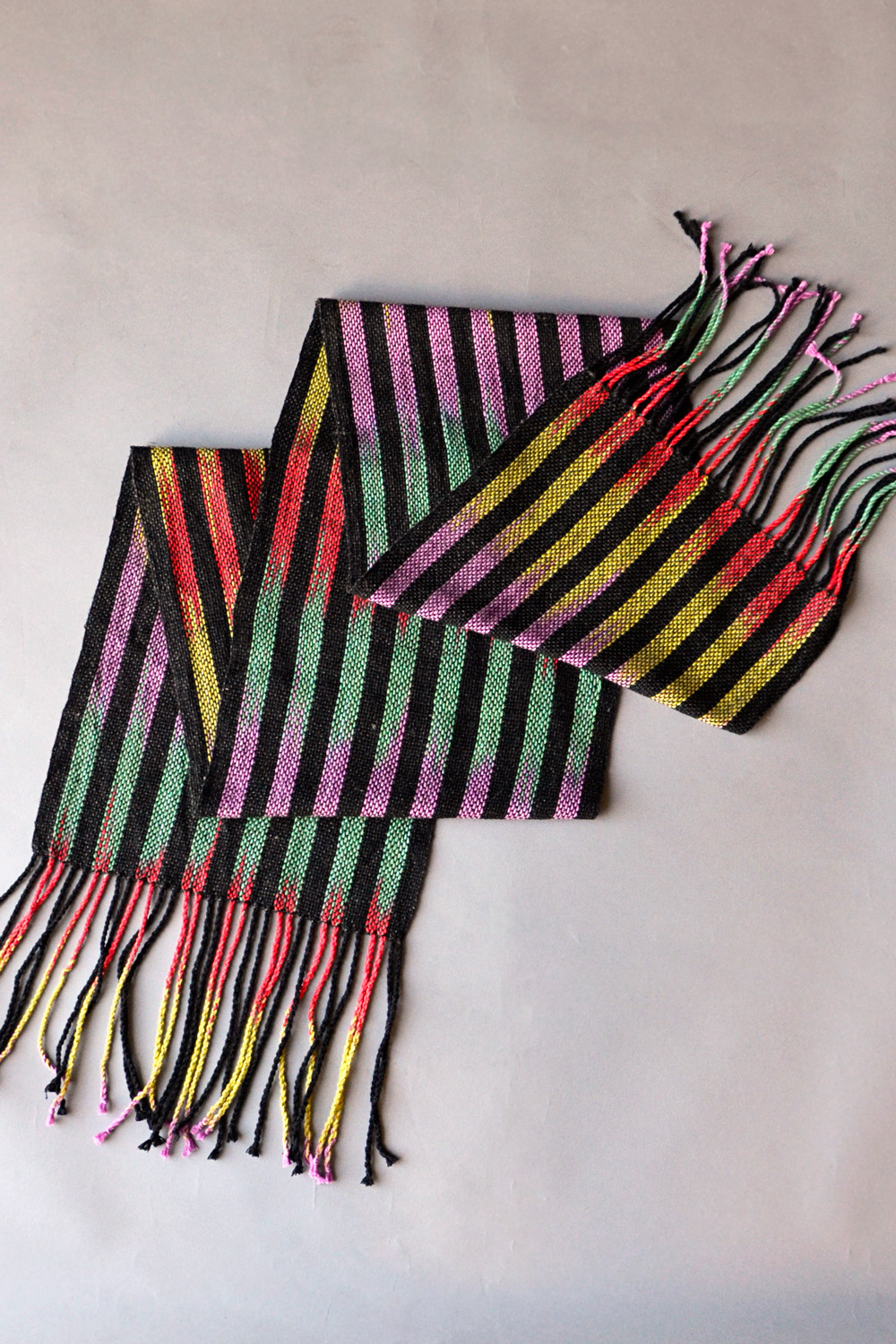 My finished scarf, before fringe is 62″, and is about 78 " with fringe. With one ball of each color of Bamboo Pop and 1 ball of Whisper Lace, I could have gone about 20-30% long if I had wanted.
I'm extremely happy with how this scarf turned out. It's quite lightweight with amazing drape. It's so very wearable. I could envision this in many different color combinations of our Bamboo Pop.
Join me next time for a lace weaving adventure with our anniversary namesake yarn, Universe!