How are my fellow knitalongers doing? We're all plugging away on our Deluxe Worsted Cable projects here in the office. I think we're all enjoying the laid back nature of this knitalong. There is no pressure. No deadline. No rules, really. Just fun and learning!
If you haven't joined us yet but think you're in the mood for some cable knitting, it's not too late to start! You can begin by picking a project from our latest ebook: Deluxe Worsted Cable Collection. You can read back through my other blog posts talking about the knitalong:
Deluxe Cable Collection Knitalong (launch post)
You can also find all posts related to this knitalong by going the home page of our blog (http://blog.universalyarn.com/) and locating the category "Deluxe Cable Collection Knitalong" on the left side of the page. And be sure to join the discussion over on Ravelry in our dedicated knitalong group.
Let me catch you up with how we're doing with our projects over here.
Remember Angie who has never done cables before? She is now the proud owner of her very own Cold Mountain cabled hat. She also might kill me for posting this goofy picture of her.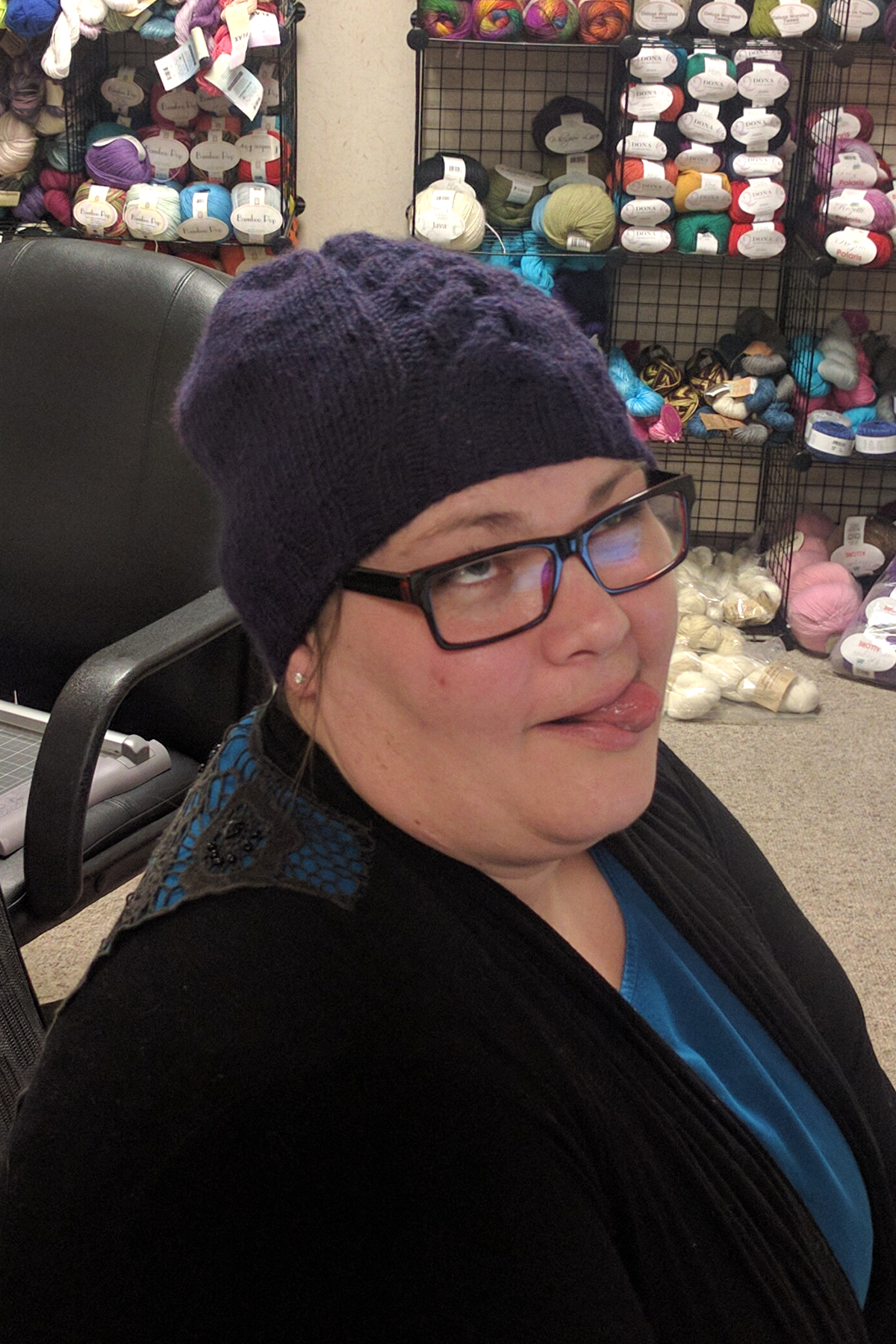 Angie made a couple of mods to this hat. She decided to knit the brim shorter than the original so it is not folded. She also eliminated the lace part and stuck with stockinette instead. I'm so proud of Angie – her cable and hat look so good. She's waffling on a very important finishing decision: to pom-pom or not to pom-pom.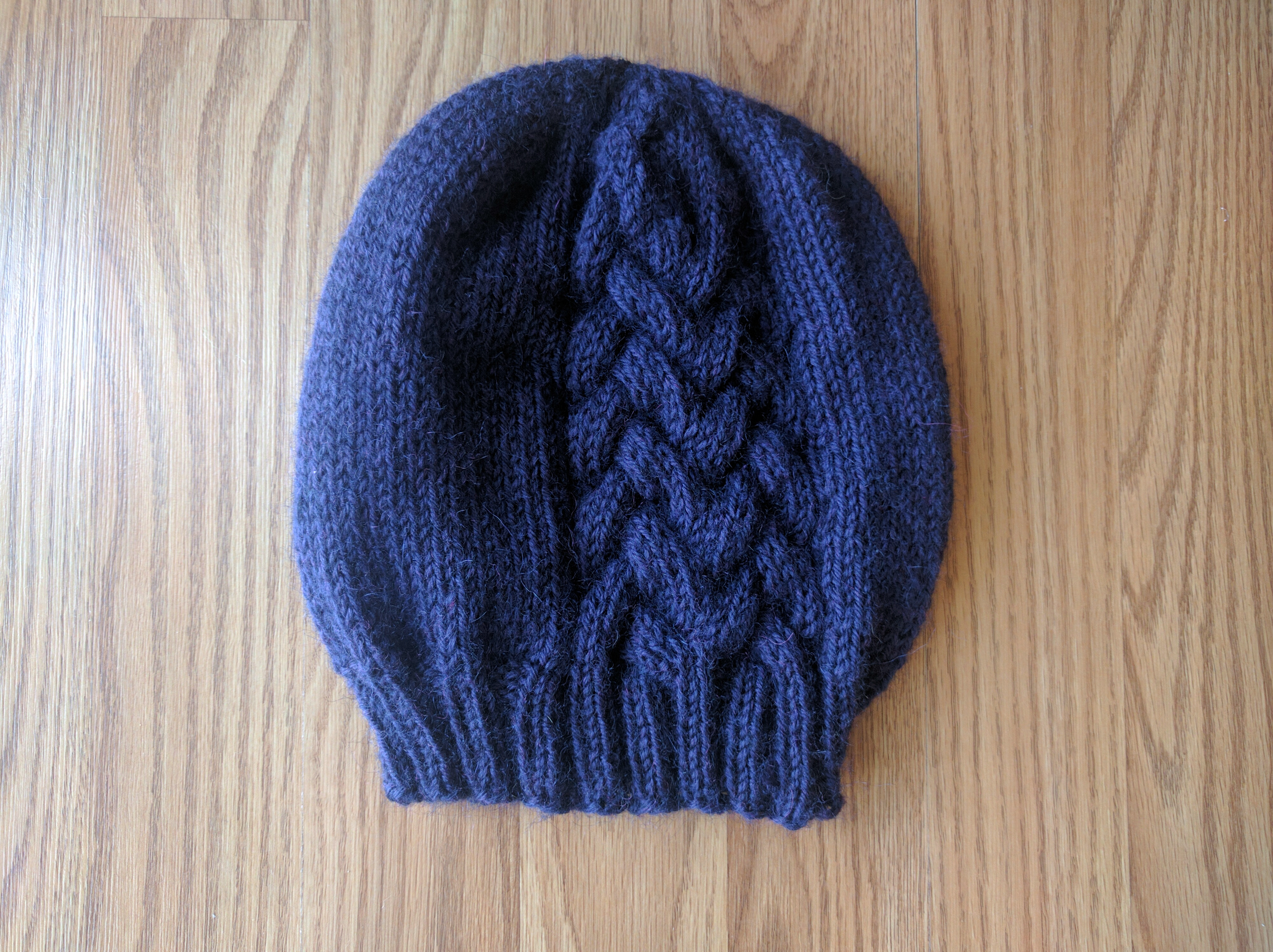 Heather is making progress on her two-at-a-time Tillery Socks.  She's modeling them on her arm here so we can see the patterning better. Seeing them like this, I could definitely imagine these being turned into fingerless mitts or mittens, too.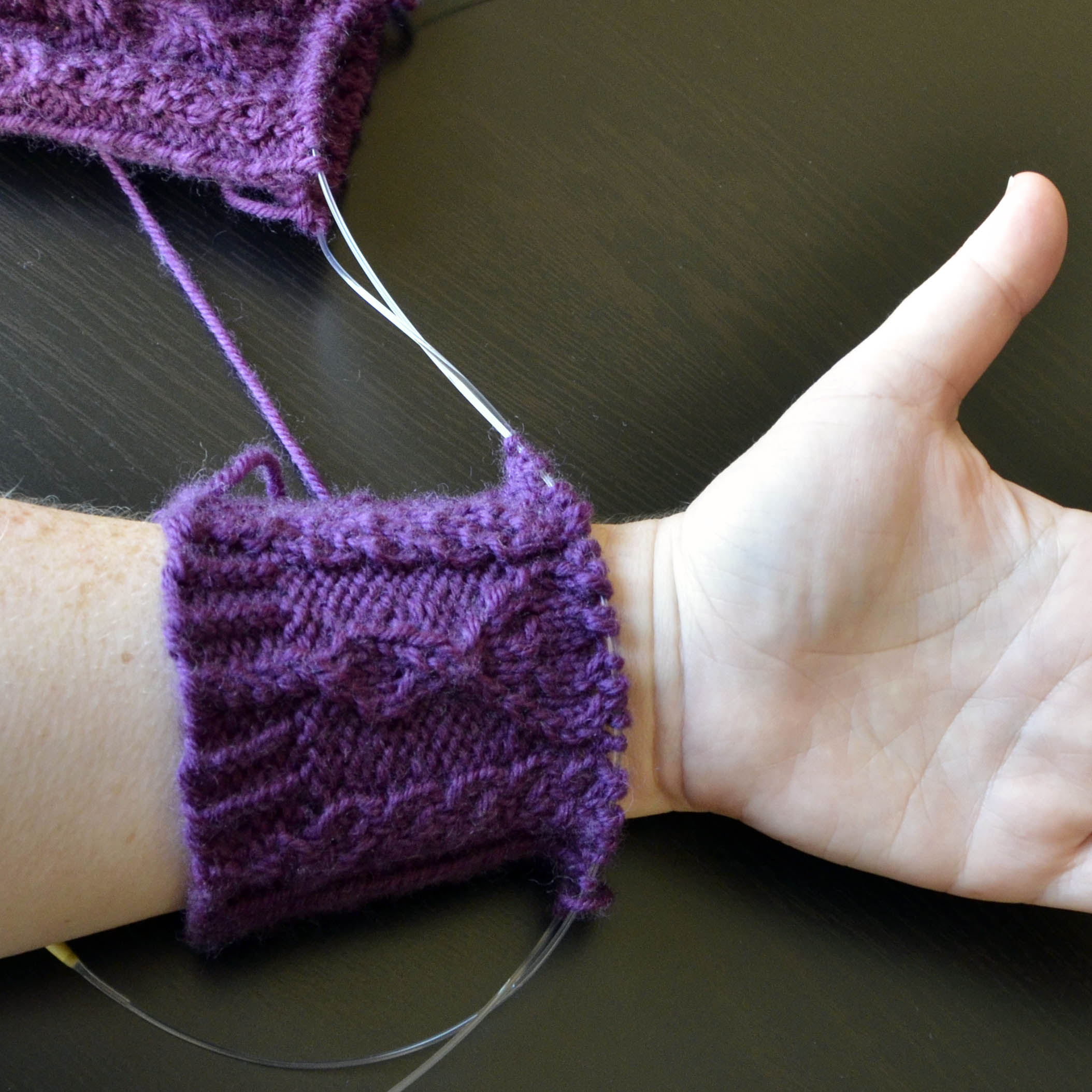 Jen has cast-on for her Ballantyne Tee, modified to be knit in the round. This project is a nice balance of mindless reverse stockinette along with a little bit of patterning to keep things interesting.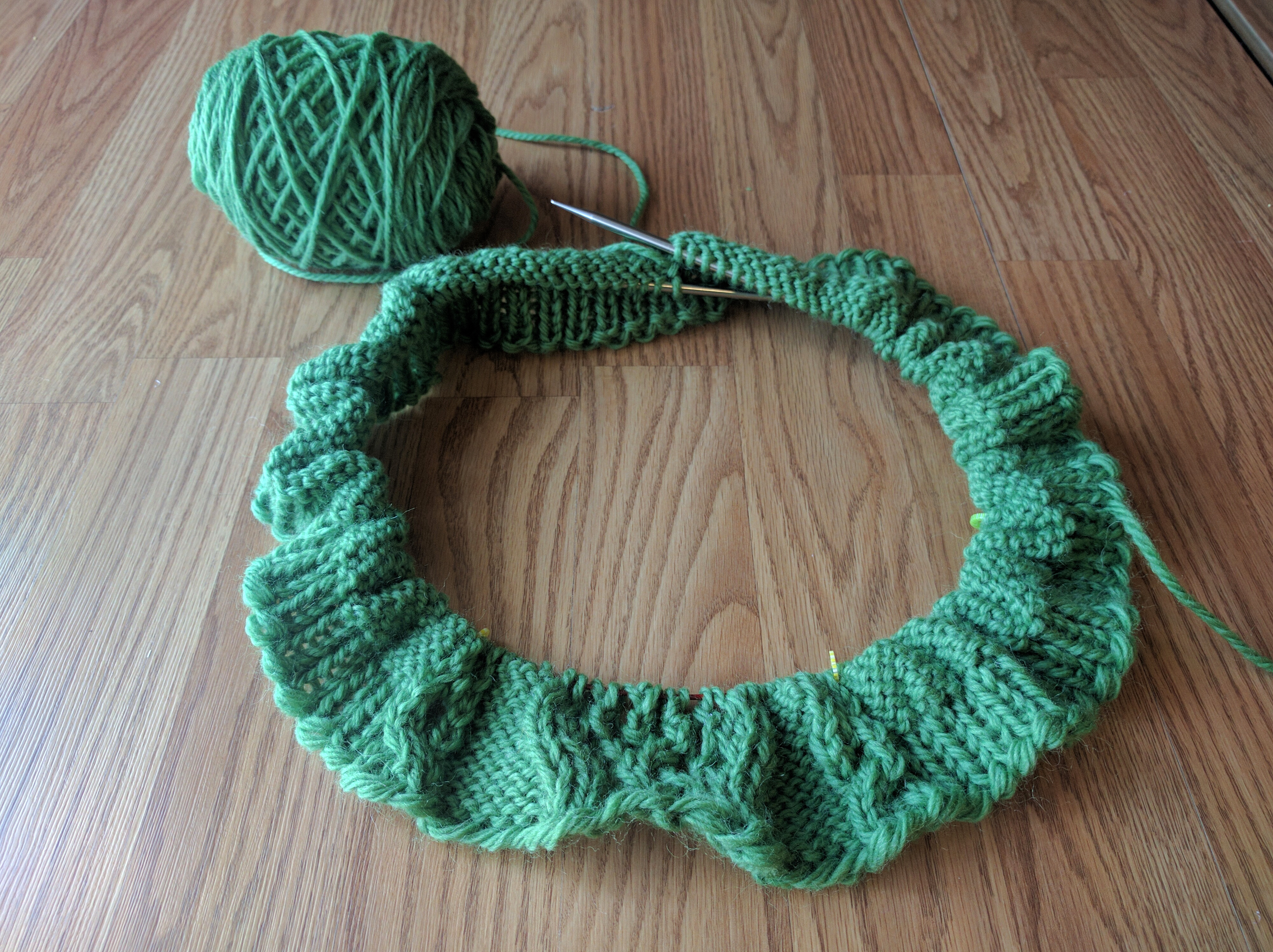 Tori has also opted to go for a one-piece project. Instead of knitting fronts and back separately, she cast on for the body to work it as one. Here's her Eastover Vest after a few rows, sitting next to her swatch: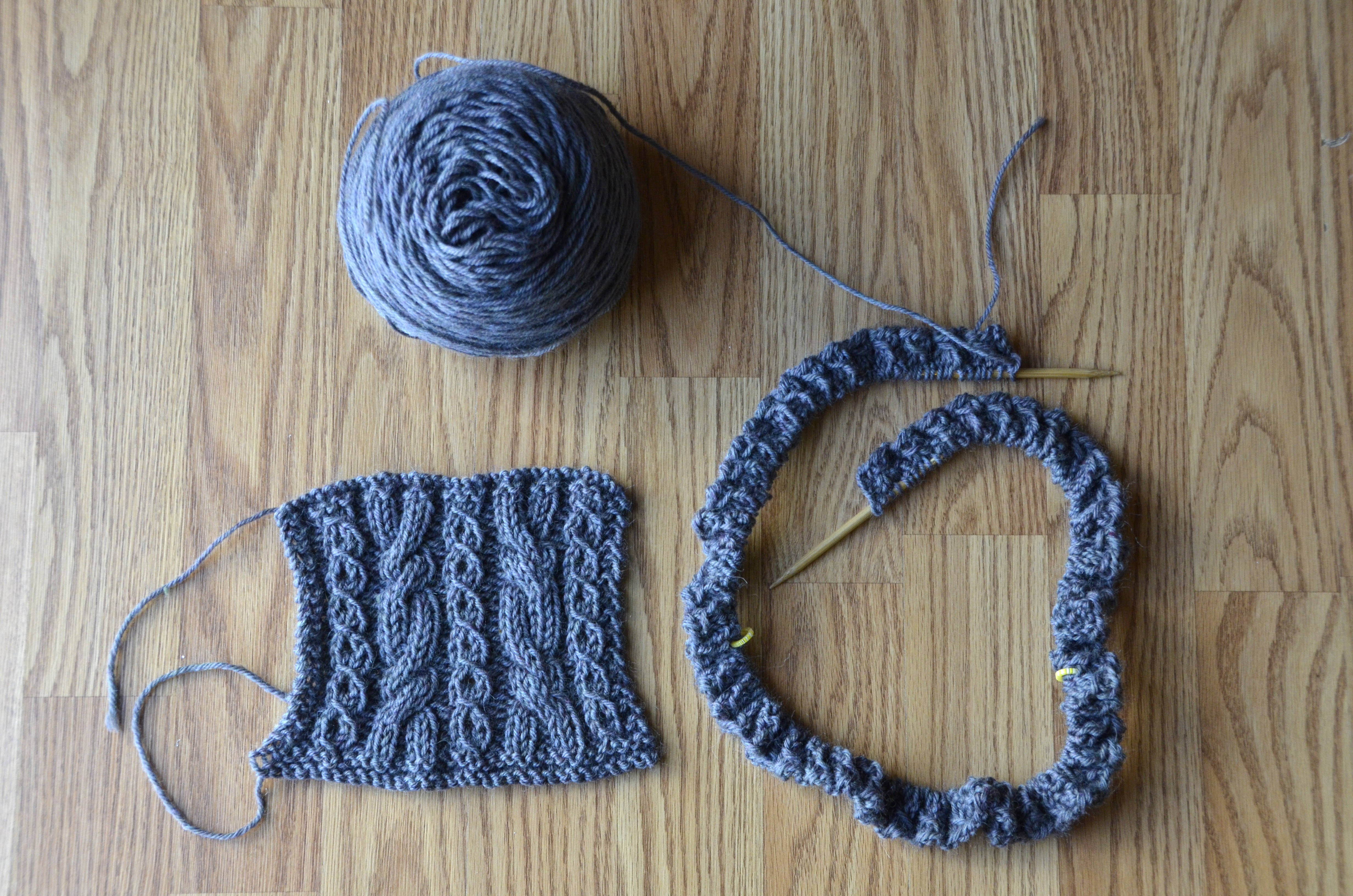 If you remember, Jannie is a very new knitter, and this will be her first garment project. So exciting! She started swatching for her Greensboro Cardigan using Deluxe Worsted Tweed Superwash. Jannie was mostly getting the patterning right, but we discovered one little thing – over the twist cable stitches she was knitting these stitches on wrong side rows instead of purling them. But she's not discouraged and is ready to continue on swatching and practicing the stitch pattern. Good attitude!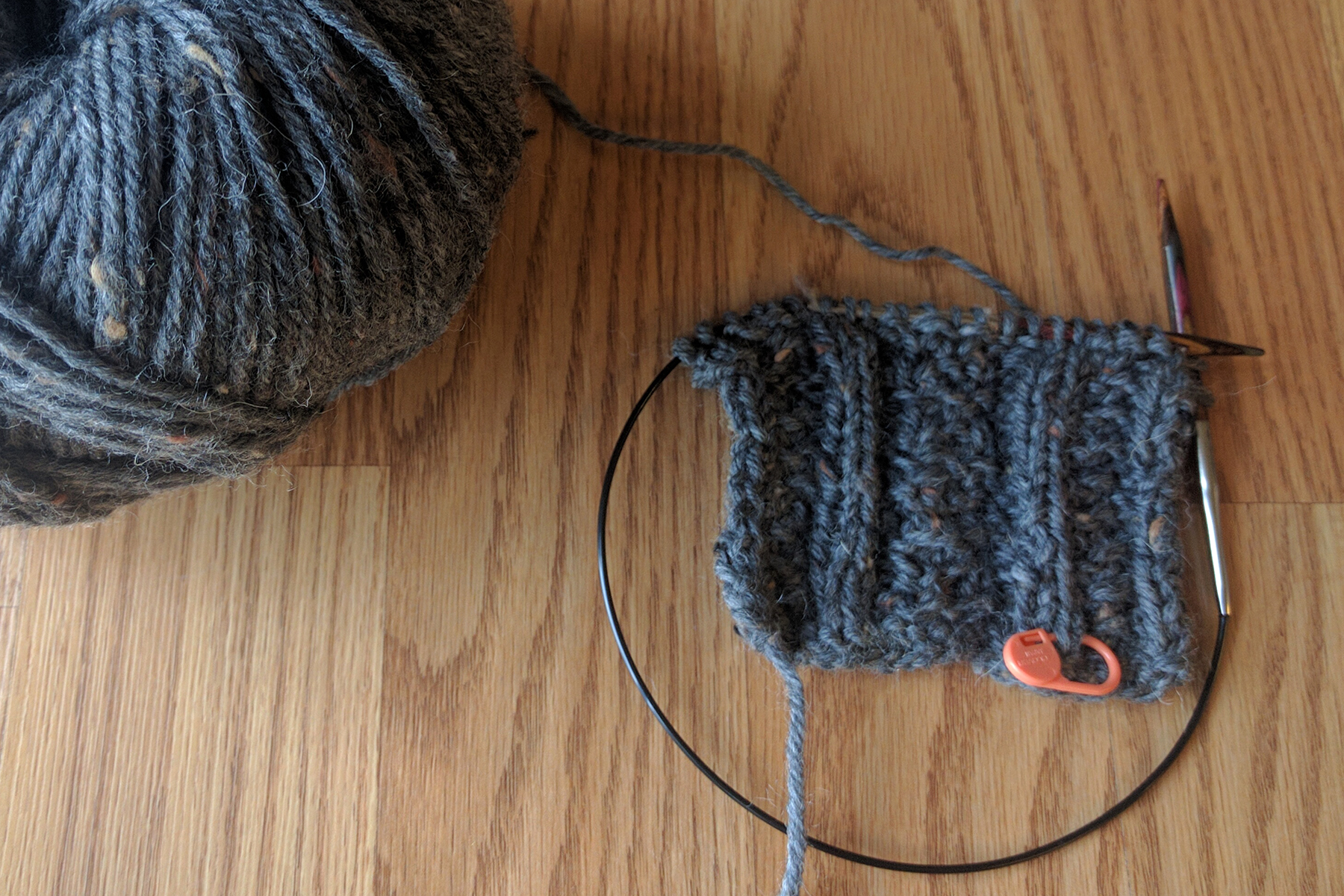 Yonca started on her Cumberland Poncho using Smoke Heather in Deluxe Worsted.  As is her usual way when working sleeves, fronts, or any other identical pieces, she's working both rectangles of the poncho on the same needle at the same time. Unfortunately, Yonca discovered an issue with some of her twisted stitches so she's going to have to rip out and start over. But as we all know, ripping is just part of the process sometimes! Luckily she's not too far along.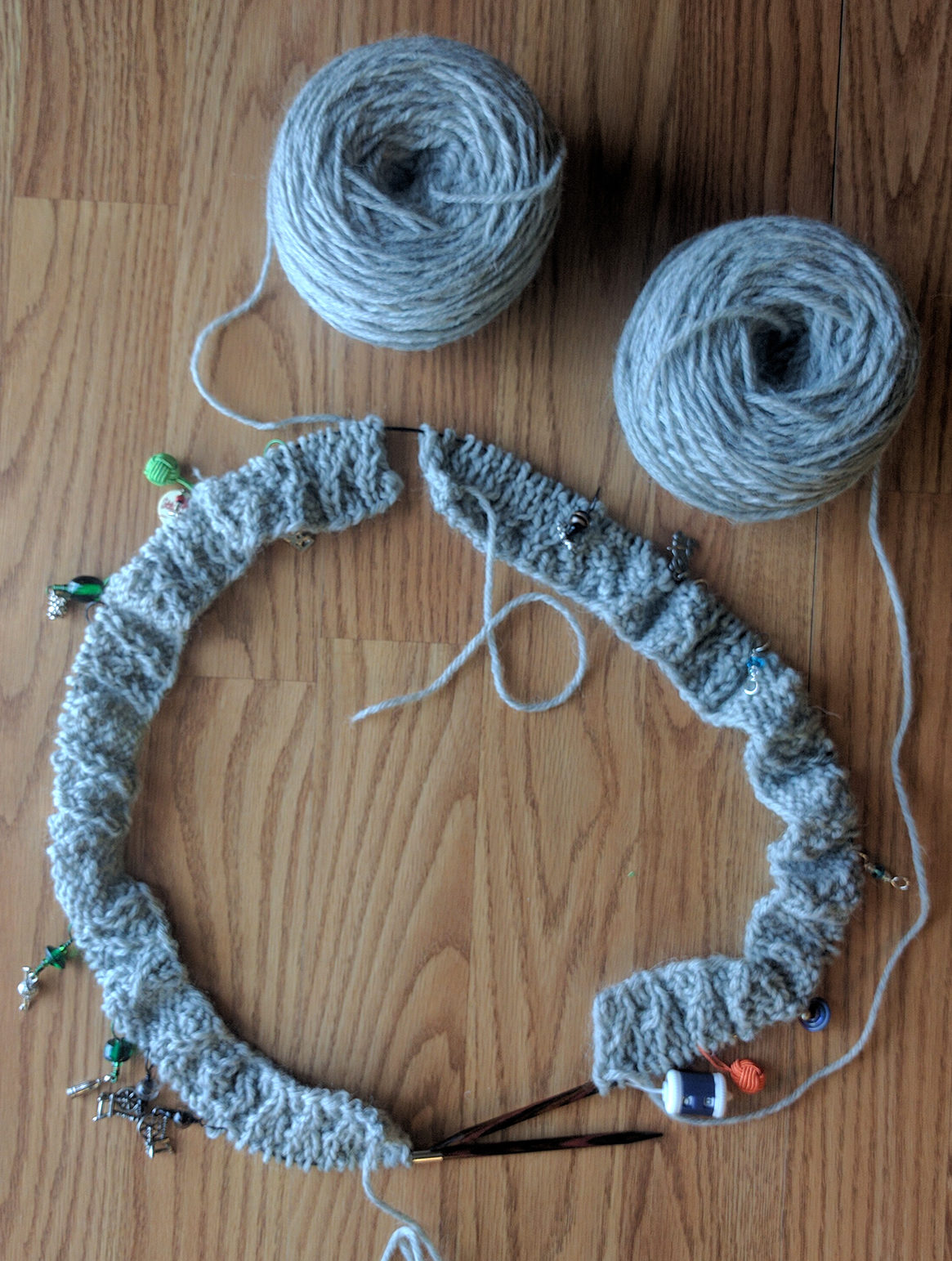 Speaking of ripping, I've got quite a bit of this to do myself. I happily bound off the fronts of my Wesley Heights (modified to be a cardigan) the other day. I washed my fronts along with the back piece and laid them out on my blocking mats. So tell me, what's wrong with this picture?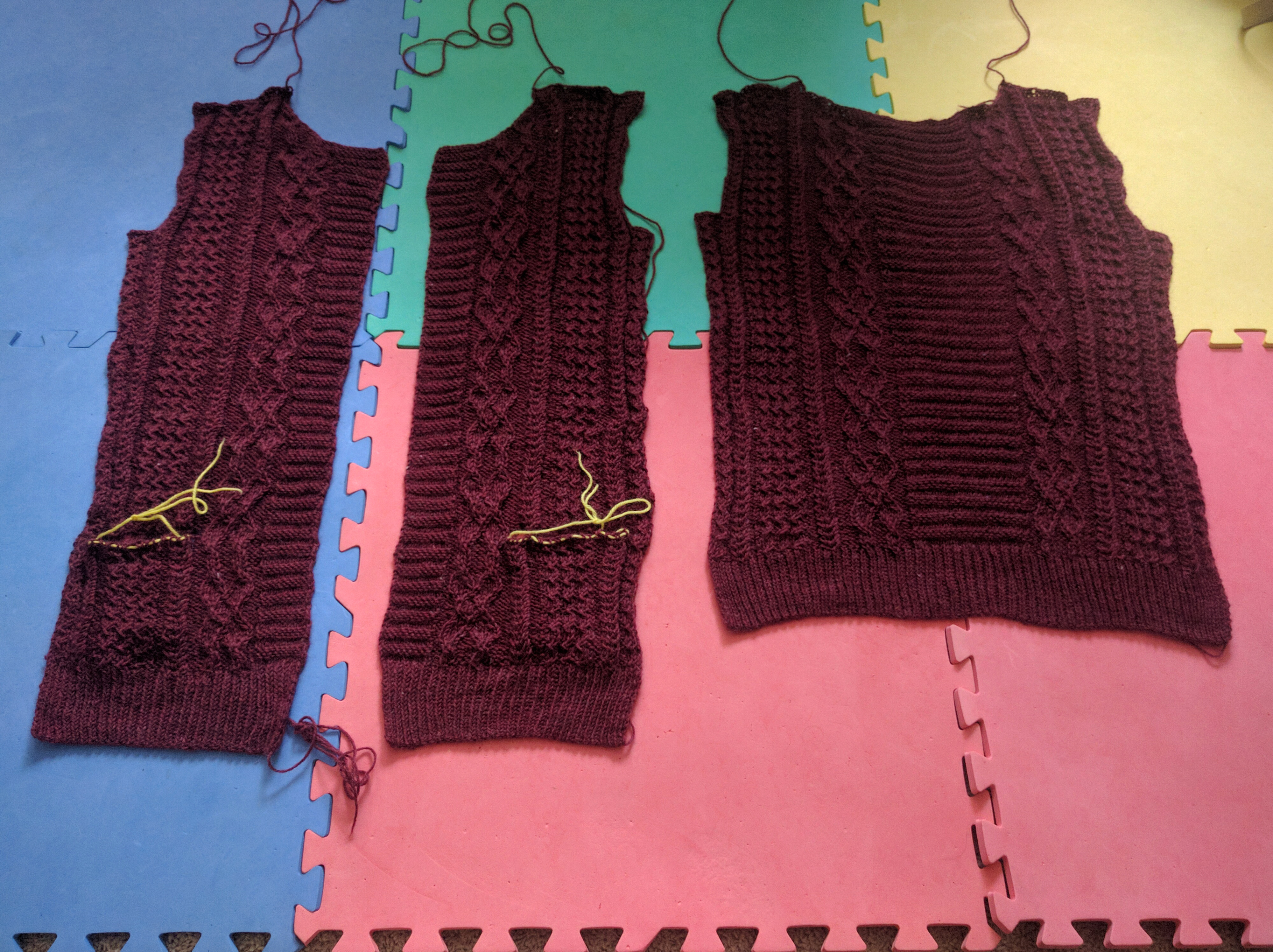 Er, yeah. Even though I made myself a very clear note that to match length from the back piece, I needed to work 3 pattern repeats + 14 rows, somehow I managed to work 1 entire extra pattern repeat before moving to my armhole shaping. I thought I was ready to start seaming and knitting a collar. But alas, to the frog pond I go.
I'm also making progress on my Catawba River Poncho. Look out for tutorials related to this over the next couple of weeks.
And I decided I also need a Dilworth Shawl in a nice bright color: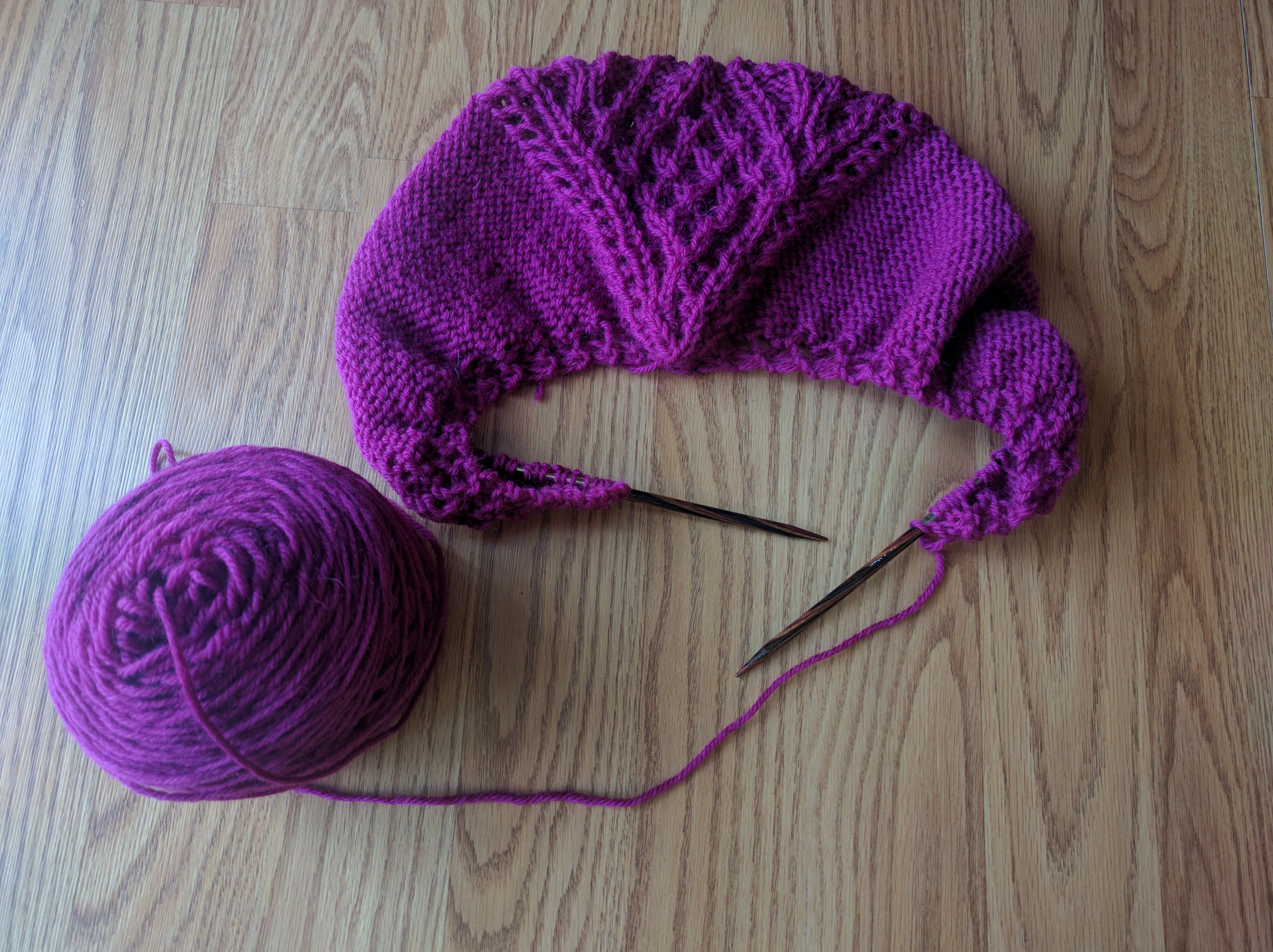 And that's it from us? How are you doing? I'd love to hear about it!