Hello! I am back again with another post about my Bamboo Pop collection. This week we'll do a deeper dive on the Anuenue Sampler Scarf. It's a great project for someone just learning crochet or a nice palate cleanser with small tastes of different stitches. Let's get to it!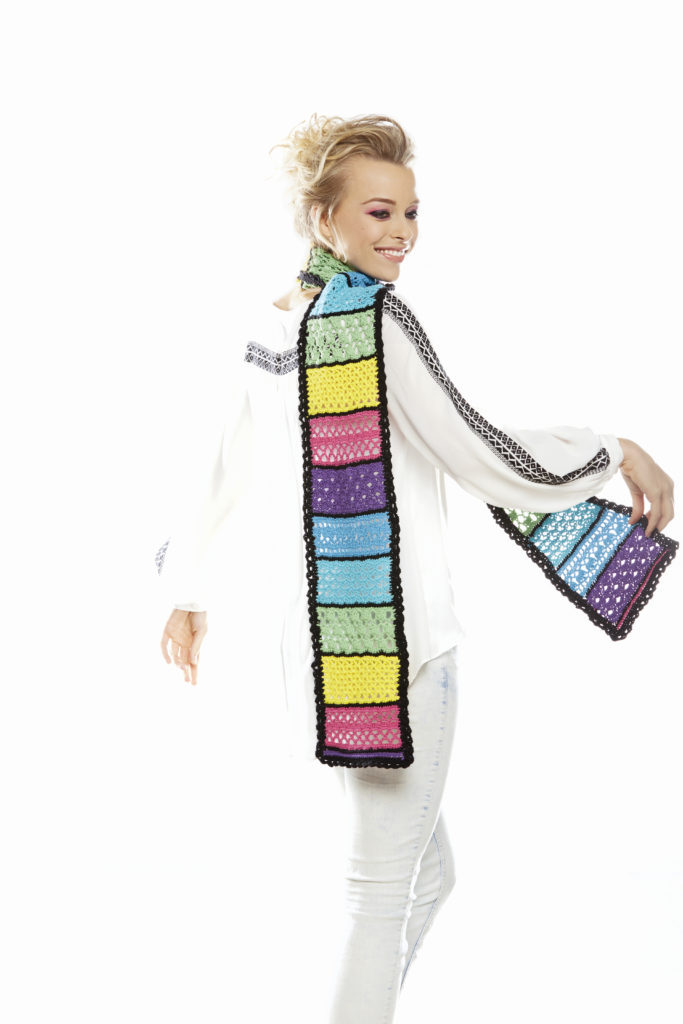 As I said in my previous post, this was my first crochet design and crochet is not my primary craft. I wanted to create a project that would be fun to design and fun to make, especially for newer or more sporadic crocheters like myself. I actually held my first crochet hook long before I ever picked up knitting needles. My grandmother, a very prolific crocheter, taught me how to chain when I was 5 years old. Unfortunately, until a few years ago I never went further than that. When I started knitting over 10 years ago, it basically took over my world and I completely forgot about crochet. A few years ago I decided to teach myself how to crochet, to help round out my fiber arts skill set.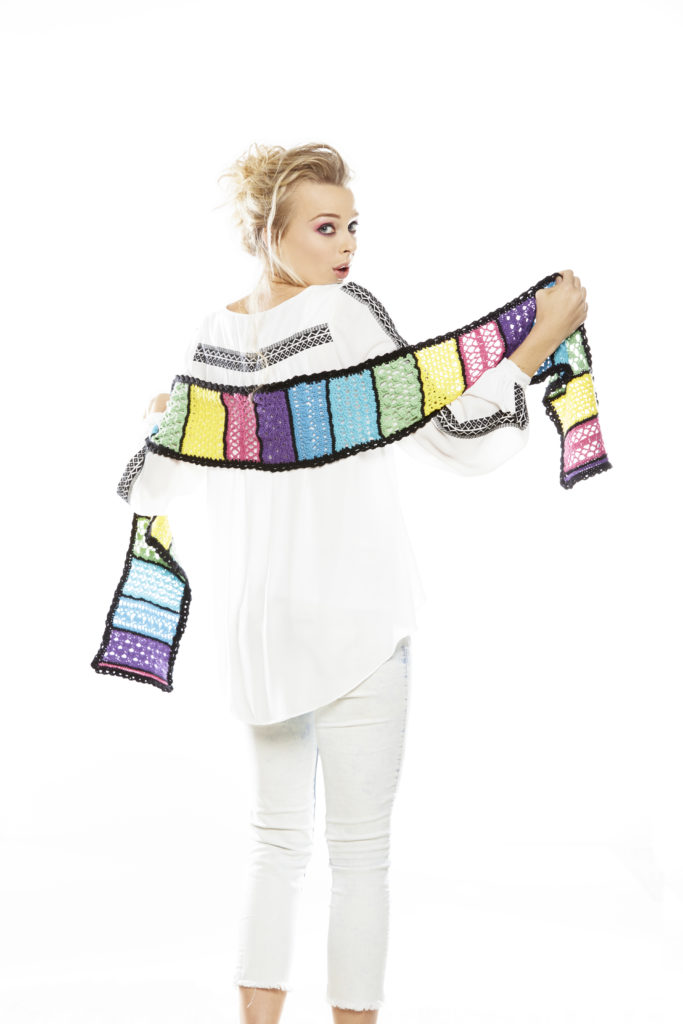 This pattern will take you through 7 different stitch patterns and colors; along with an edging all around the scarf. If you are learning to read crochet charts, this pattern is a great choice. Both written and charted instructions are included for the 6 main sections. Can I just take a moment to say how brilliant the charts are, too? Amy made these amazing charts for the pattern…they are color coded by section and shaded to indicate different rows. They are definitely the prettiest charts that I have ever seen!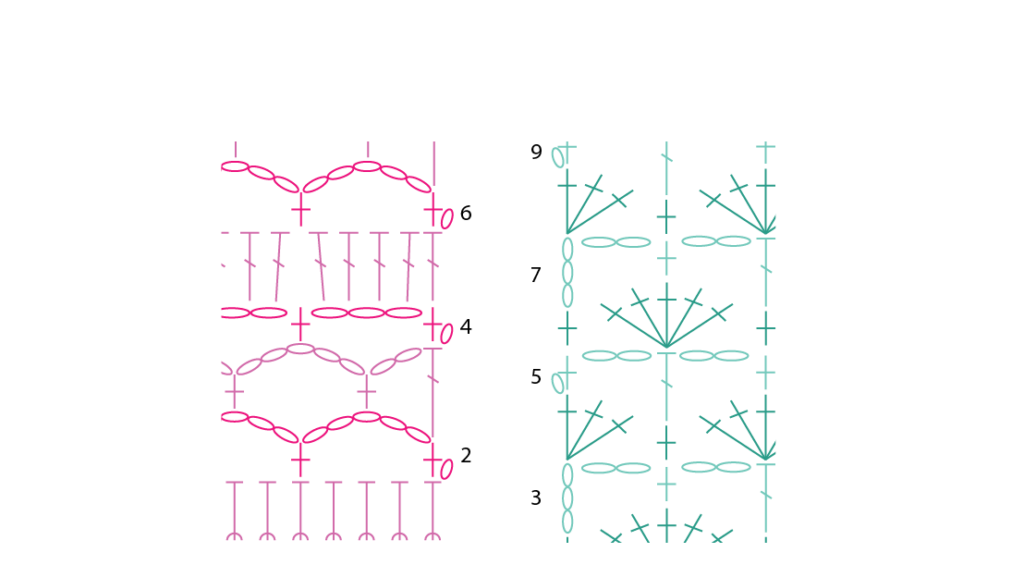 When choosing stitches for this sampler there was a lot to consider. First, I knew I wanted a ton of colors and I wanted them to be bright and tropical. To create an almost graphic quality, I chose black to separate the sections and edge the scarf. Next, the stitches needed to play well with each other, having comparable stitch repeats and multiples to create sections of similar width.  Finally, I wanted to choose stitches that were fun! Since you are only getting a small segment to work, I wanted the stitches to have great visual interest but also be different enough from each other to prevent boredom or overwhelm. Knowing that after a few more rows you get to work on something else can be a great motivator.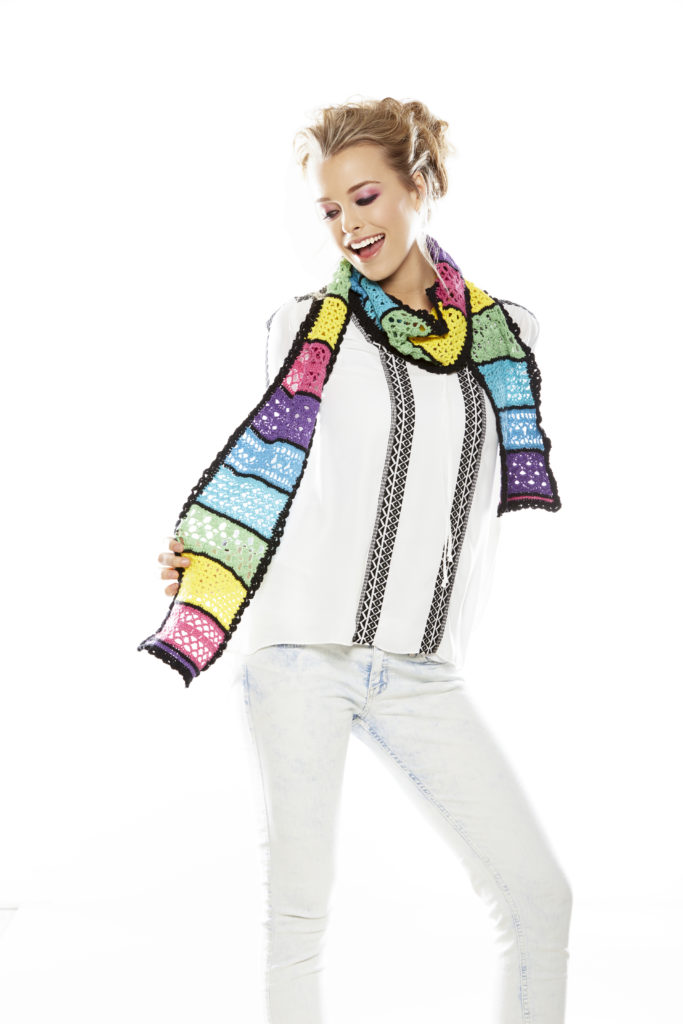 Picking up and working edging around a piece can be a love/hate thing. For this reason I chose to keep the edging fairly simple. At this point you are in the home stretch, and the simple but pretty edging will bring your scarf to a wonderful finale!
Which did you learn first, knit or crochet? Do you do both? Is there one that you prefer more than the other?