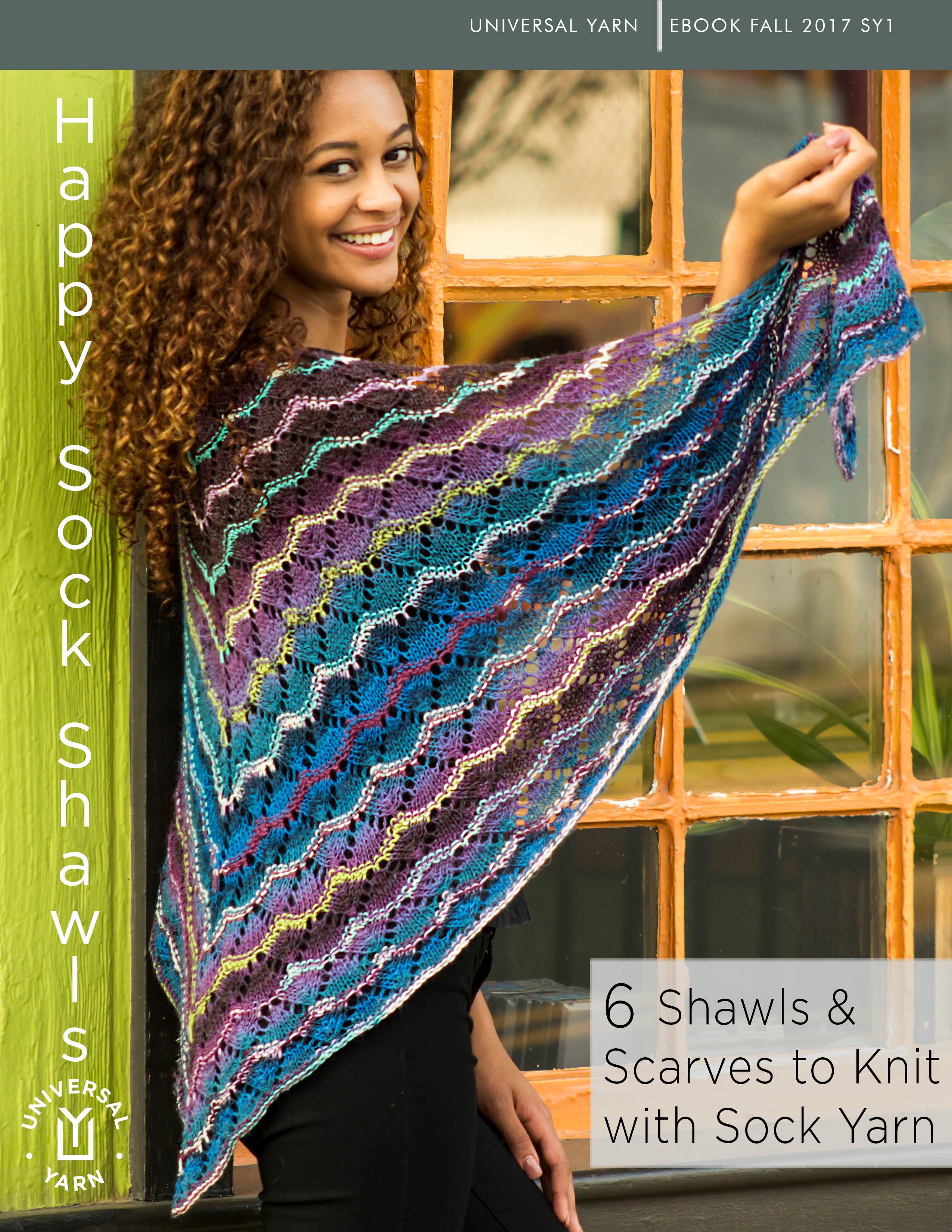 Perhaps our most fun pattern collection from this fall is Happy Sock Shawls, featuring 6 super colorful accessories using some of our sock yarns. We photographed this collection in hipster neighborhood Noda here in Charlotte, on a sunny morning this past summer. With such a beautiful smiling model, brightly painted buildings, and vibrant shades, the name "Happy Sock Shawls" was the only title that fit. It's hard not to feel happy when looking at these images!
Rachel Brockman, our new designer here at Universal Yarn also happens to be an amateur photographer. I think she did an excellent job of capturing this knitwear in all of it's glory.
The name of each project is a synonym of the word "happy", all beginning with the letter "E." I am now kicking myself for this plan of naming because I'm now having a hard time keeping them all straight!
Here's a little overview of the 6 projects in the collection:
Ecstatic is a crescent/triangle shape, knit from the top down. Instead of having 4 increases every right side row like most triangular shawls, this one has 6, which gives it more of a "swoopy" shape. I like this shape because it sits on the shoulders a little easier than a plain triangle.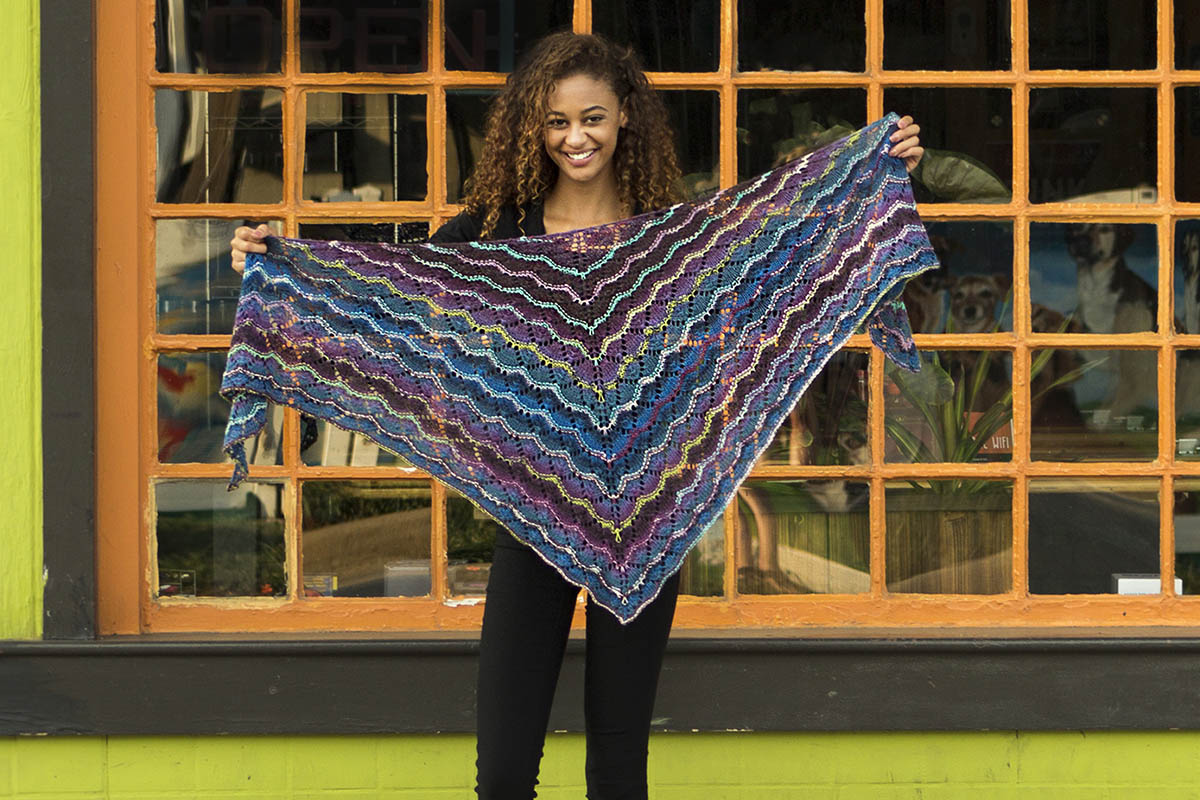 Ecstatic is mostly knit in self-shading Poems Sock, with accent rows of Pix. I just love the interest that those Pix stripes create.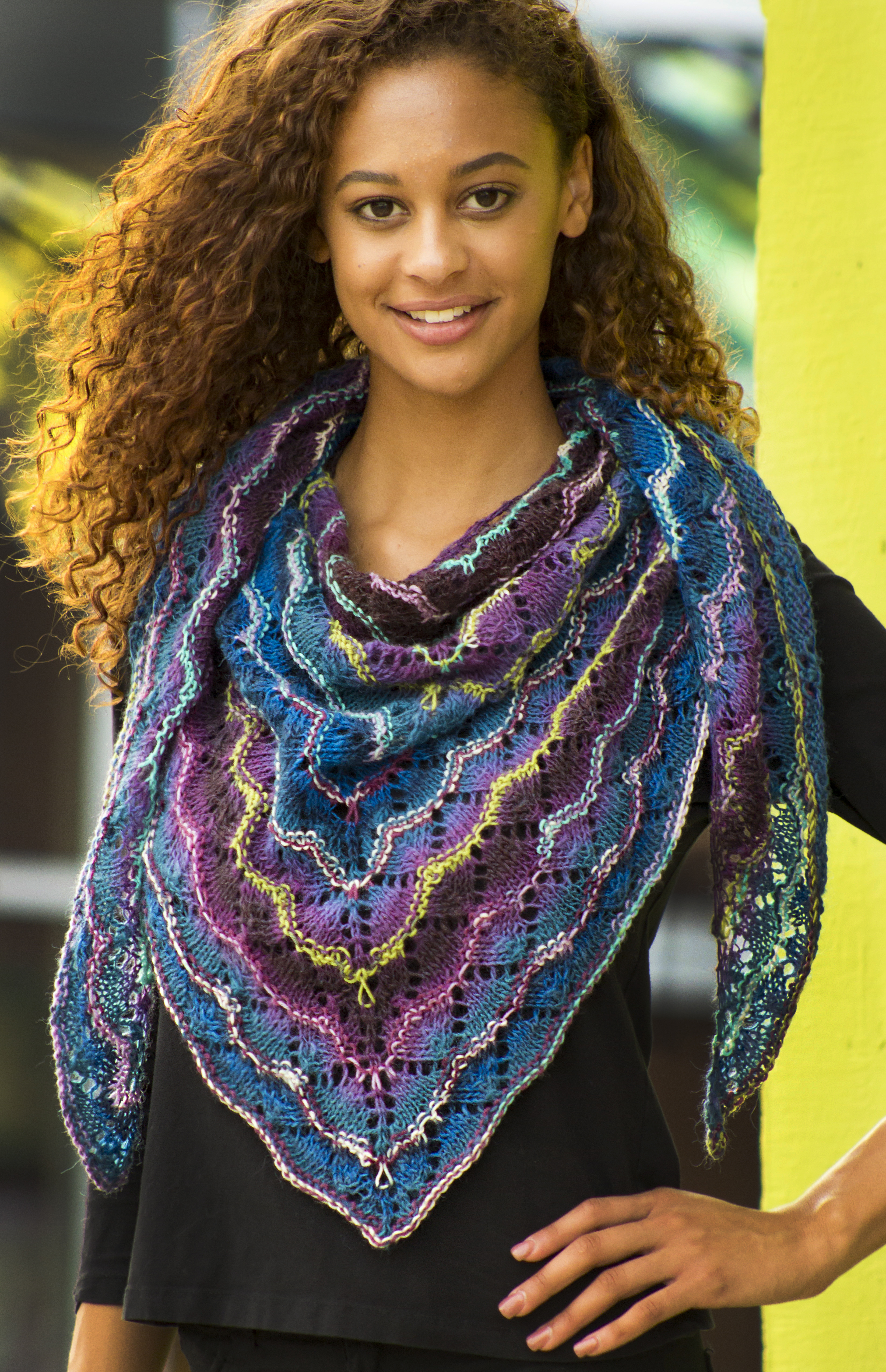 Energize is a circular shawl knit from the center out. It begins with Pi shaping, and then progresses to having increases that are worked into the lace pattern. It ends with a knit-on border.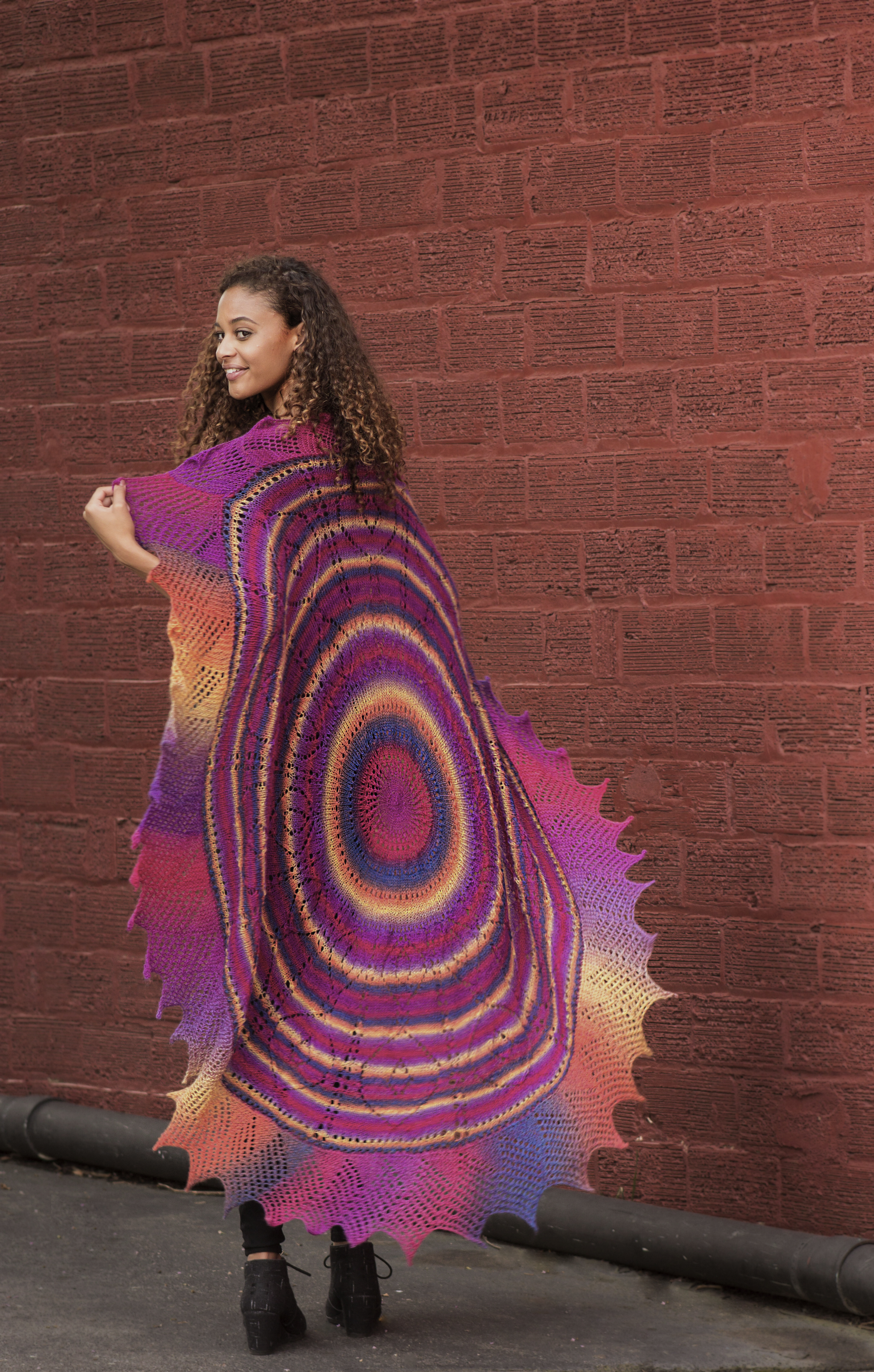 I love the way the Poems Sock stripes look in the round, and then sideways on the edging.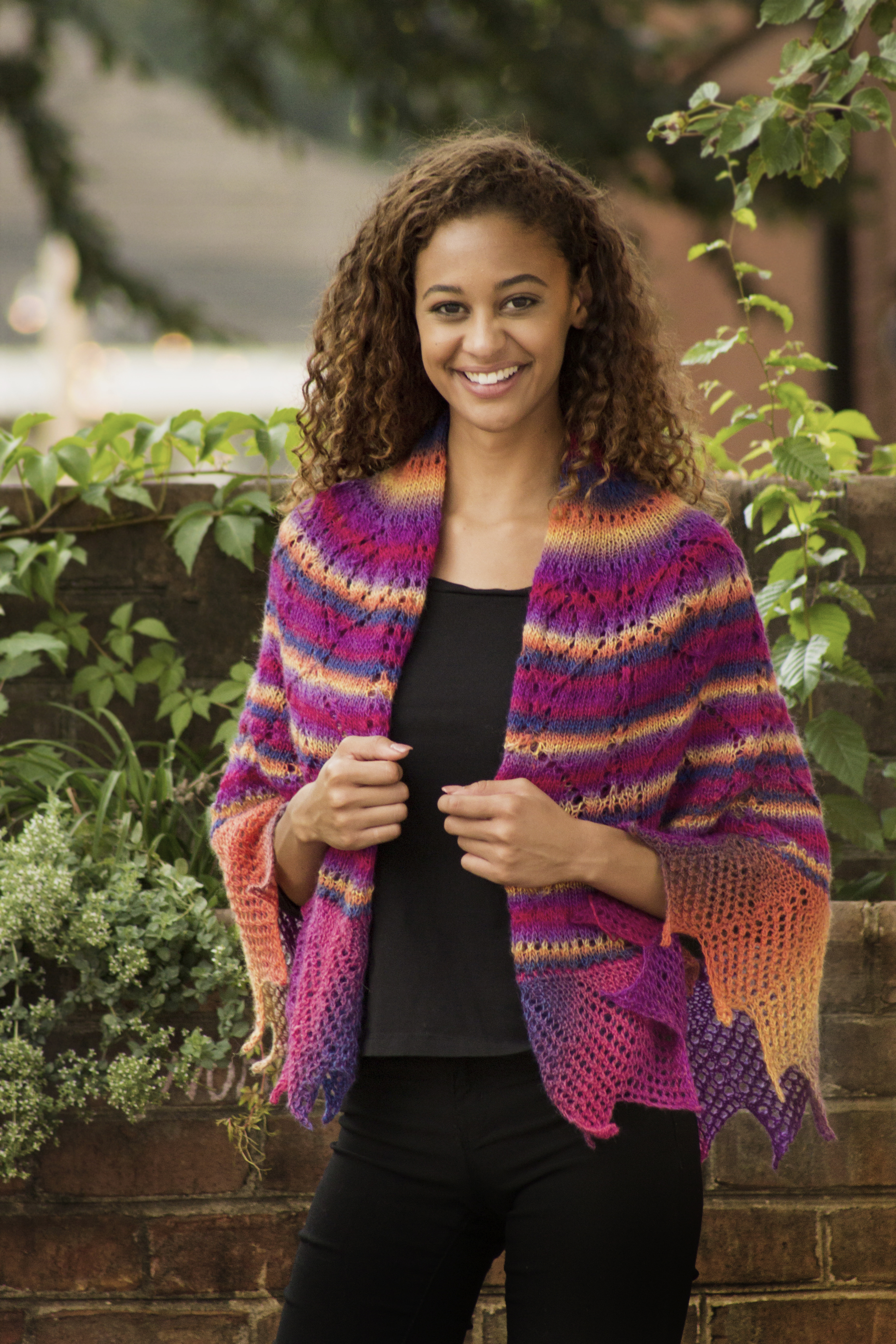 Exhilarate is a modern and asymmetric take on a traditional log cabin quilt. It's worked modularly in 4 sections, all worked off the sides of preceding sections. There's a handy diagram in the pattern to show how it all fits together.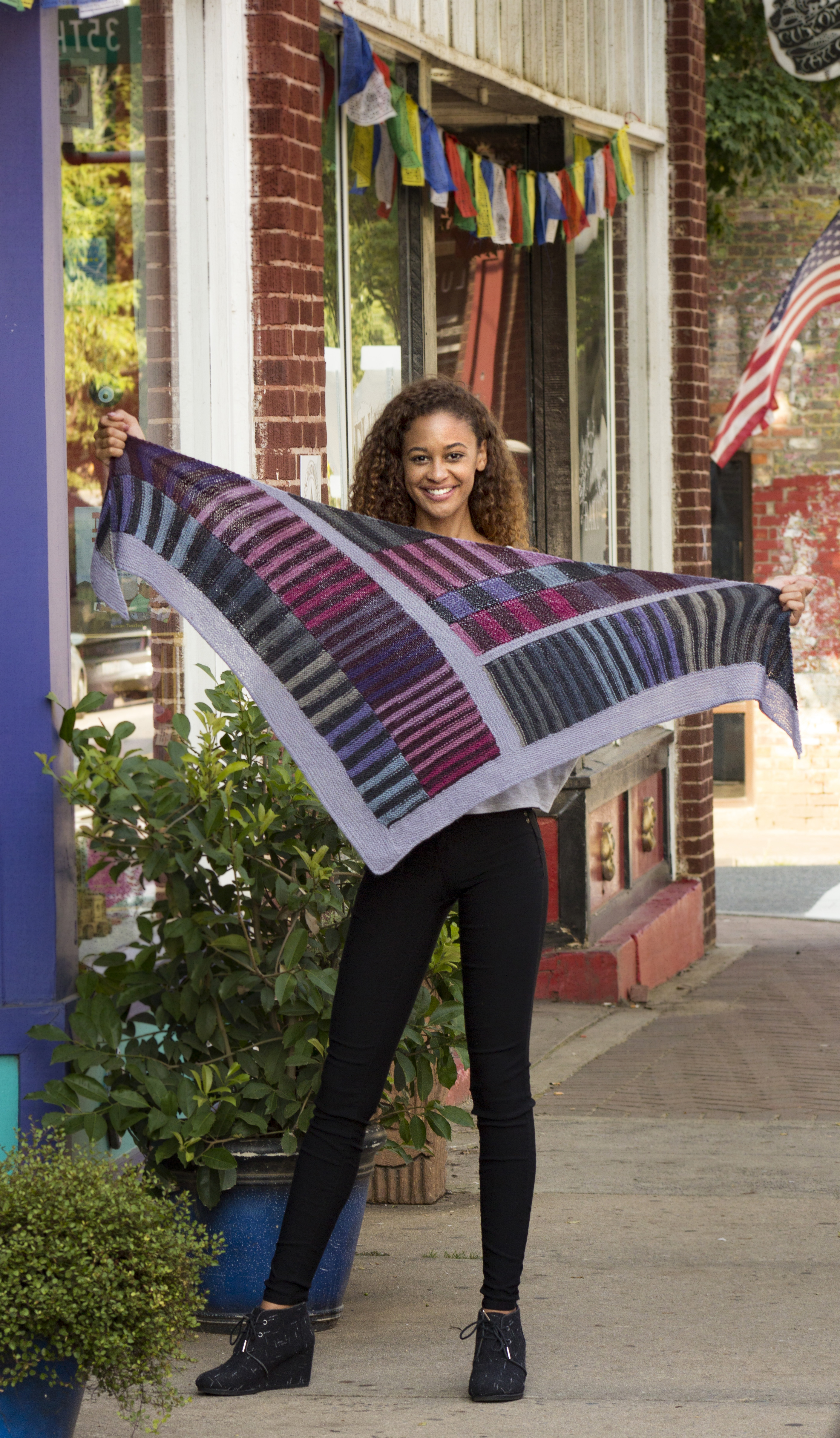 The yarns used are Stanza (one of our striping sock yarns) plus solid colored Whisper Lace.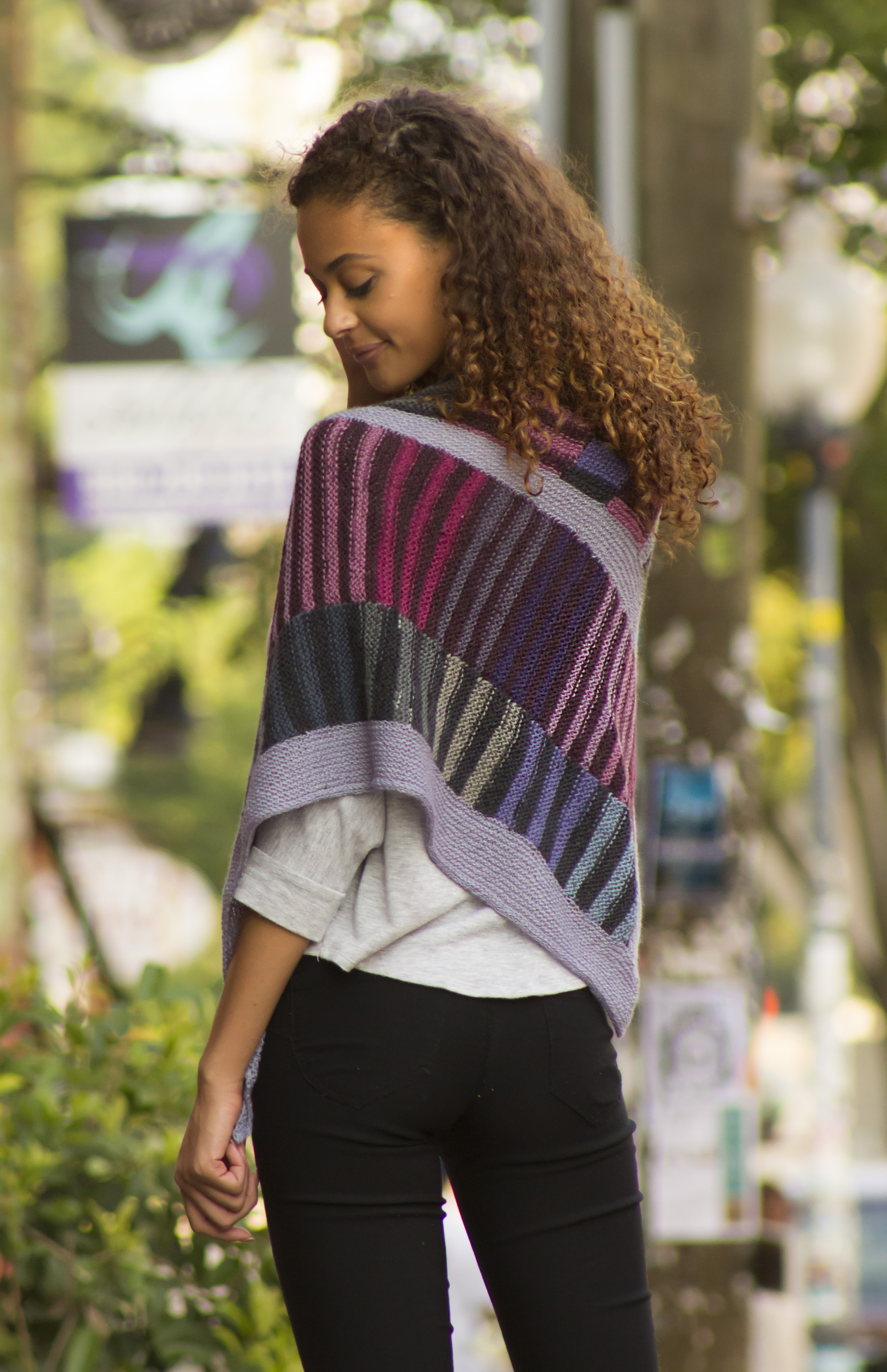 Next up we have another Stanza / Whisper Lace Combo, the Enthuse Shawl. This shawl is knit sideways, and uses the intarsia method to change colors.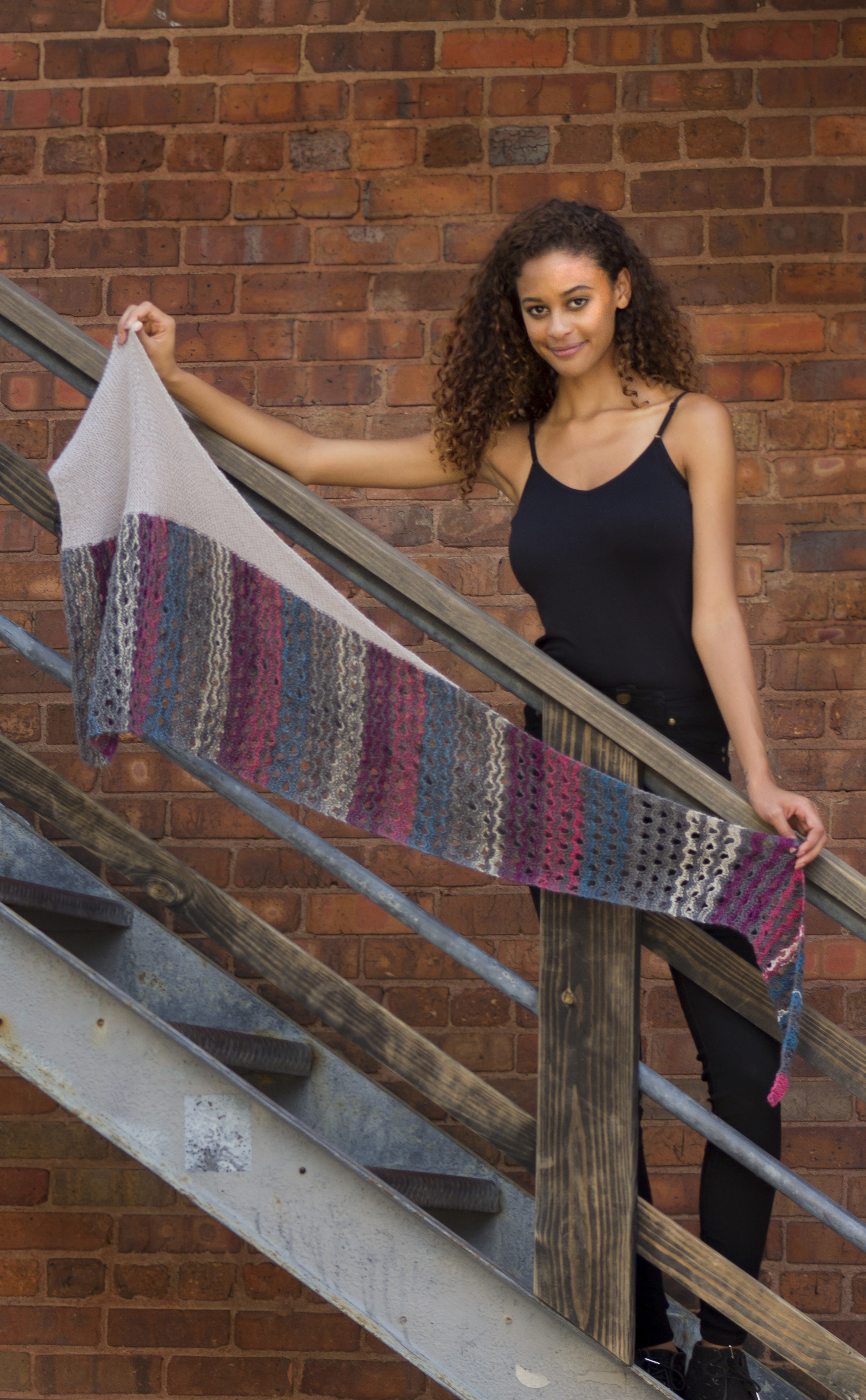 I love the color-block effect of this piece. I'm also a fan of the shape – we found at least 5 ways to style it during our photo shoot.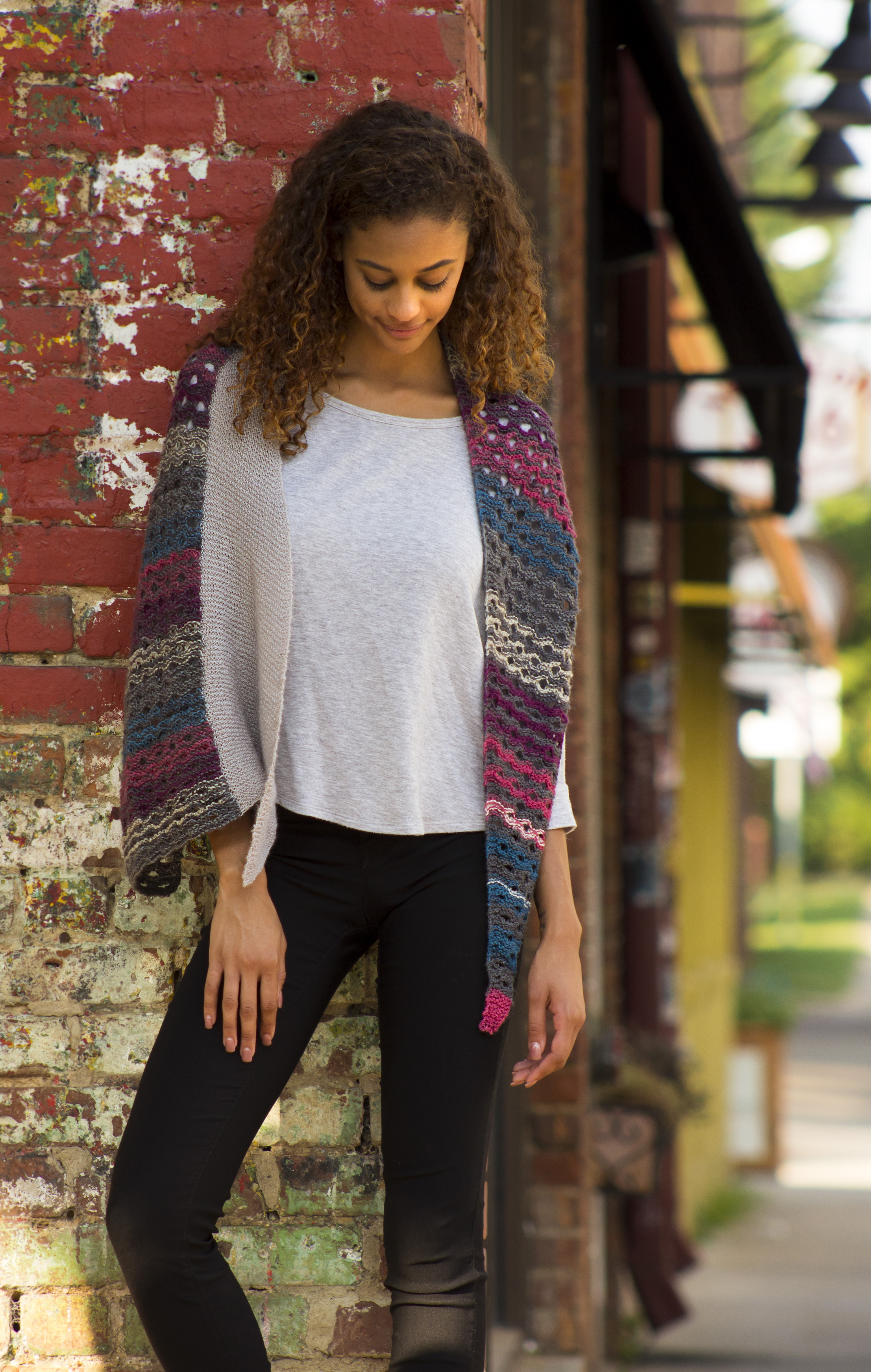 Euphoric is perhaps the happiest shawl of them all (okay – it's a scarf, not a shawl). Worked in easily the most exuberant (hey – another "e" happy word) colorway of Pix, if this scarf doesn't make you smile, nothing will.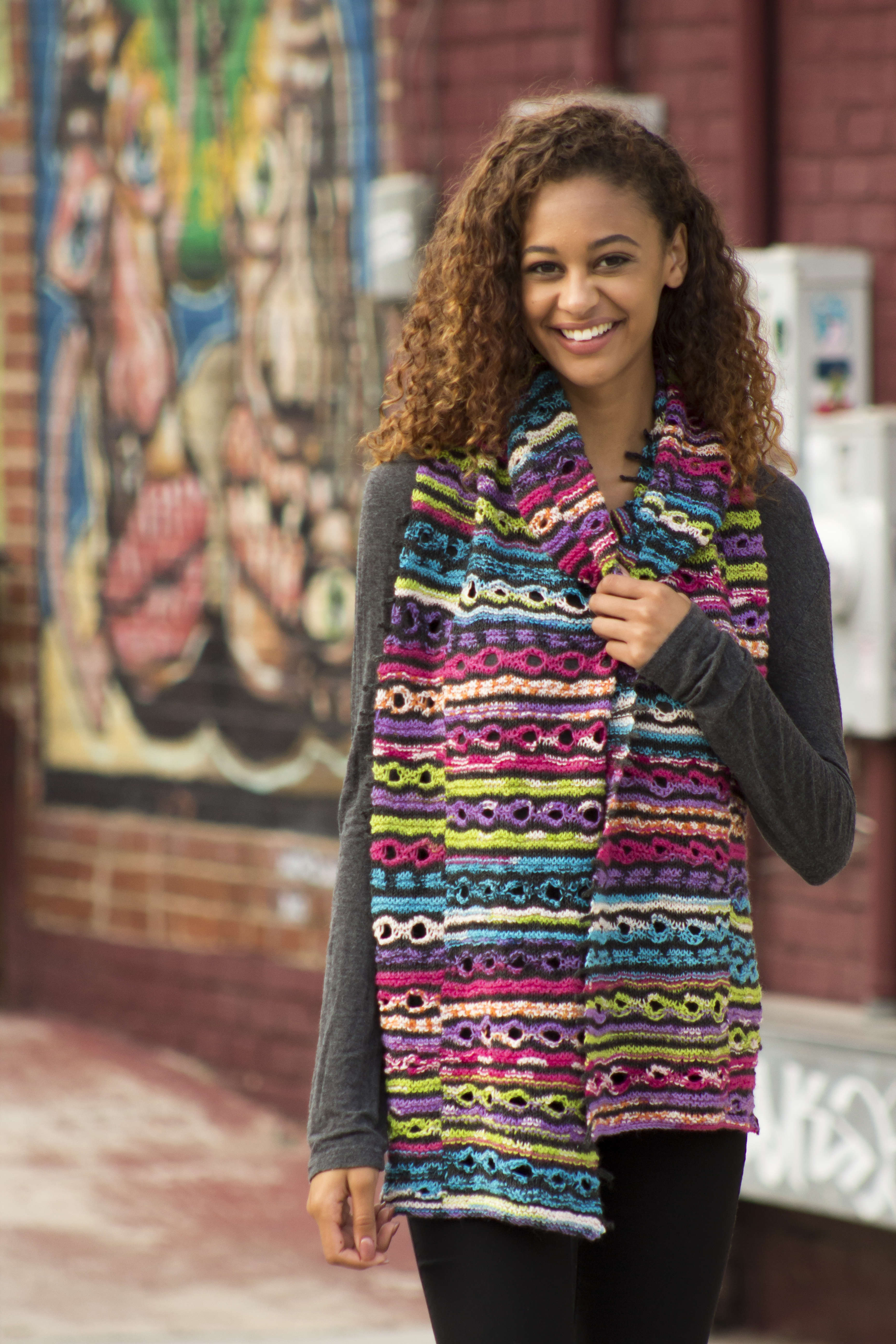 This scarf is knit widthwise with bound-off lace holes, intarsia, and some fun fringey bits at the sides.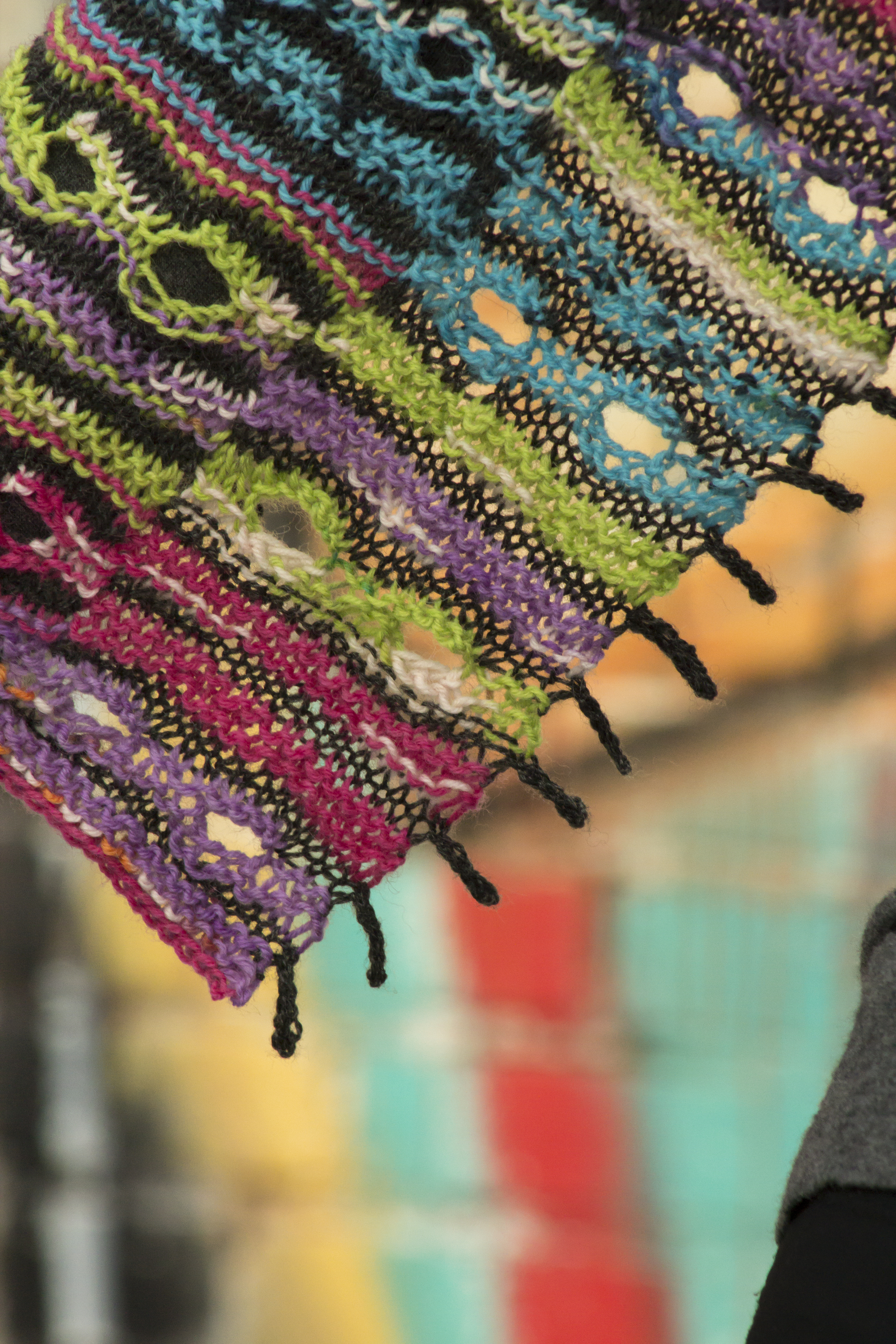 Last but not least is Elation, using just one ball of shading Poems Sock. This small shawl is knit sideways showing off vertical striping of the yarn. A few stitches are dropped along one side just before binding off to form the loopy fringe.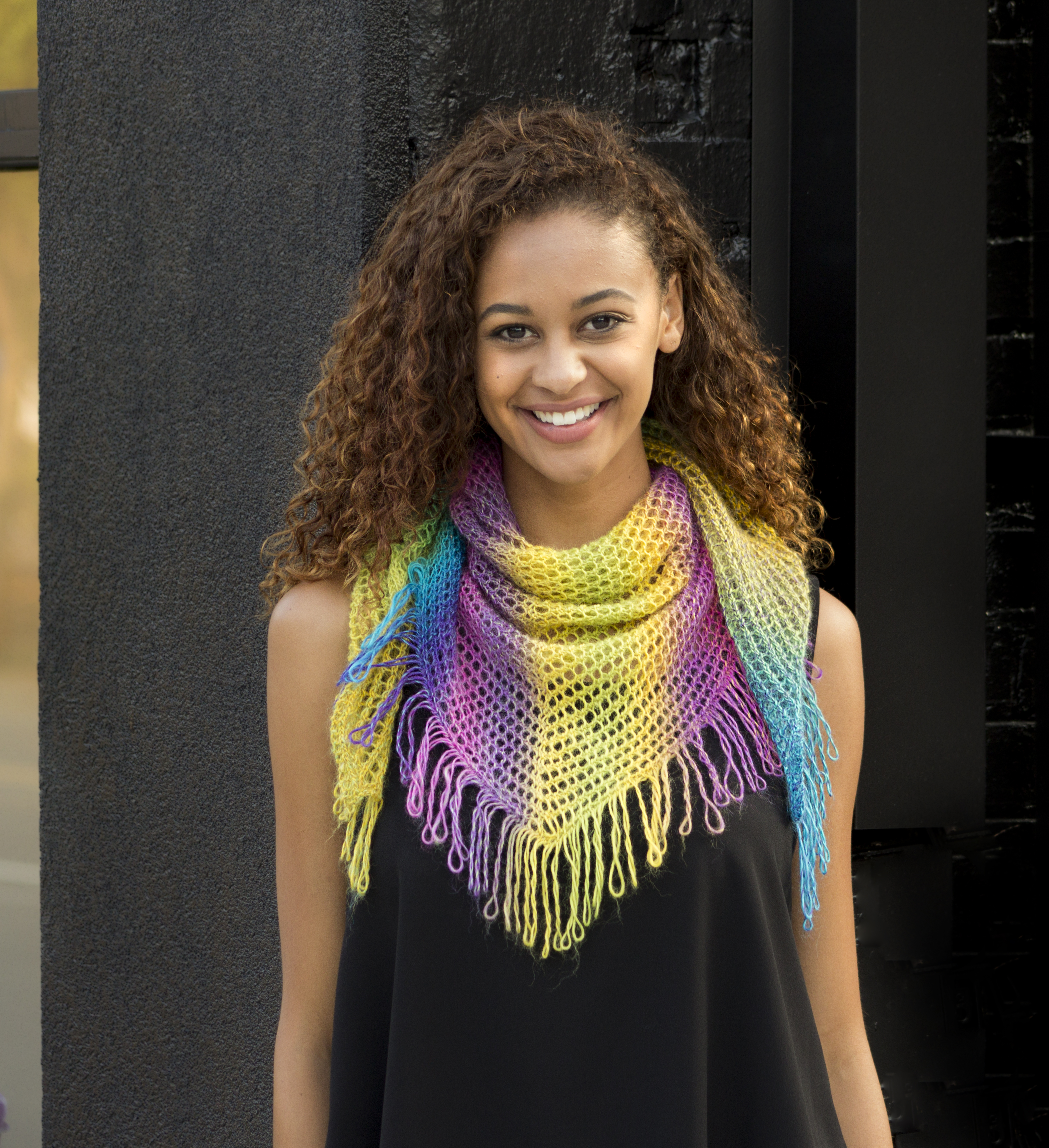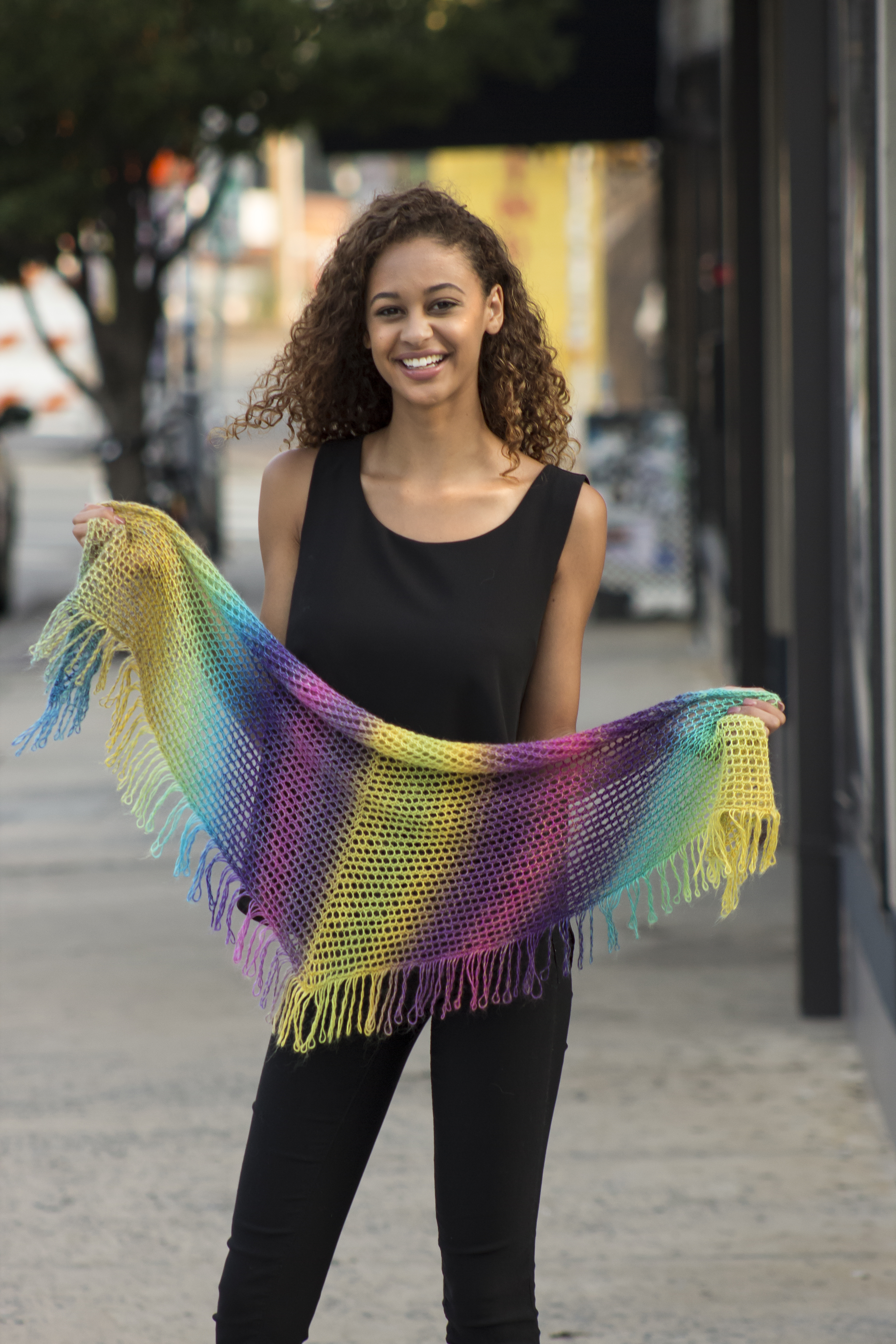 You can view the full collection on our website here, or on Ravelry here. Let's get happy!