It's Throwback Thursday!
Something for the crocheters today!  The Ultraviolet Stole was originally designed for Endurance Sock, an offering from our Wisdom Yarns line.  Fortunately, we have a number of great yarns in the Wisdom family that would still work great with this pattern!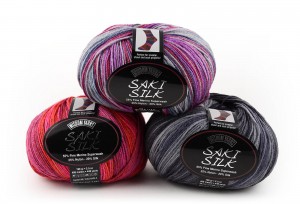 My personal favorite would be Saki Silk (100g/440yds), a merino/nylon/silk blend with a great sheen.  The yardage is about the same as Endurance Sock, so this would be an easy three-ball project.
If you wanted to venture outside the Wisdom family, Infusion Handpaints (100g/291yds) would be another good choice.
Regardless, there's a lot to love about a gigantic loopy stole that's a simple five-row repeat.  A big project that won't tax your brain – excellent material to crochet while chatting with friends!