Please help me in welcoming crochet maven and designer extraordinaire, Dora Ohrenstein to the Universal Yarn blog! Dora is the author of numerous crochet books, including her latest, "Top-Down Crochet Sweaters."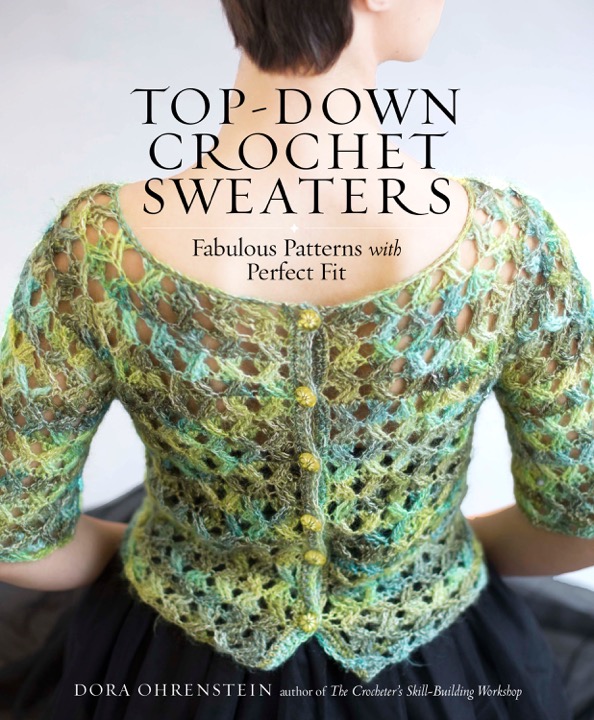 I'm going to let Dora take it away, but I'll be back at the end of the post with details on how you can win a copy of her new book plus yarn to make one of the gorgeous projects inside!
One of the constant themes in my new book, Top Down Crochet Sweaters, is the importance of choosing great yarns for crochet garments. We all know that crochet is sometimes compared unfavorably to knitting when it comes to garment-making. Why is that?  Crochet stitches were born in the 19th century to imitate hand-made laces and were worked with very thin threads on slender hooks. As the 20th century unfolded, hobbyists turned increasingly to yarn, and some of the nuance of crochet, blown up to larger proportions, was lost. Of course crochet can look great even at a larger scale, but one has to choose pliable yarns, usually in weights thinner than worsted.  My favorites are DK, sport and fingering weight yarns.  
Today we have so many choices of yarn weights and fibers that one can make absolutely stunning crochet garments. Fibra Natura's Infusion Handpaints is a great example of a DK that works beautifully in crochet.  Its fibers are acrylic and wool, and in this case they have been spun to such perfection that the resulting yarn is as soft and supple as one could wish for.  That's why I chose it for the pullover called Zora from my book.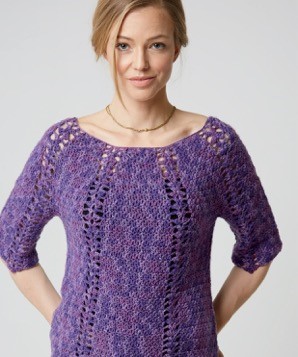 Excerpted from Top-Down Crochet Sweaters © Dora Ohrenstein. Photography by © Melinda DiMauro
It uses simple double crochet clusters as the main stitch, adorned with vertical panels of more open lace. Increases are plotted throughout each row, rather than at raglan points, resulting in a yoke that ends with a smooth curve with no raglan points. Because of this, you can divide it up for body and sleeves in any way you like. It's a great way to get the dimensions that work best for you.
I used another Universal Yarn, Whisper Lace for the garment called Rosina.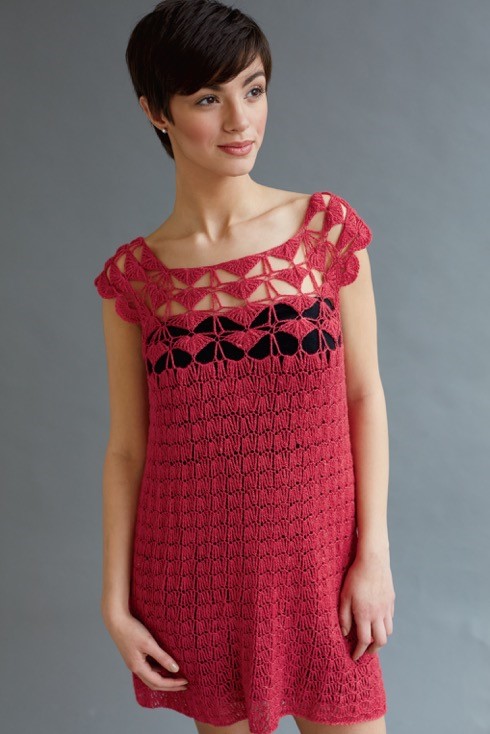 Excerpted from Top-Down Crochet Sweaters © Dora Ohrenstein. Photography by © Melinda DiMauro
Here I wanted to feature a large lace pattern called Peacock Stitch. The size of the stitch pattern dictated the choice of a thinner yarn. I love how Whisper Lace looks with this stitch — it's slight fuzziness lends a softness to the stitch pattern. To make a more solid fabric for the body I used double treble stitches so the garment works up suprisingly fast. 
As the title implies, all the garments in my book are worked top down. If you're inspired to get going on Zora or Rosina, please join me at my ravelry group for a CAL on this sweater and others from Top Down Crochet Sweaters. Here's a link:
http://www.ravelry.com/discuss/crochet-insider/topics
I think you'll be very pleased with these fabulous Universal yarns, and how lovely a crochet sweater can be!
Thanks, Dora! This really is a beautiful book with extremely wearable garments inside. Want to win a copy? How about some yarn? We've teamed up with Dora to offer two lucky winners a copy of her new book, Top-Down Crochet Sweaters plus enough Whisper Lace or Infusion Handpaints to make Rosina or Zora (love those project names!).
Here's how you can win:
Leave a comment on this post telling us what your favorite thing to crochet is. Be sure to enter your email address so we have a way to contact you!
This offer is only open to US residents.
You have until Friday, October 7th at 12:00 am EST to leave a comment.
Two comments will be selected at random. Winners will be announced the following Monday back here on the blog.