Knitters and crocheters, I'm not going to lie: this new section of our blog is here purely to enable you to use more yarn. Well, and to make pretty things and entertain you, of course!
I first started weaving about 5 years ago after already knowing how to knit and crochet. After some struggles character building with a homemade frame loom, I scored a 4 harness floor loom on Craig's List. I happily used it for a year or two, weaving up rugs and towels and other assorted goodies. Weaving can be very freeing and meditative, and it's a great way to use up leftover odds and ends from other projects. But I moved 2 years ago and had to pack up the loom. It sat neglected and unassembled for this entire time until I moved again a couple of months ago. My significant other was kind enough to put her back together again and I am once again able to bask in the glory of all her harnesses, treadles, and heddles.
But there is still the problem of time. Warping a large loom takes a fair amount of it. Between work and all my knitting and crochet projects, I have little time for other kinds of craftery. Which is sad! But, this story has a happy ending. After TNNA in Indianapolis earlier this month, I was lucky enough to get my hands on a Schacht 15″ Cricket rigid heddle loom.   I had been lusting after a small tabletop loom for some time, and am so happy I finally acquired the Cricket!
Not 24 hours after returning from my trip, I got to work warping my new loom. Because it's been so long since I've woven anything, I wanted to start simple. I decided to use a single yarn for both warp and weft, and to do just a plain weave scarf.
(Pardon the cell phone quality pictures here)
For my yarn, I chose the very colorful, very sequiny Classic Shades Sequins Lite color #408 Jubilant – so sparkly! The awesome thing about the Cricket is the ability to direct-warp, which is super duper speedy. It took me about 15 minutes to attach my warp.  As I mentioned, I'm using the 15″ Cricket. I decided I wanted a scarf about 10″ wide. I figured the fabric would draw in somewhat, maybe 10% or so. I used an 8 dent reed (which means there are 8 ends per inch), and attached 88 ends (11 inches). I knew I wanted a long scarf, so I measured the warp at about 90″, which as you can see, is the length from the back of the loom to the doorknob!
I began weaving and soon realized my error: sequined yarn does not make the best warp yarn. Oops. Because the warp yarn must pass through the reed constantly, yarn with stuff on it doesn't work so well. The sequins kept getting caught up, and I was getting frustrated. Rather than  power through it (weaving is supposed to be relaxing!), I cut off my warp and started again. A 5 dent reed would probably have worked fine, but I just had the 8 dent at the time I was doing this scarf.
After taking a quick survey of my stash, I decided upon 2 different colors of Saki Bamboo Solids , colors 204 Violet and 209 Denim Blue. Just for kicks, I did one side in Violet and the other in Denim Blue. A sock weight yarn such as this will typically fare better in a tighter sett (more ends per inch), but I decided to stick with the 8 dent anyway since it was what I had. Because it really does take 15 minutes or less to warp this loom, I was back to weaving in almost no time!
It took me several inches to really find my weaving "rhythm". As with most beginning weavers, my edges were less than perfect. I remembered a trick I had learned with my floor loom as to how to deal with the weft yarn. As shown above, I aim the yarn in a 45 degree (approximate) angle, and then beat the weft down. With a little practice at being as consistent as I could, those edges improved immensely! I'll be sharing other tips as I learn them over the coming months, so stay tuned for more edging advice!
I wove my colorful scarf over the course of just a couple of days. It took me around 3 1/2 hours to weave, and took 1 ball each of the Saki Bamboo Solids and just 1 ball of the Classic Shades Sequins Lite. I decided to stick with simple fringe for the ends.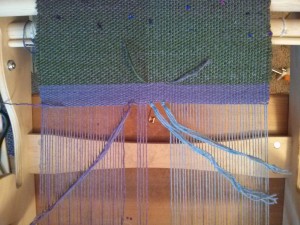 The scarf did draw in about 10% as I'd estimated (yay!), and I ended up with a 10″ wide x 76″ long, not including fringe. That's another awesome benefit to the Cricket – there's hardly any loom waste.
And here are a few glamour shots:
When weaving my header, I forgot how many rows I wove when I got to the end. I guessed, and I guessed wrong, so one header is taller than the other. Oops! The edges aren't perfect, but they're charming, right? All in all, I'd call this a win!
Stay tuned for next time, I've got something yummy brewing for new colors of Flax!