Ever since I started the weaving blog and bringing in my finished projects, my coworker Katie has been coveting the Cricket. Katie works just one door down from me in the office and is the (very important) (and very patient!) customer service lead for our small Universal team. A couple of weeks ago I brought in the loom and got to teaching Katie how to weave.
Katie is very good at understanding the mechanics of things. She taught me how to use one of those little i-cord crank gadgets because I just couldn't quite get it on my own! So, I knew learning how to warp and weave would be a snap for her.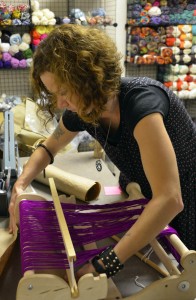 Here I am, explaining how important it is to put some kind of spacer between the warp as it's rolled onto the back beam. It turns out, the brown paper my reeds came wrapped in make an awesome spacer!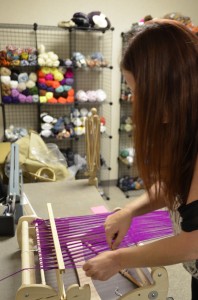 I felt a little like Tom Sawyer convincing Katie to whitewash a fence as I passed off the duty of threading the reed – not my most favorite part of warping!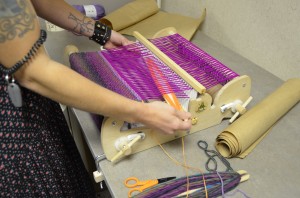 After we finished warping the 5-dent reed with Uptown Worsted, we started in doing plain-weave with the super-bulky Classic Shades Big Time. I planned on making a cover to fit a 12″ pillow form. We warped the loom 13″ wide to account for draw-in and seaming. Weaving with a yarn as bulky as the Big Time made this my quickest project yet. The two sides of the pillow cover were done in under an hour total of weaving time.
I decided to sew the cover using my machine, but this could just as easily be done by hand. First I zig-zagged the ends of each of the two cover pieces, and then cut them apart.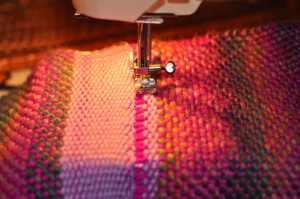 I planned a button placket and hemmed that by hand using an invisible whipstitch.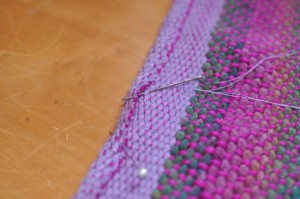 Then I pinned both pieces right-sides together and stitched around three sides.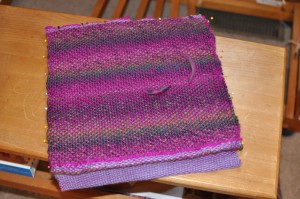 I decided to go a different direction with the buttons, but was still glad for the placket. After some buttons and button loops, the final pillowcase: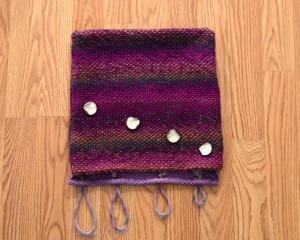 And as a pillow: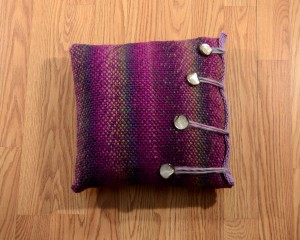 All in all, this project took around 2-3 hours to complete. Not bad, eh? Katie had such a blast, that I haven't seen the loom for the last couple of weeks. She's been weaving like a maniac and doing some super-fun projects. Next time, I can't wait to share some of her finished scarves with you!