Crafting is often a lesson in patience, right? In knit and crochet projects, we're always told to "gauge swatch" before beginning a project, particularly one where we'd actually like the item to fit. It can be a drag, but is also very worth it when the piece turns out just as we want it to.
Weaving is no different. Except in weaving, we call it "sampling" instead of "swatching." You may remember the felted scarf I wove a couple of months ago using regular Deluxe and Deluxe DK Superwash. I was pretty happy with the finished project, but there were some aspects I wasn't crazy about.  No surprise, this was something I just dove into without first sampling.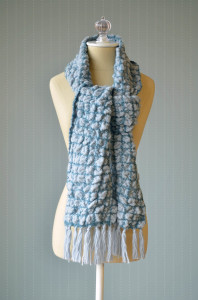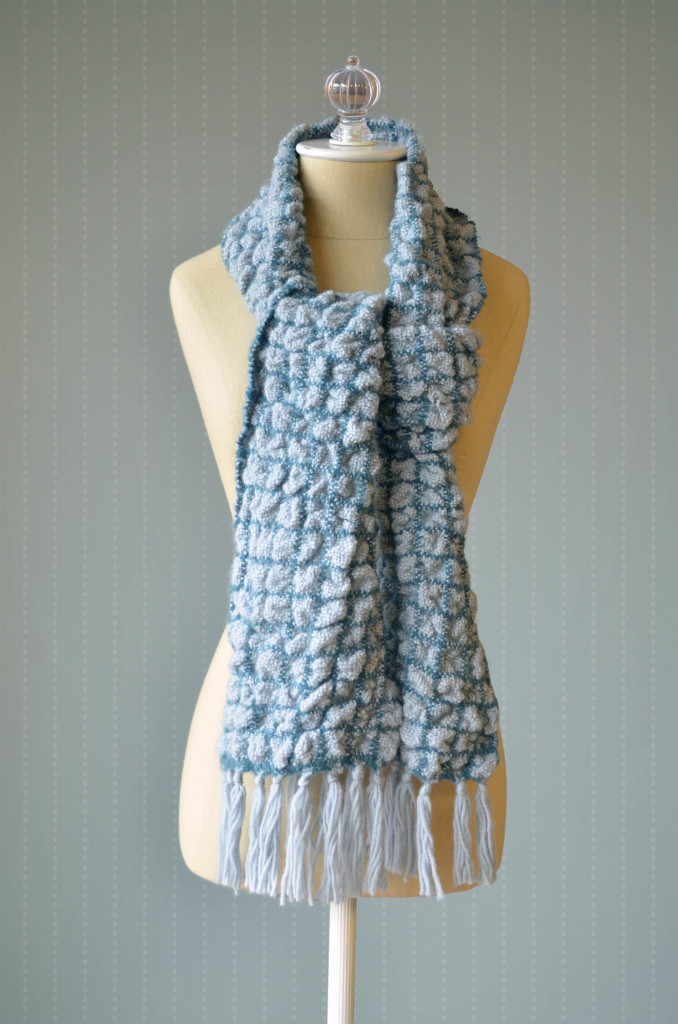 Of any project to start on without first swatching or sampling, a scarf is probably the safest. I mean, it's a scarf! It can really be any size or shape we want it to be. And my felted pucker scarf fit just fine. But one thing I didn't like was that the regular Deluxe, the part of the scarf the felted in the washing machine, was a little thick for my taste. I had warped and woven that portion with 2 strands next to each other.
I wondered, if I use just a single strand of wool, will it felt to itself, not having that other strand next to it to adhere and shrink with? To answer my own question, instead of committing to an entire big scarf, I decided to make a small sample.
For my sample, I warped my Cricket using an 8-dent reed, Infusion Handpaints color 110 Ruby Mine, and Deluxe Chunky in 91904 Pomegranate Heather. As a side note, I love love love this color of Deluxe so much, I did a cabled sweater (free pattern!) last year out of it.
Again, I did a plain weave structure and wove in the same order I warped: 1 pick of Deluxe, 8 picks of Infusion Handpaints.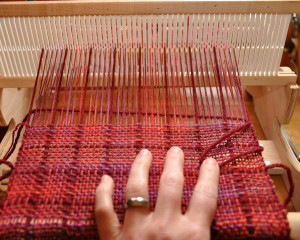 Instead of starting and stopping the Deluxe after each stripe, I tried something new.  I wove my pick, then I pulled out a long loop at the side. After the felting process, I knew I would be able to simply cut off those loops, thereby avoiding any unnecessary bulk.
Here it is off the loom, nice and drapy: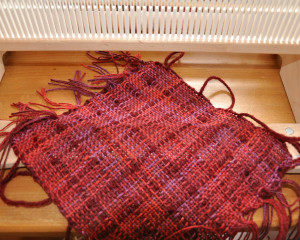 Here we are after one cycle in the washing machine on cold: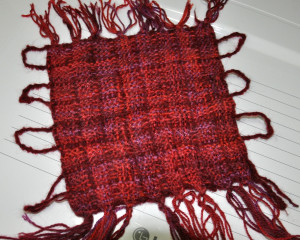 It was somewhat felted, but not quite enough for my taste. I put it through another full cycle on cold, and it was perfect!
Here it is after the felted loops and fringe were trimmed: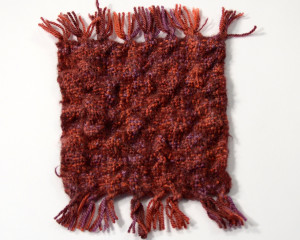 I'm very happy with my experiment! As you can see, the single strand of Deluxe felted beautifully with no problem. I really love the resulting texture. And the variegation of the Infusion really makes for a complex looking piece that was, in fact, super simple to weave!
The piece was comprised of 82 ends, was 10 1/4″ wide on the loom, and shrank to 6 1/2″ wide, or by about 1/3.  I have definite plans to weave an entire scarf following this sample, probably with these same colors. I'm also lusting after Infusion Handpaints 115 Gray Matters and 112 Hydro Power. Perhaps I'll just have to make all 3!