I got a call today from Ginger at In Sheep's Clothing, a friendly LYS in Torrington, CT.  She told me about a customer of hers who is working on the Basketry Handbag in Yashi and is having trouble with the Basketry stitch pattern.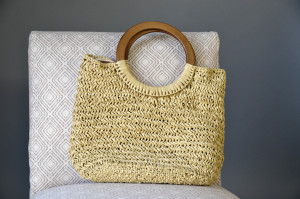 The main stitch pattern on the bag body is really cool looking. In Yashi (100% raffia), it creates a rustic woven look. The stitch pattern is easy enough once you get the hang of it, but can be tricky to wrap your head around it by reading the text instructions only. I decided the best way to help Ginger's customer was to take a short video demonstrating the technique.
One key piece of advice I have on knitting this handbag in Yashi, is to keep the work very loose on the needles. Yashi is not elastic, so if you're not conscious of the tautness of the work, things go downhill very fast.