A couple of months ago we released Cotton True Sport: Collection 1, a small group of warm-weather knits.  One piece from this collection really seems to have struck a chord with knitters: Rocked.
It's the type of knit that is entertaining enough to do with its short-repeat lace pattern, yet with enough interest to keep the hands happy. Back and front pieces are worked separately, each in a single piece, and then the pieces are seamed. The neck edging and sleeve cuffs are worked in simple stockinette stitch and there's even a cute button tab. Several of us in the office have been itching to start summer projects and it only seemed natural to go with Rocked.
As written, this project takes between 4-7 balls of Cotton True Sport. But we have a number of other yarns that would be suitable too! Redlands Yarn Company, located in Redlands California has knitters working this top in our Fibra Natura Flax, another great warm weather yarn.  Bamboo Pop, Little Bird, and Garden 5 would also work well. The gauges are not all exactly the same as Cotton True, but that's something we'll cover during the knitalong.
For those of us participating here in the office, 4 are using Cotton True Sport, 2 are going with Flax, and I am using Garden 5.
Cotton True is a sweet Pima cotton available in plenty of shades. It is easy on the hands and will make for a truly wearable summer garment.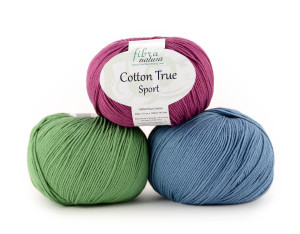 Flax is a yarn I'm always looking for a reason to use. I love linen and have used Flax on many occasions for personal wearables. It also has a great color range.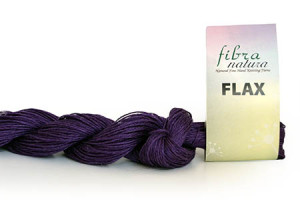 Bamboo Pop is a sportweight 50 bamboo/50 cotton blend. Since its launch two years ago, Bamboo Pop has shot to the top of our bestselling yarns list. And it's no surprise! It is a soft lovely natural fiber blend in tons of great shades from brights to adult neutrals.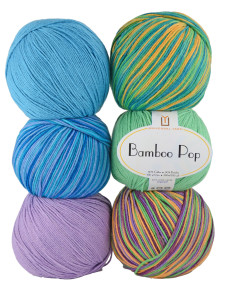 Little Bird is a microfiber acrylic with a cottony feel and a nice sheen. Also in the sport range, this is a garment that can be machine washed and dried.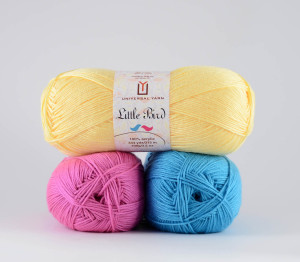 Lastly, I also suggest Garden 5, a high-quality mercerized Egyptian cotton. Garden also comes in 10 and 3 weights, but the 5 weight is closest to the gauge of Cotton True Sport. The mercerization of the cotton provides a nice shine and a bit of extra substance to finished projects.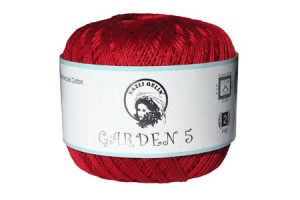 The details:
We will be casting on for the project on Monday, April 13th (about a week and half after the release of this blog post)
I will be blogging once per week on Mondays regarding aspects of the project, such as any potential problems to look out for, yarn substitution tips, adjusting stitch counts to fit your gauge, finishing, etc
I'll be hosting the participation-aspect of the knitalong over in our Ravelry group.
I'll be wrapping up the knitalong on Monday, May 11th.
And that's it! This will be pretty informal; just a fun way to work on the same garment together and share our progress and stories about our own projects. You can find the Rocked pattern available for download on Ravelry and Craftsy.  I'm off to gauge swatch with my Garden 5.  See you soon!