It's Free Pattern Friday!
Today, the Whimsical Wrap in Universe.
Can you tell we love Universe (50g/246yds)? It's our tenth anniversary offering, and we've been having great fun with it.  In addition to today's offering, we've recently released a collection of ornaments.  If you haven't seen our Universe of Snowflakes e-book yet, you owe it to yourself to check it out – the collection is available as an e-book or as individual patterns.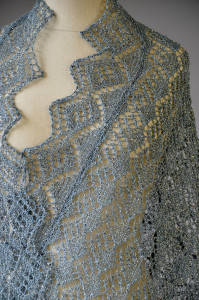 Universe excels at lace, and the Whimsical Wrap is proof.  This center of this rectangular wrap is knit sideways from one end to the other. Then stitches are picked up from the perimeter of the center. The edging is worked as a knit-on edging. The last edging stitch is knit together with a stitch from the shawl body to attach.
The pattern is both written and charted.
We hope you're able to bring something delicate and sparkling in your life this weekend, whether it's glittering lace or a sky full of stars.
Happy knitting!