We're at the end of the road on our 3-part journey to learning the ins and outs of the Bisected Shawl. Two weeks ago we learned how to do a top-down triangle and complete the first part of the shawl. Last week we tackled putting the two halves together. Today, we're going to finish off our swatch with a knit-on edging.
A knit-on edging is literally an edging that is knit onto an existing piece of knitting. Many top-down shawls incorporate a knit-on edging along the bottom part of the shawl. One reason a knit-on edging can be a good choice, is that because it is worked sideways, it is stretchy enough to be blocked. It can be difficult to produce a nice bind-off for the lower part of a shawl such that it can accommodate the stretch needed to block. Another reason knit-on edgings are nice, is that there are a multitude of ways to make a decorative pattern that wouldn't always be possible otherwise.
To begin, we first need to pick up stitches along our the two angles of our triangle.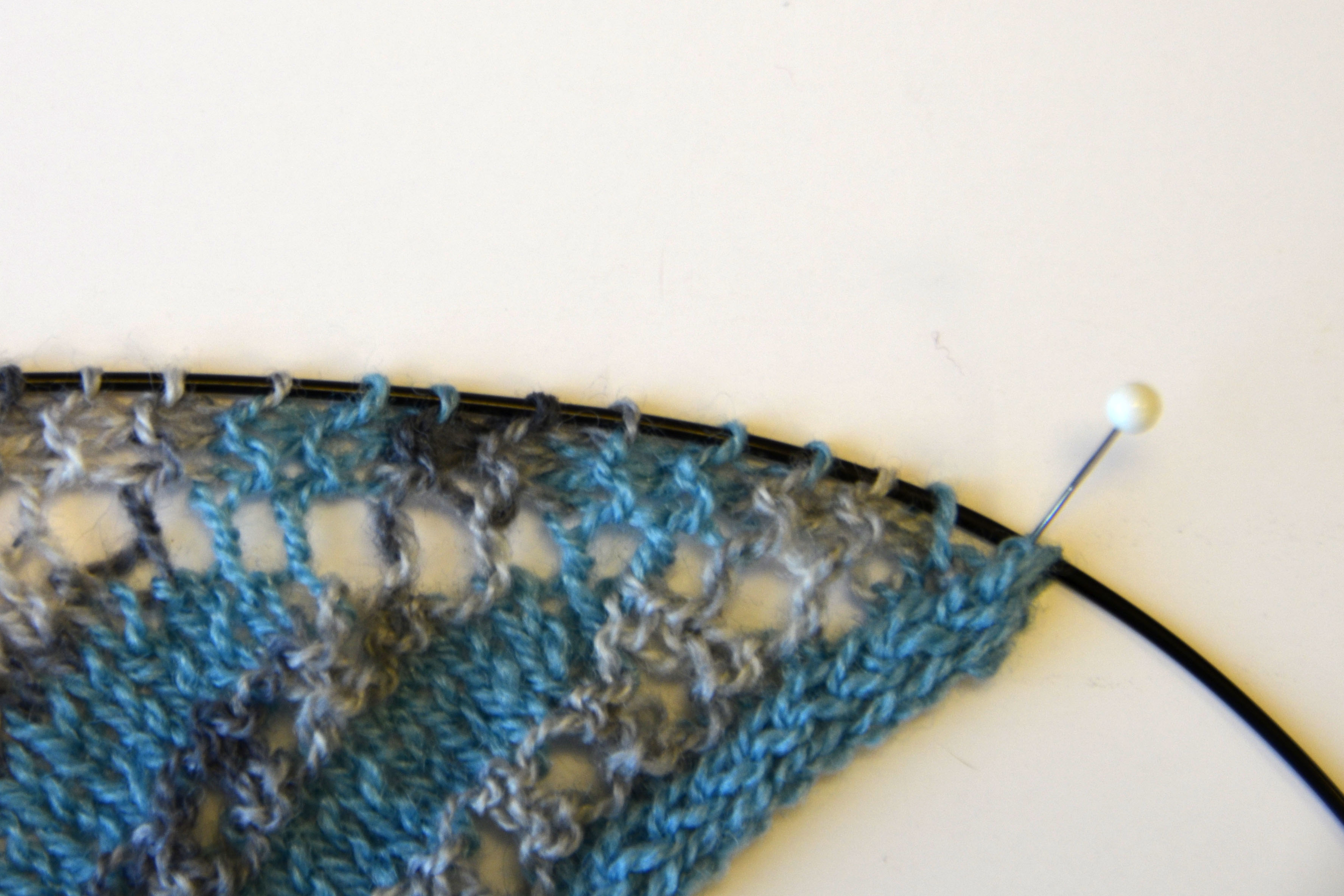 You'll be picking up roughly 1 stitch for every other row, or every ridge along your garter stitch edge. Picking up stitches along a garter stitch edge is easy! Just slide your needle through the outermost loop of the stitch, and that's it. Picking up stitches is different than picking up and knitting. In picking up and knitting, there is a strand of yarn involved. Here, we are simply placing loops on a needle.
Here's the first half picked up.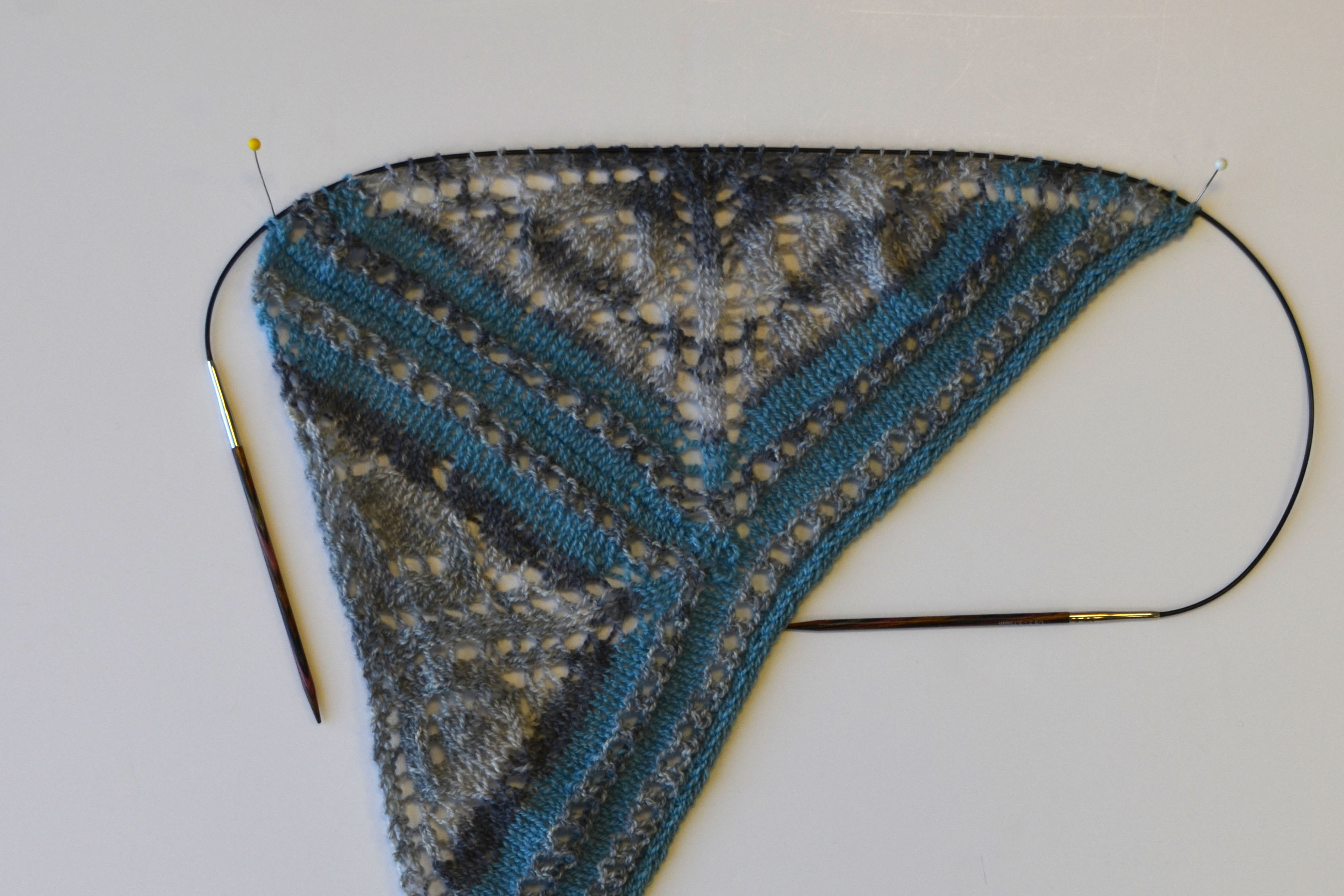 And here we are with all stitches picked up and ready to add our edging. For my small swatch, I ended up picking up 80 stitches. It's important in this pattern that the stitches picked up is a multiple of 8. We'll see why a little later on.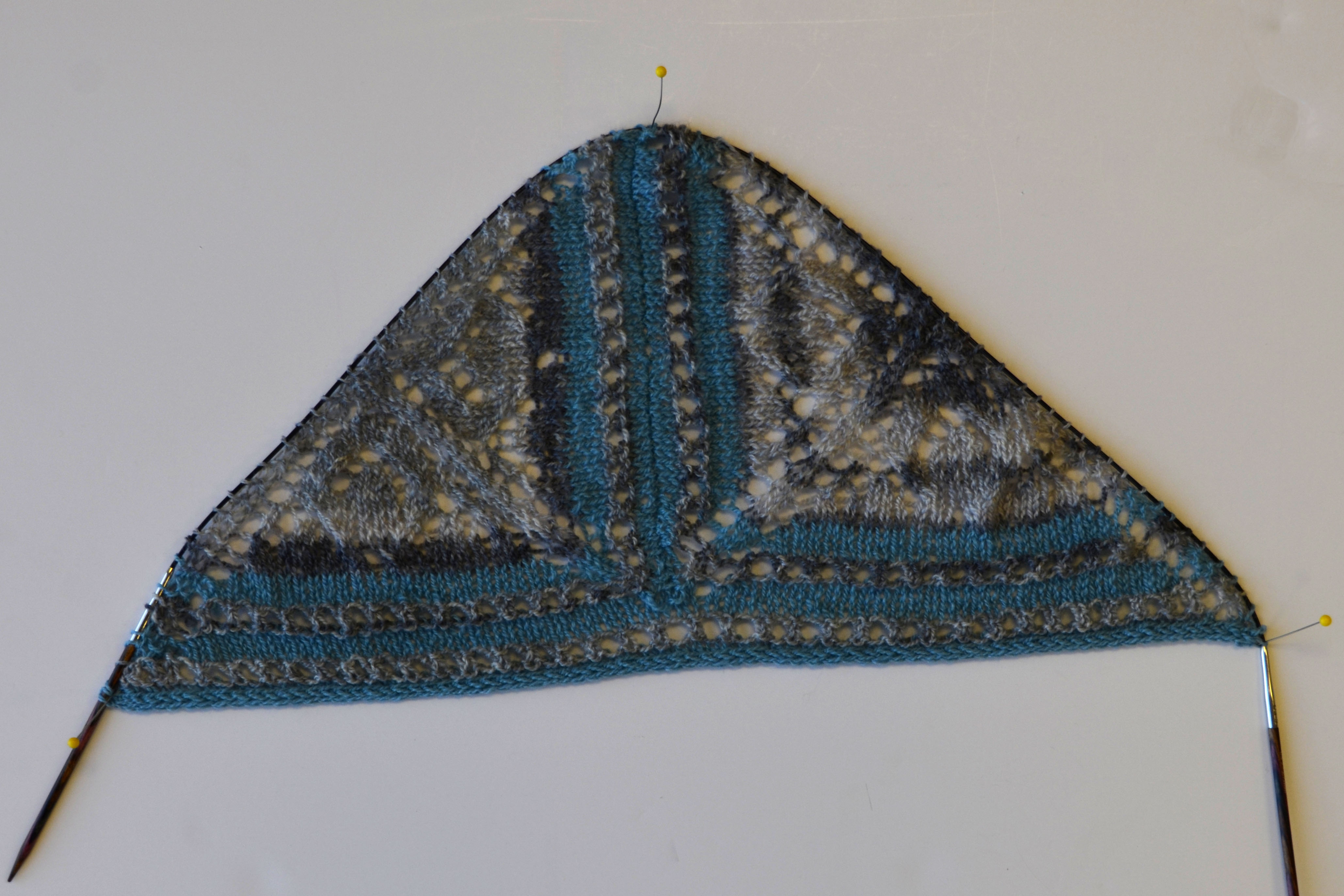 Next, we cast on our first edging stitches. Cast on 12 stitches to your needle.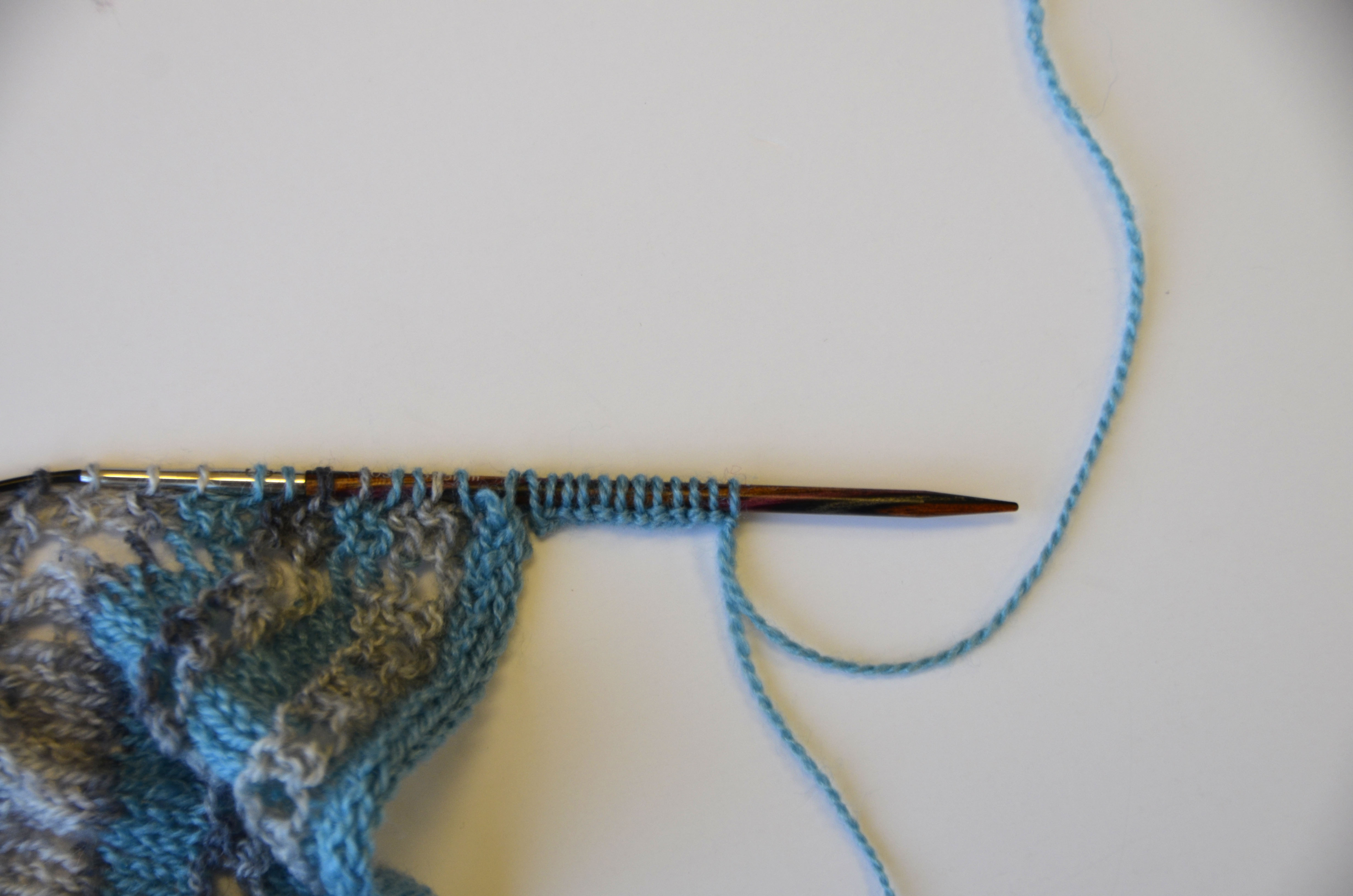 Next, work Row 1 of the Edging pattern over the first 11 stitches.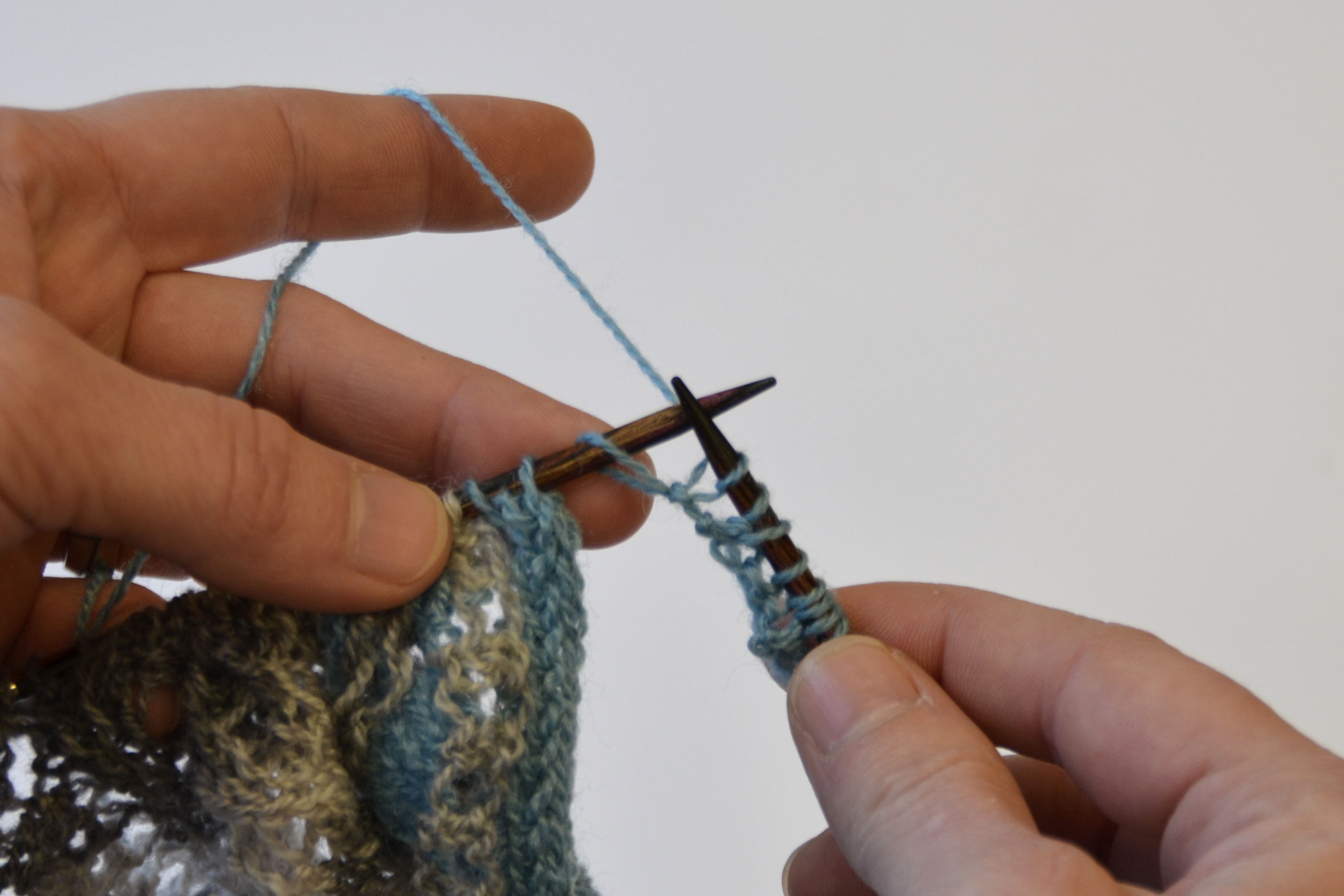 That very last Edging stitch is how we connect to the picked-up set of stitches. At the end of every right side row of the Edging, knit the last Edging stitch together with a stitch from the shawl body (picked-up stitches).
Then turn, and work row 2 across the Edging stitches. Continue by repeating Rows 1-16 of the Edging, continuing to knit 2 together at the end of every right side row, attaching the Edging to the shawl as you go.
Here we are after 1 repeat of the Edging: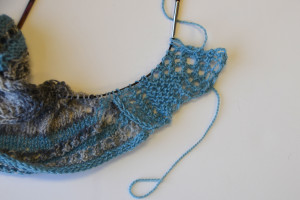 The reason it was important for us to pick up a multiple of 8 stitches in the beginning is based on the number of rows in every Edging repeat. There are 16 Edging rows, and we are consuming an Edging stitch on every other row, which is why we need multiples of 8. But along the way if you find that you're off by a stitch or two, don't sweat it. You can even yourself out by knitting 3 stitches together instead of 2 (an Edging stitch together with 2  picked up stitches). Or you can knit the same picked up stitch twice if you need an extra stitch.
Here we are with half the Edging added, and then all the Edging.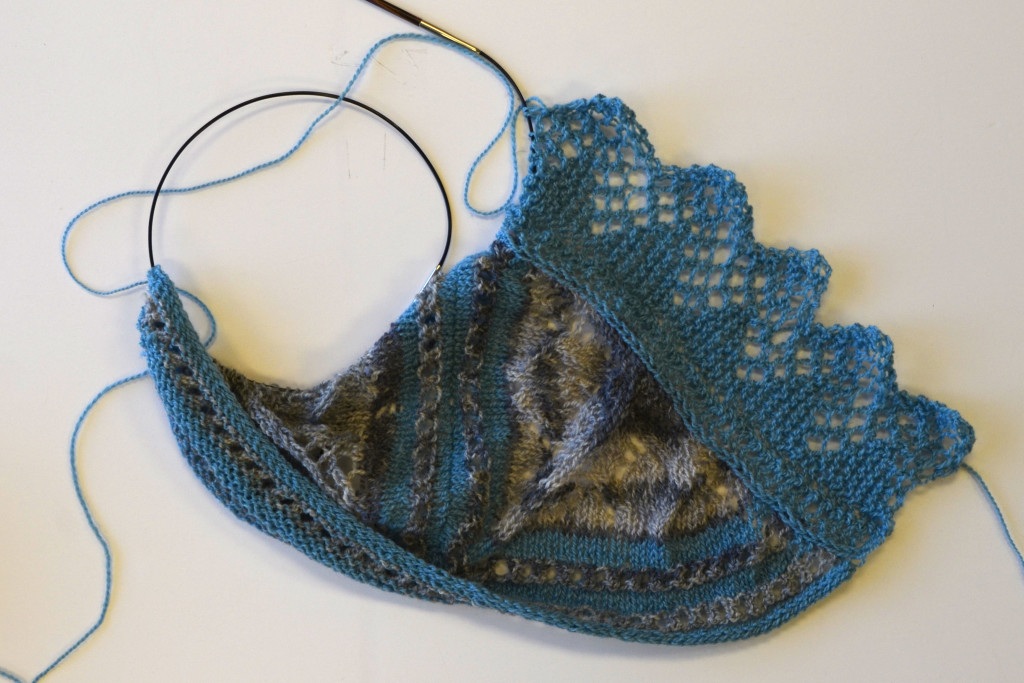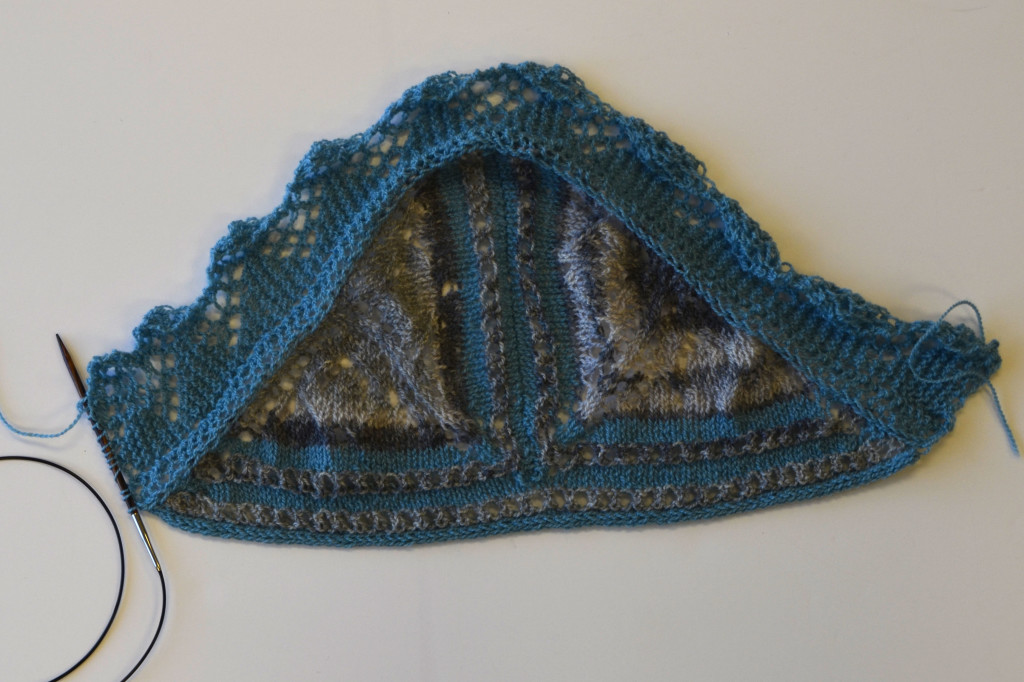 Those last 12 Edging stitches left on the needle – you can just bind those off.
Now, perhaps the most important step of all: blocking. You may see this instruction in the finishing section of a pattern and wonder what the heck it means. Well, it can mean different things depending on the type of stitches in the project, the fiber content of the yarn, and the desired outcome. But in a general way, blocking means to even out your stitches either by making wet or steaming and then allowing to dry.
Lace is something that almost always benefits greatly from blocking. I tend to do a "hard block" on lace, which means I stretch it to its limits. If at all possible, I utilize blocking wires rather than using a million little pins. I'm so fond of blocking wires, that I typically keep this in mind when designing shawls. The Bisected Shawl is no different.
First I'm going to take a look at the top edge which we bound-off using the I-Cord method. I'm going to slide my blocking wire through the I-Cord bind-off, 1 stitch at a time.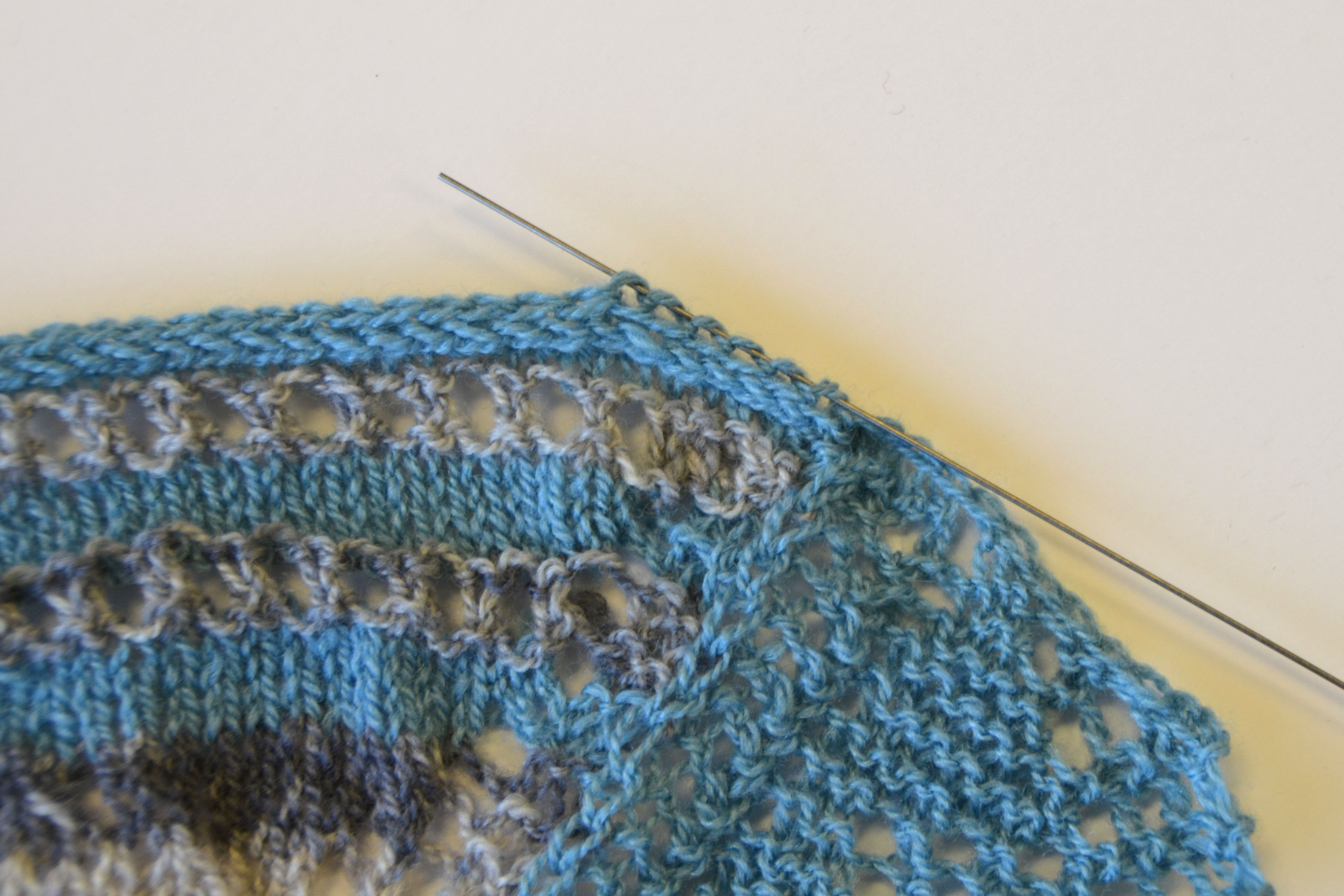 I am simply inserting my wire from front to back along each individual stitch. You could also go back to front, or perhaps find a spot along the back side of the I-Cord to get your stitches onto the wire. The most important thing is to be consistent with your method.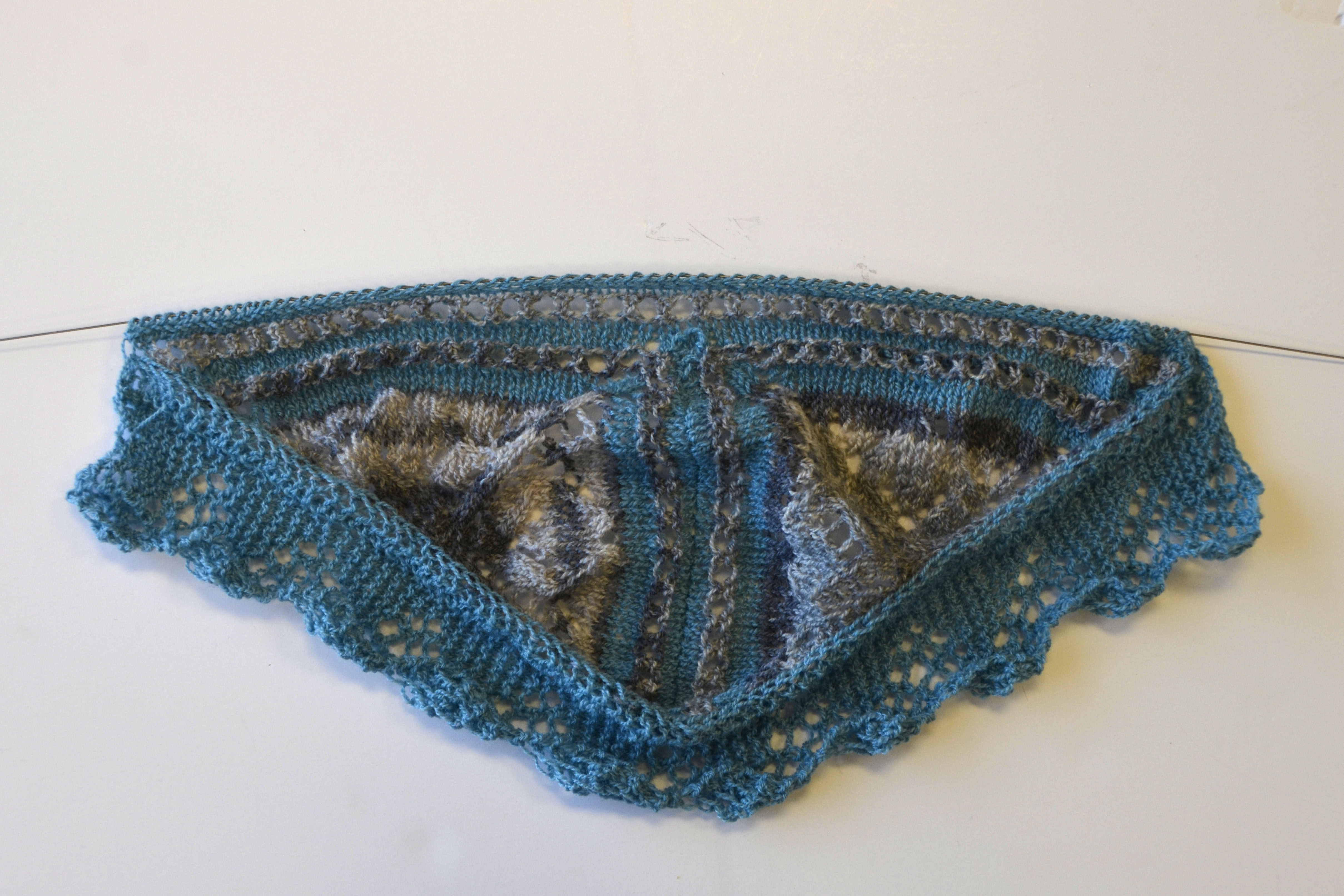 Next I'm ready to do the Edging. I could use individual pins at each of the points of the Edging, but I prefer to use another blocking wire.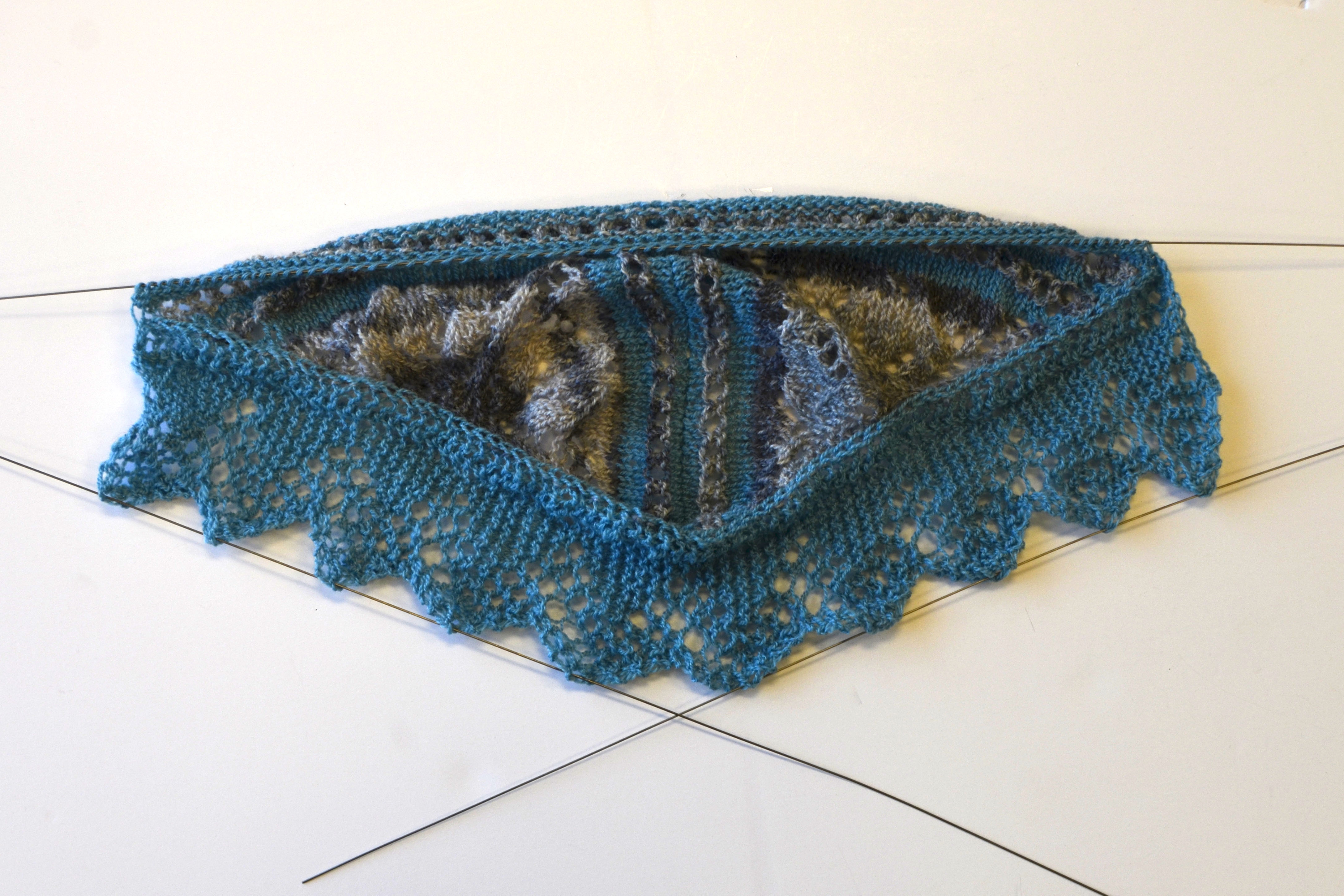 Now the wires need to be stretched. For this, I have a set of interlocking foam mats that are sold as play mats for kids. For my swatch, I only need one mat. If I were blocking a large project, I could assemble as many as needed to accommodate the size of my project.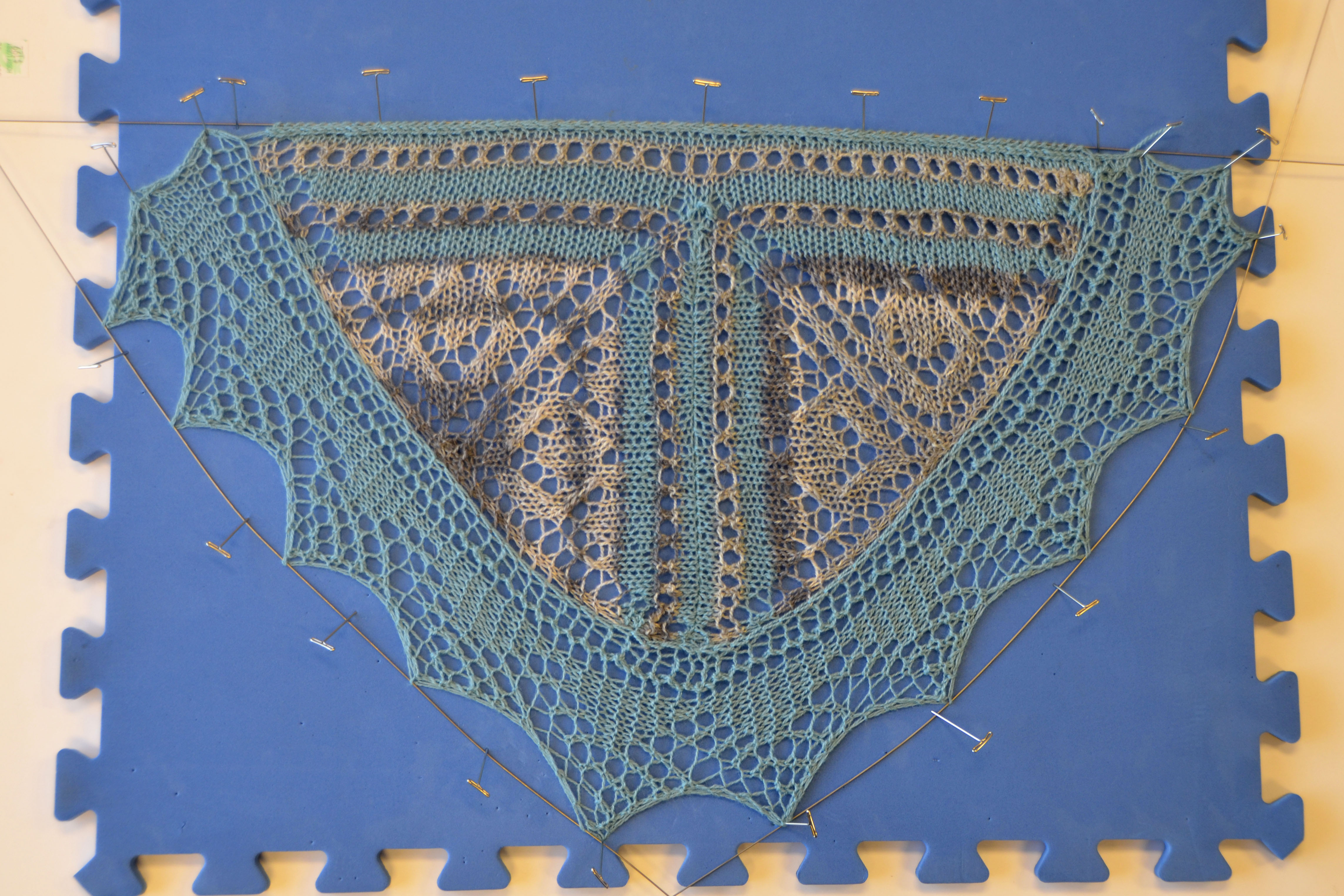 I pin into the foam mat, adjusting pins as I go, pulling as taut as I dare without skewing the shape of my knitting too much. After adjusting and making sure everything is symmetric, then I steam. After the piece is fully dry, I like to let it remain pinned overnight. This really lets the blocking "set", so that the block stays for a long period of time.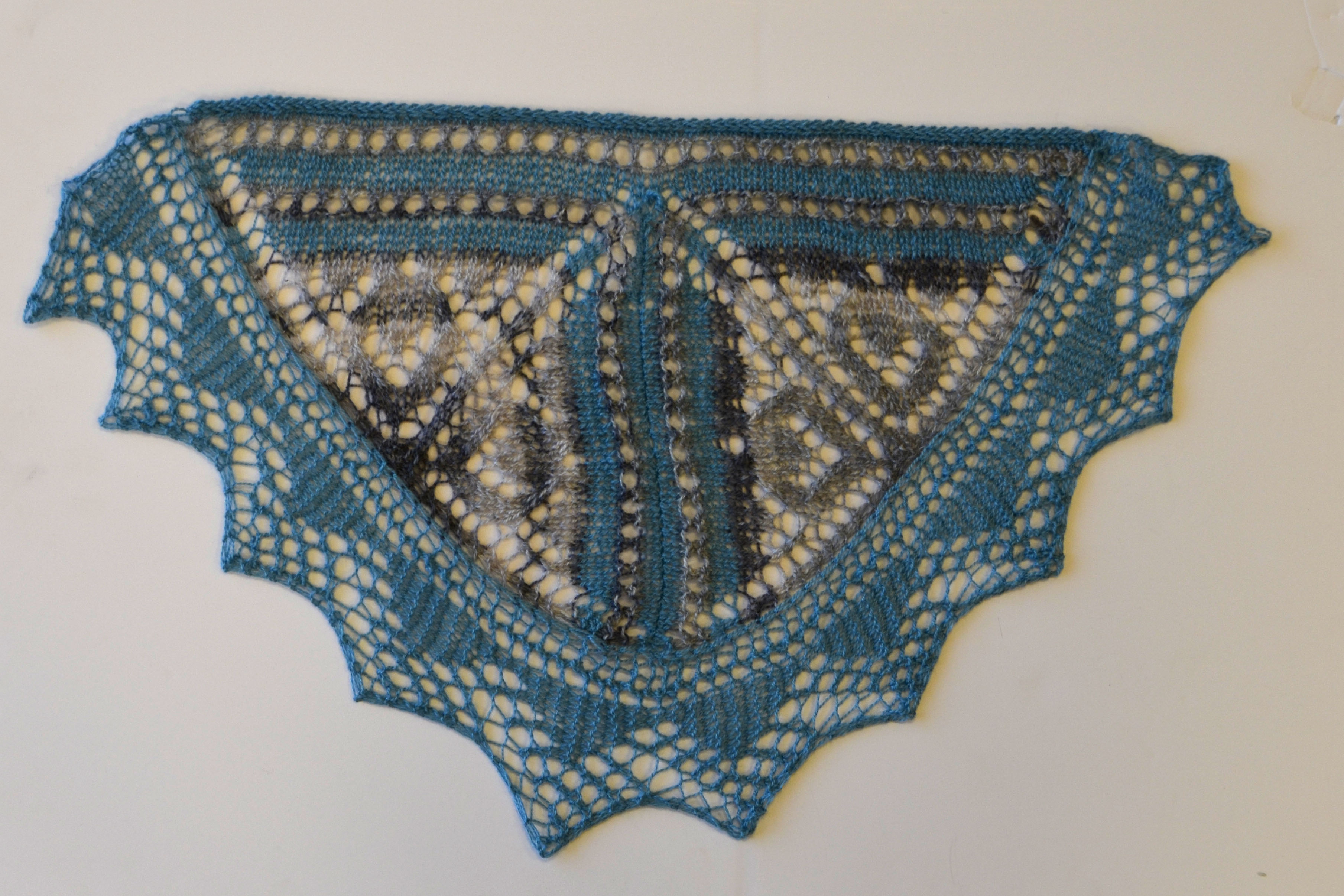 And here is my swatch, no longer a crumpled mess!
Join me next week when I talk about slip stitch knitting and the Traverse Scarf.