One of the yarns I've fallen most in love with since joining the Universal Yarn design team is Fibra Natura Dona. This yarn is simply gorgeous. It is soft, plump, and has excellent stitch definition. We have a variety of great kits that use Dona, but I was excited when Amy asked me to contribute to our Color Kit lineup. My design is the Stratification Shawl.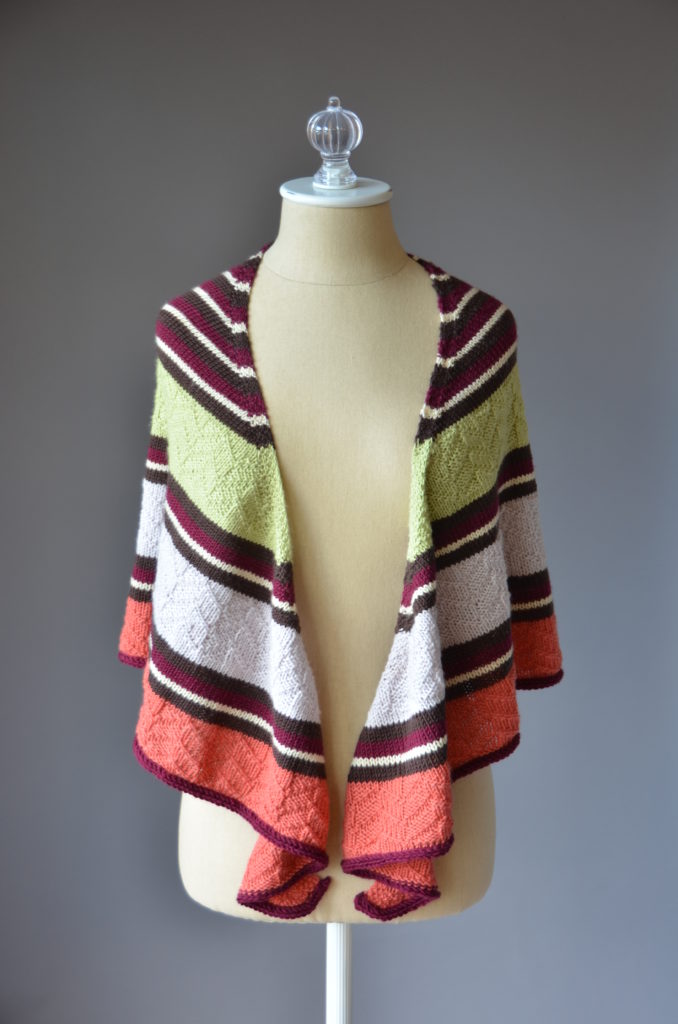 I love the Spice Box palette. These are, without a doubt, my kind of colors. I love warm colors and earth tones. I spend much of my free time outdoors and draw inspiration from the colors and textures of landscapes. I already knew that I wanted to incorporate stripes into the design, so I revisited some photos for further inspiration.
The Spice Box palette made me reminisce about a trip I made to Red Rock Canyon National Conservation Area outside of Las Vegas, Nevada. During my trip, I was mesmerized by the beauty in the strata, or rock layers, in the landscape. Similarly, I loved the way flora sprinkled pops of color into neutral desert landscapes. I've included some of the photos that inspired me to include the bold green and coral stripes into the shawl.
This shawl is a pretty straightforward project. It features top-down construction and increases occur along the sides to create a crescent shape. An alternating sequence of simple stripes is elevated with a knit-purl stitch pattern. Dona shows off the stitch pattern perfectly. Finally, the shawl is finished with an I-Cord bind off. It is an excellent project for both beginning and more advanced knitters. I sincerely hope you enjoy this pattern as much as I enjoyed designing it!