Few projects are more satisfying than baby projects. I always relish the opportunity to knit baby projects for several reasons. First, they are satisfyingly fast. Want to make a sweater in less than a week? Just throw a baby project on your needles or hook! How about in a few hours – try an accessory! Second, they're small, therefore they're cute. Does that need any further explanation? I didn't think so. Finally, baby projects are great for perfect, lovingly handmade gifts. I've created numerous projects for my niece and daughter of one of my dearest friends, and I love knowing they're staying cozy in knitwear!
Today, I want to share some great projects for all the little ones in your life. From cute sweaters to cuddly toys, you're sure to find a perfect project.
Cotton is a popular choice for baby projects because it's soft and easy to care for. Plus, it's gentle and great for sensitive baby skin. Last year we introduced
Cotton Supreme Sapling
, a 100% cotton bulky-weight yarn that is – put simply – baby soft. Since then we've introduced two excellent projects for babies using
Sapling
: the
Sunshine Throw
and
Daisy Cardi
.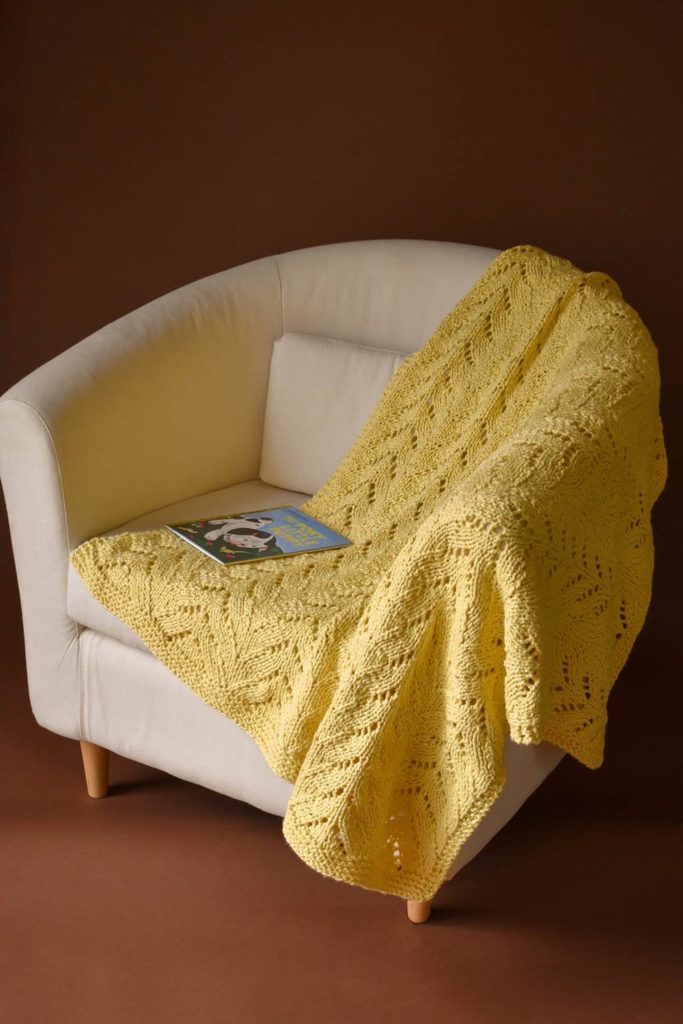 A striking lace pattern framed by garter stitch decorates the
Sunshine Throw (pattern link)
. The lace motif is deceptively simple. It is an 8-row repeat that you'll memorize in no time. This blanket would be an impressive gift at a baby shower, and an heirloom piece to last for years to come.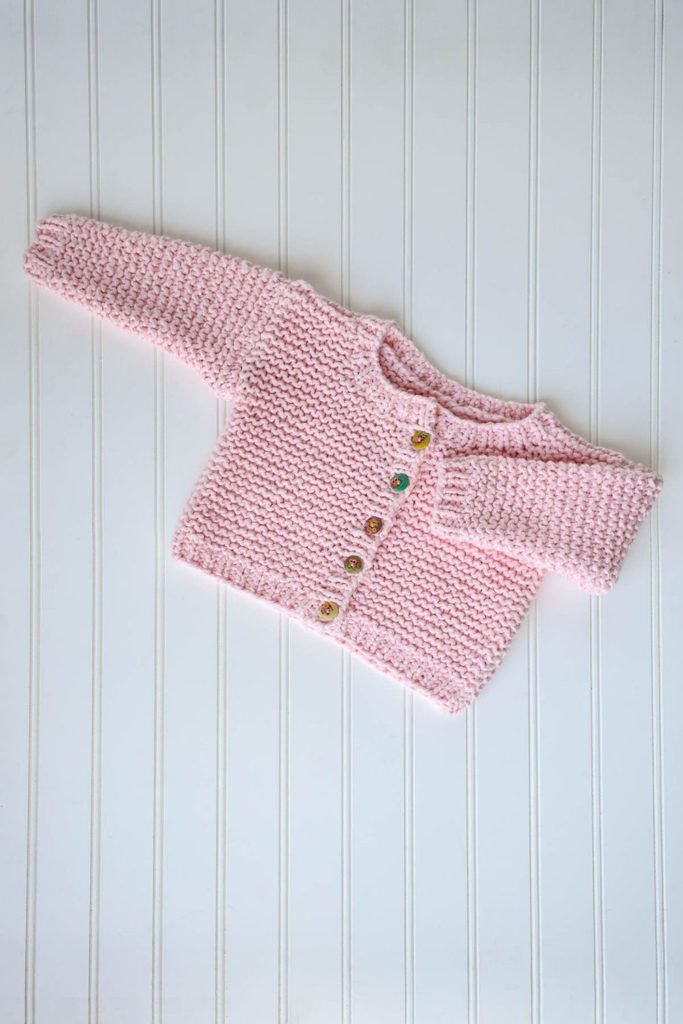 Whether it's the baby's first cardigan or your first time knitting a sweater, the adorable
Daisy Cardi (pattern link)
is a perfect choice. It features little more than beginner-friendly garter stitch and K1, P1 Rib but has lots of impact, especially when you add some cute buttons! Knit in Cotton Supreme Sapling, this cardigan is optimal for the chilly weather of autumn, winter, and early spring.
Few yarns are softer than our chenille yarn family, consisting of
Bella Chenille
and
Bella Chenille Big
. These 100% polyester yarns create a velvety, plush fabric perfect for snuggling. The
Storytime Blankies (pattern link)
, knit in Bella Chenille Big, are completely worthy of cuddles. These simple blankets feature a bit of twisted stockinette for a nice texture and a bold stripe in the center. It's finished off with fun tassels little ones would love to play with.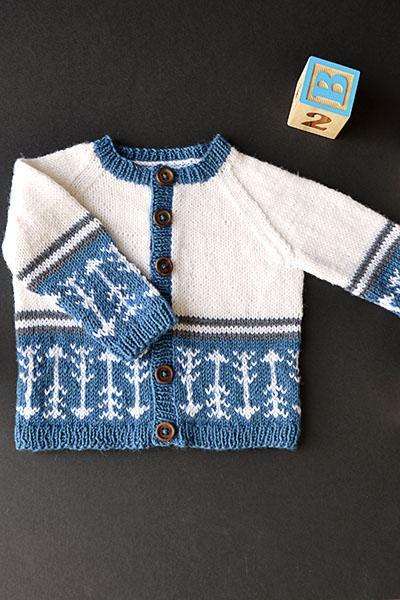 So far I've shared projects in bulky yarns, but finer yarns are also perfect for baby projects! Although we created
Bella Cash
, a blend of superwash merino, cashmere, and nylon, with all sorts of projects in mind, we specifically intended for it to be a yarn perfect for babies and children. We have the patterns to prove it, too!
Sized newborn to four years,
Which Way is Up? (pattern link)
is an excellent example of a baby project using machine-washable
Bella Cash.
Little arrows decorate this seamless raglan cardigan. If you prefer to knit accessories, try the sweet
Heartsbloom Hat & Mitten Set (pattern link)
instead. The superb stitch definition of Bella Cash shines in the textured accessory set, which is great for the chilly days ahead!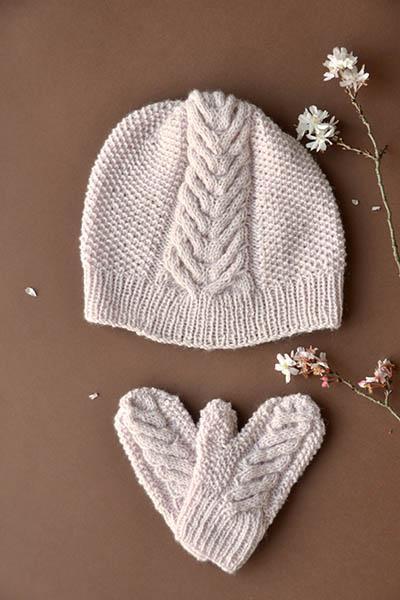 Toys also make great gifts for babies. Unlike baby accessories and clothing, little ones are sure to hang onto stuffed toys well into childhood (and perhaps beyond!).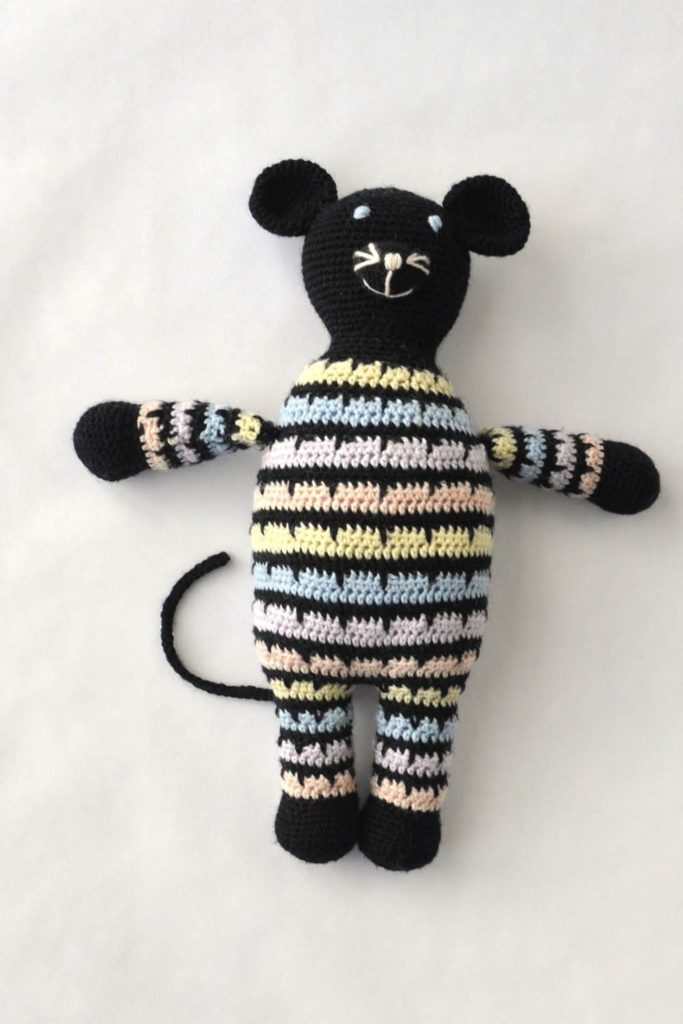 Pipsqueak (pattern link)
, a cute mouse crocheted in
Bella Cash
, is the perfect size for babies. Not too big, not too small. Spike stitches and pastel stripes add texture and visual interest to the project. All of Pipsqueak's facial features are embroidered, too, meaning you don't have to worry about making sure you have safety buttons for the eyes.
(Side note: this pattern has a complementing jacket included – sized from 2 years to 12 years. Don't miss it!)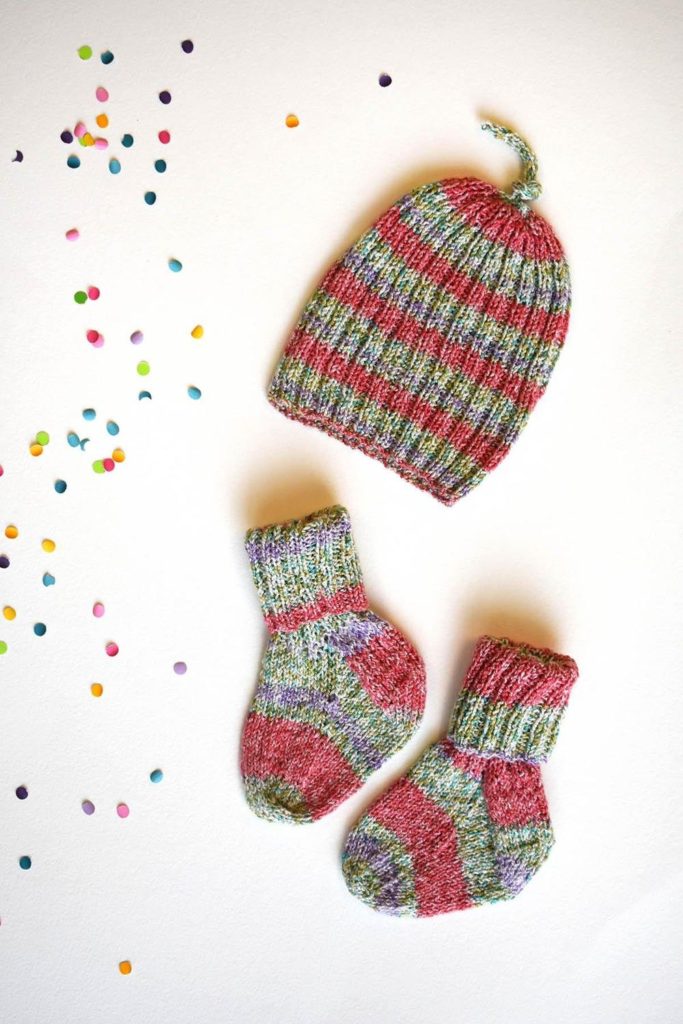 Earlier I touched on accessories for exceptionally quick baby patterns. Tis' the season for keeping the head, hands, and toes cozy! The
Itty Bitty Set (pattern link)
is soft and stretchy thanks to the lightweight and breathable
Bamboo Pop Sock.
The combination of simple ribbing and elasticity of the yarn helps to ensure the little one can wear this project for more than a month. After all, they do grow up so fast!
We also absolutely adore
Adore
for baby projects. In fact, I wrote a whole blog post dedicated to baby projects using Adore earlier this year. You can find it
here (link)
. Like the other yarns I've mentioned, Adore is touchable and soft, yet durable and easy to care for. We've knit everything from baby blankets to accessories in this yarn. The
Mini Mittens (pattern link)
and
Toasty Toes (both pictured above)
are both projects that are great last-minute gifts. They also require so little yarn that you could easily make many pairs from just one ball. So if you have multiple babies in your life, you're all set!
This list is by no means comprehensive. We have a plethora of wonderful patterns for children and babies. If nothing here strikes your fancy, don't forget to browse or selection of patterns for children! You can find all of our children's patterns
here (link).
Happy crafting!
---