Before becoming a knitter some 5 or 6 years ago , I did lots of sewing. Although I tend to be FO oriented with my fiber crafting, experimentation solely for the purpose of learning and entertainment is very gratifying. It's a low pressure way to work and has low to no expectation of success (in my world). One of my favorite things to play around with is fabric manipulation. It can be achieved in so many different ways – pleats, ruffles, gathers, godets, smocking, etc etc.  A quilt made up of pleated blocks; ruffles around a neckline; a smocked bodice.
Last time on Weaving Wednesday, I made a scarf that used the technique of felting as a means of gathering. I decided to modify that thought this week, again using felted wool to manipulate the fabric. But instead of one long felted strip, I wanted an all-over gathered effect.
I opted to combine Deluxe Worsted (100% wool) and Deluxe DK Superwash (100% superwash wool). The regular (non-superwash) Deluxe will felt when agitated, the Superwash will not because it has been specially treated. Both Deluxe and DK Superwash are available in So Many colors, that choosing just two was very hard for me! Most folks in the office here know that I'm a total sucker for gray. I almost did go with two shades of gray, but branched out and went with one blue and one gray. Adventurous, right?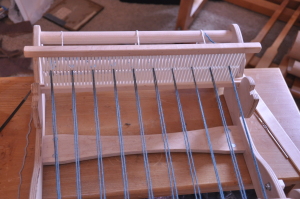 Starting with regular Deluxe Worsted, I did a direct warp on the 15″ Cricket.  I threaded one slot, then skipped 5, and repeated this all the way across ending with one slot threaded. Then I went back and filled in the large gaps with my DK Superwash. The last felted scarf I wove shrunk in length more than I had expected, by almost half! I do like my scarves long, so I went ahead and warped about 130″. I figured about 10″ of loom waste each end, and after shrinkage, I should end up with about a 60″ scarf plus fringe.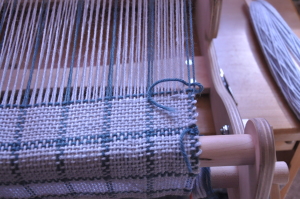 I wove following the same sequence as I warped – 2 picks with Deluxe, 10 picks with DK Superwash. I decided to cut my yarn after every "stripe", although in retrospect this may not have been entirely necessary.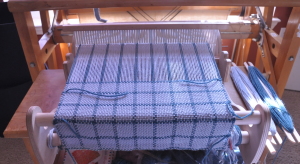 I was sure to alternate sides that I began each color section in order to avoid "stacking". I didn't want all of the color changes to occur on just one side of the scarf. And I made it easy on myself. I didn't measure a thing while weaving, aside from making sure my work was square (same picks per inch as ends per inch). I simply wove until I ran out of warp, and finished off.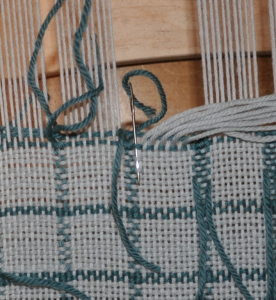 I clipped the non-superwash Deluxe and fed the ends back through the length of the warp for an inch or two. I did this because I knew I would be putting my scarf through at least a cycle or two in the washing machine. Had I not done this, I would most likely have had a big tangled mess where the Deluxe had felted around parts of the DK Superwash.  I also tied the ends of the Superwash in a loose knot along each group of fringe to protect them from unravelling too much in the wash.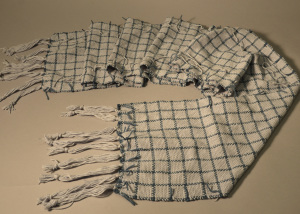 Here it is, off the loom, ends clipped but not fully clipped, all ready for felting! I have a top load machine without a center agitator. I placed the scarf along with a pair of jeans, a couple of towels, and a little other assorted laundry I didn't mind putting through more than one cycle. I started with a delicate cycle, cool water.
There was definitely some felting that happened, but not enough for my taste. If I was smart, I would have continued the delicate wash, checking eveyr 5 minutes or so to make sure the project was felting to my satisfaction. Instead, I started the machine on a regular wash with warm water and threw caution to the wind.  The scarf came out a touch more shrunken than I would have liked, but not by much. I still like it a lot, but I could have opened that washing machine to find a mess. Learn from my mistakes, weavers! Be cautious!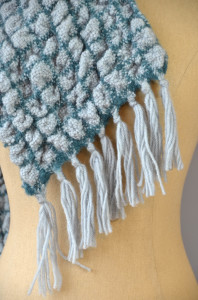 Here's a close-up of the finished fabric. After taking out of the washing machine, I did have to pull apart a few parts of the scarf where it had sort of felted on itself. But this was easy to do as long as it was still damp. I also clipped all the ends close to the surface while it was still wet, trimmed the fringe, and pulled things into shape a bit. After that, I let it dry fully.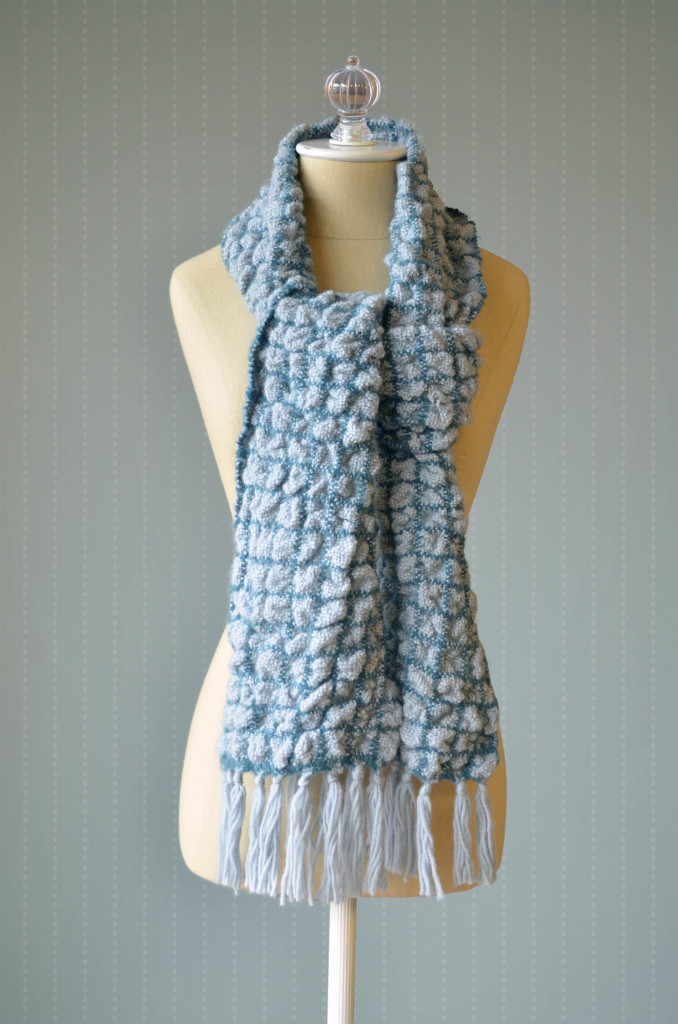 Here it is in its full puckery glory. It has the appearance of seersucker fabric, particularly in these colors. I'm really itching to try variations on this – more contrasting colors, cotton in place of the superwash, larger "grids"; the possibilities are many!
And here are the details for anyone wanting to give this a try:
Length of warp on loom: 130″
Length off loom: 110″
Length after felting: 70″ (not including fringe)
Width on loom: 14″
Width off loom: 13″
Width after felting: 8″
Ends: 110
Ends per inch: 8 (8 dent reed)
Weave structure: plain
Materials: Deluxe Worsted, color 14011 Sea Glass – 1 hank; Deluxe DK Superwash, color 832 Icy Grey – 3 balls
See you next time for a weaving experiment with Bamboo Bloom!