The weather is finally warming up here in North Carolina, but it's still chilly enough to wear our knitting. Thank goodness!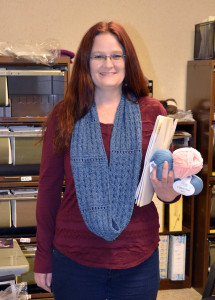 I caught up with Katie as she was filling orders and wrangling paperwork earlier this week. I had glimpsed her in her new cowl and had to try and convince her to let me take a photo for the blog. She was shy but willing!
Katie is donning her version of the Ellery Reversible Cowl in Llamalini. She used color 112 Caspian which looks stunning with her fiery red hair. Llamalini is a favorite with all of us in the office. It's a lovely choice for sweaters. The linen and silk add the most sumptuous earthy feel in combination with the llama, making garments that are breathable and not overly toasty.  But for those of us who aren't ready to commit to a large project, just 3 50-gram hanks will make the lovely cowl above.