Back in the fall of 2013, I designed this openwork cardigan in Deluxe Chunky for knit.wear magazine, an Interweave publication: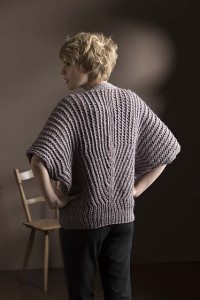 It's called "Kite Cardigan", and takes between 5-10 hanks of Deluxe Chunky. I had a lot of fun with this sweater. It's knit bottom-up in two pieces. There is a bit of shaping involved, but the shape of the cardigan is largely due to directional lace. Done in a bulky yarn, it goes super fast, but because the fabric is so open, it's fairly lightweight.
I am lucky enough to be in possession of my Kite Cardigan again, and can now add it into my rotation of daily sweater wear. It was a little chilly here in Charlotte last week, so I was able to squeeze in one last day of wool-wear for the season.
Yes, my desk is a little messy…I know! We knitters have more important things to do than clean, right?