Have you seen our new ebook, Contrarian Shawls 2 ?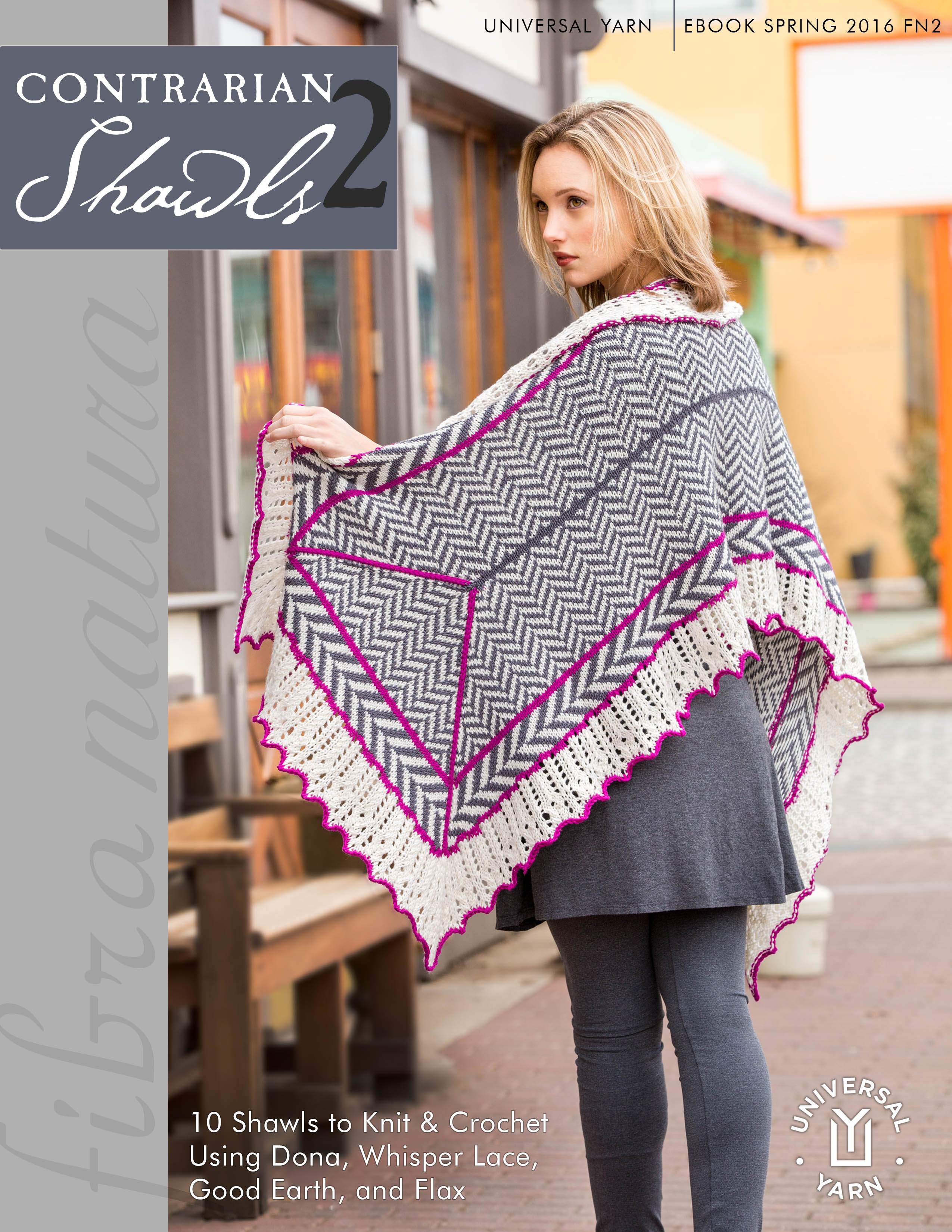 As the cover promises, this collection contains 10 shawl and scarf projects to knit and crochet in some of our Fibra Natura yarns. To be precise, there are 3 crochet and 7 knit projects in this book. All of the patterns are available for download on Ravelry or Craftsy.
This collection is dubbed "contrarian" because each project is a little (or a lot) out of the norm for a shawl project. There are a lot of different shapes and techniques in these shawls, so over the coming weeks and months I'll be delving into many of the specifics of each project. It's time for some skill building!
The first project I'd like to talk about this week is the Delphi Stole, crocheted in our 100% sportweight Pima cotton, Cotton True Sport. This is a lovely and fine cotton yarn. This stole requires only 6 balls, making it quite an affordable project.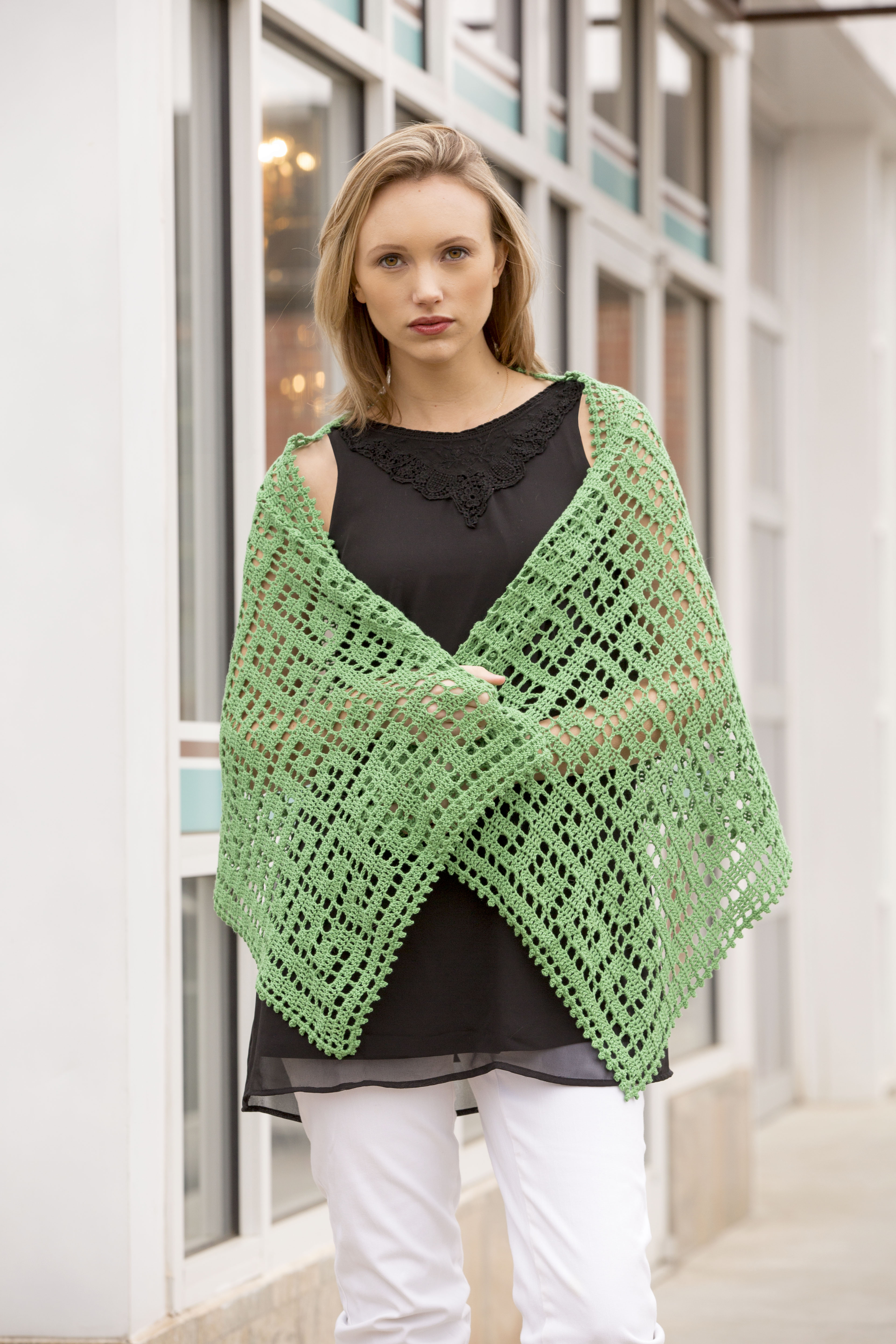 Filet crochet consists of double crochet and chain spaces – it's as simple as that. Even if you're not a very confident crocheter, I'm confident this is something you can do!
Here is a small example of what the filet chart looks like in the pattern: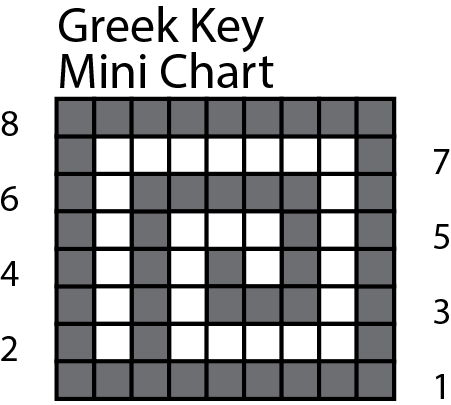 This doesn't look like most crochet charts that typically have crochet symbols on them. Because filet crochet is really just "Solid" squares and "Empty" squares, a grid like this tends to make more visual sense. A Solid square represents 3 double crochets, while an Empty square represents chain 2 + double crochet.
Here is what this same chart looks like done in a traditional crochet charted style: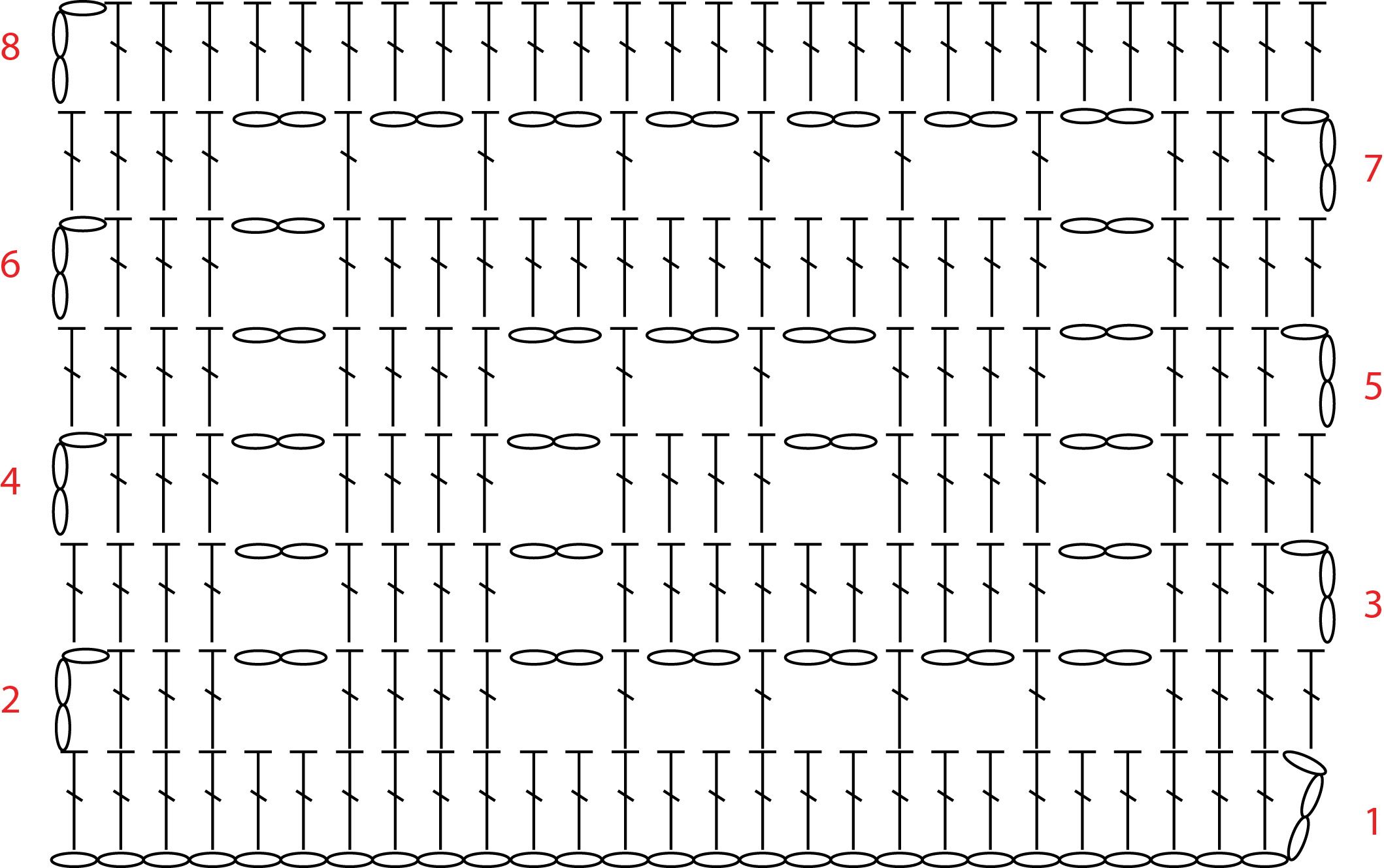 A row in a filet crochet pattern is typically a multiple of 3 stitches plus 1. The chain 3 at the beginning of the row counts as the "plus 1", and then each Solid and Empty square uses 3 stitches.
For a Solid Square worked on top of another Solid square, simply work 1 double crochet into each of the next 3 double crochets. If it's worked on top of an Empty Square, work 2 double crochets in the chain-2 space, double crochet in the next double crochet.
For an Empty Square worked on top of a Solid square, chain 2, skip the next 2 double crochets, and then double crochet in the next double crochet. If worked on top of another Empty Square, chain 2, skip the chain-2 space, double crochet in the next double crochet.
Let's see our little mini-chart in action. If you'd like to follow along for practice, chain 30. For Row 1, double crochet in the fourth chain from the hook and each chain across, turn – 28 double crochets. Those first 3 chains count as a double crochet.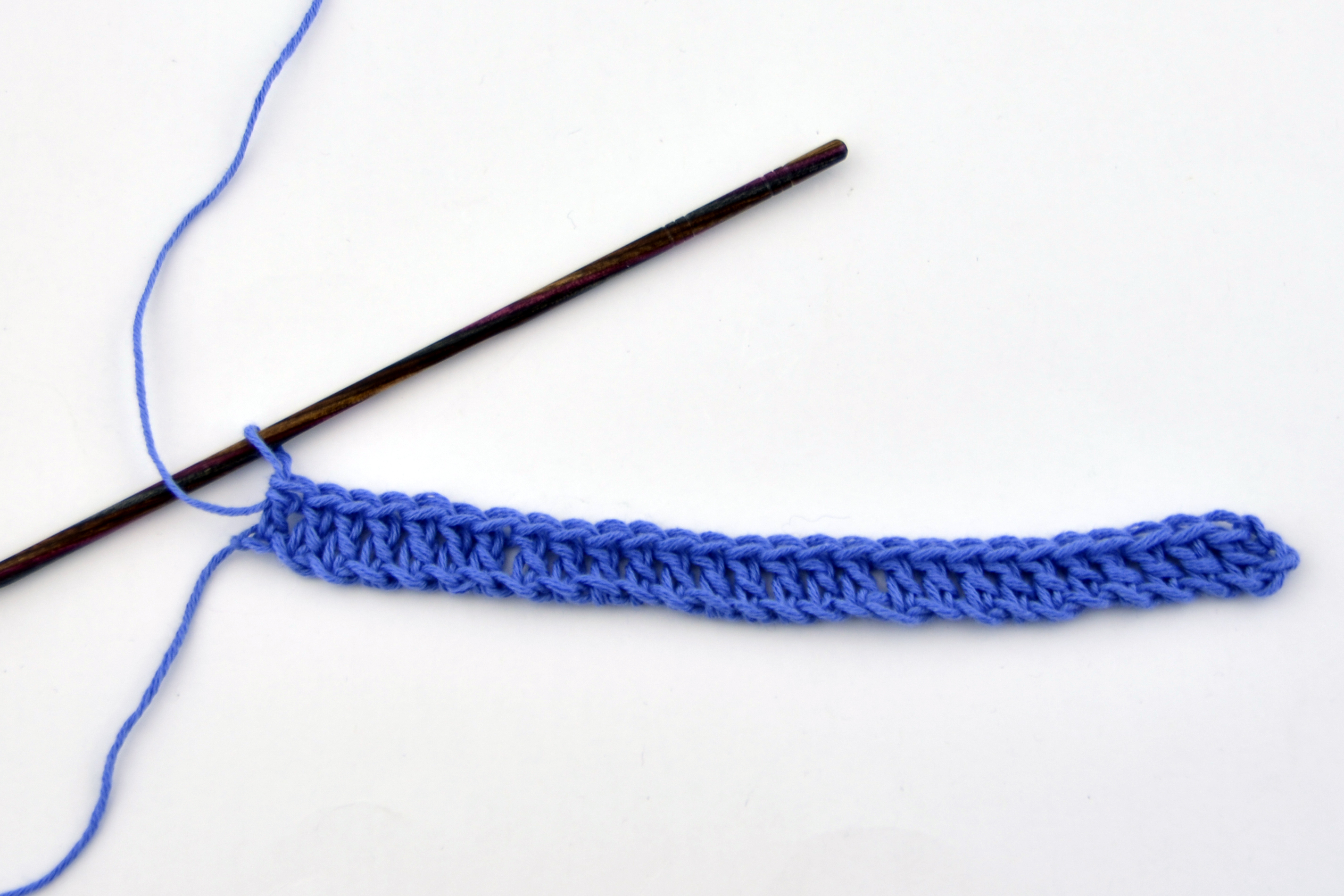 On the next row, chain 3 (counts as double crochet), double crochet in the next 3 double crochet (1 Solid square made), chain 2, skip next 2 double crochet, double crochet in next double crochet (1 Empty square made), and so forth.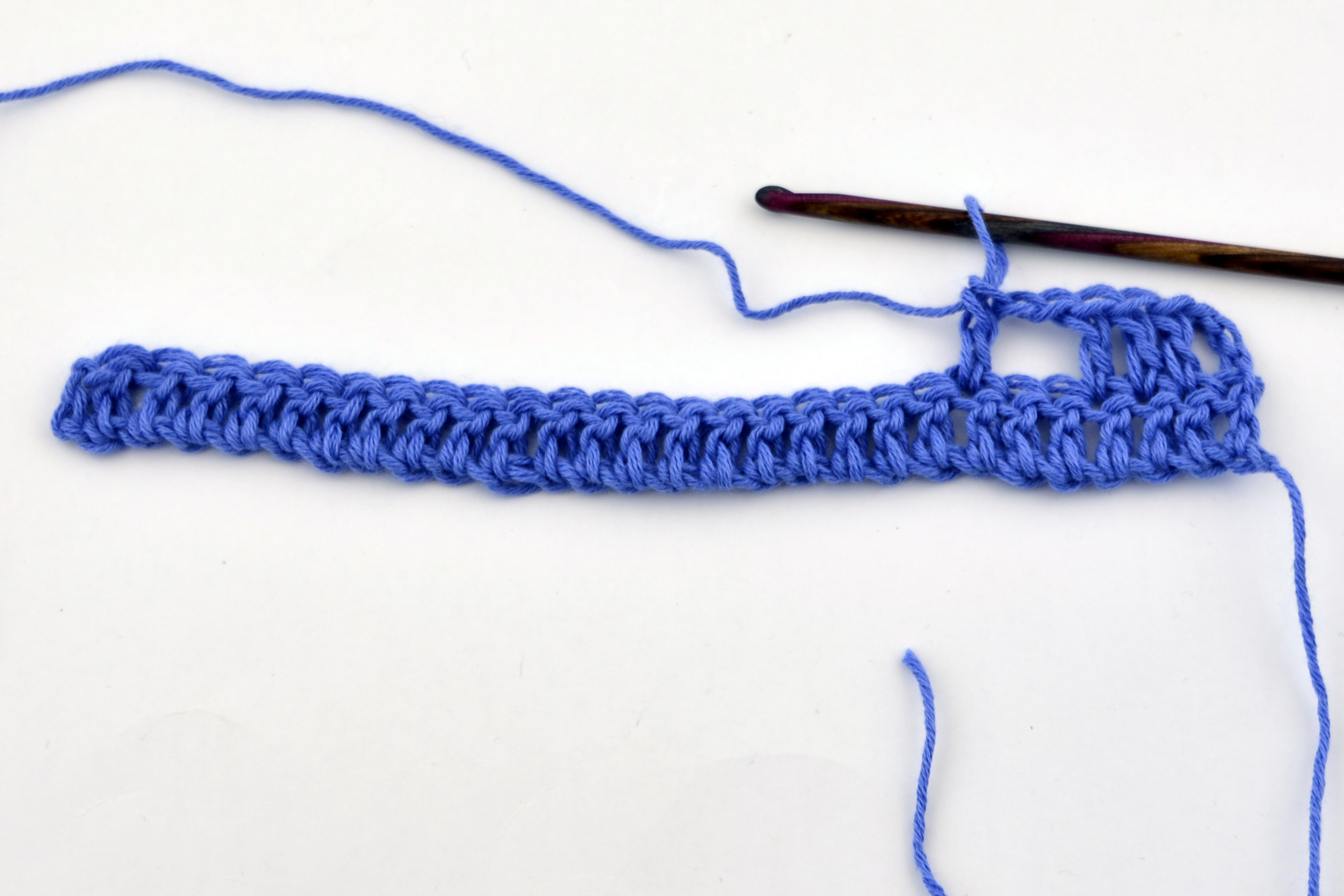 The finished swatch: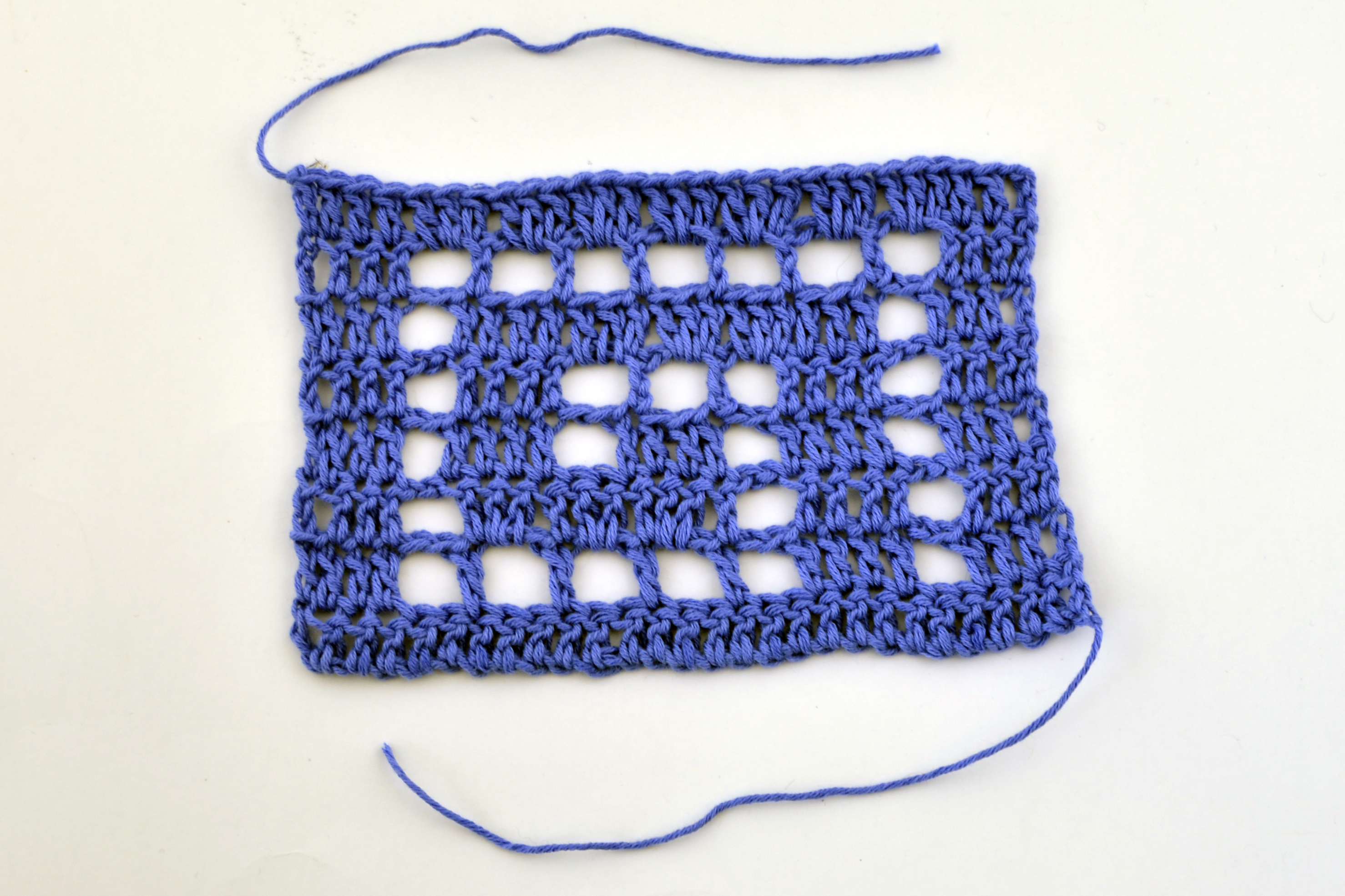 One little trick I've come up with when following a filet chart, is to be able to count the number of double crochets in a long strip of Solid squares at a glance. I find it helps me to keep track of my place more easily without having to constantly consult the chart. If I look at the chart and see, for example, 7 solid squares in a row, I know I will be working 22 double crochets in that spot (7 x 3 dc each + 1). If there are 5 solid squares in a row, I'll be working 16 double crochets in that spot (5 x 3 dc each + 1). And so on.
I'll get back to this same swatch and project next week where we'll be talking about how to add an edging to this shawl.