It's been a labor of love, and I'm pleased to say that our Deluxe Cable Collection ebook is now live!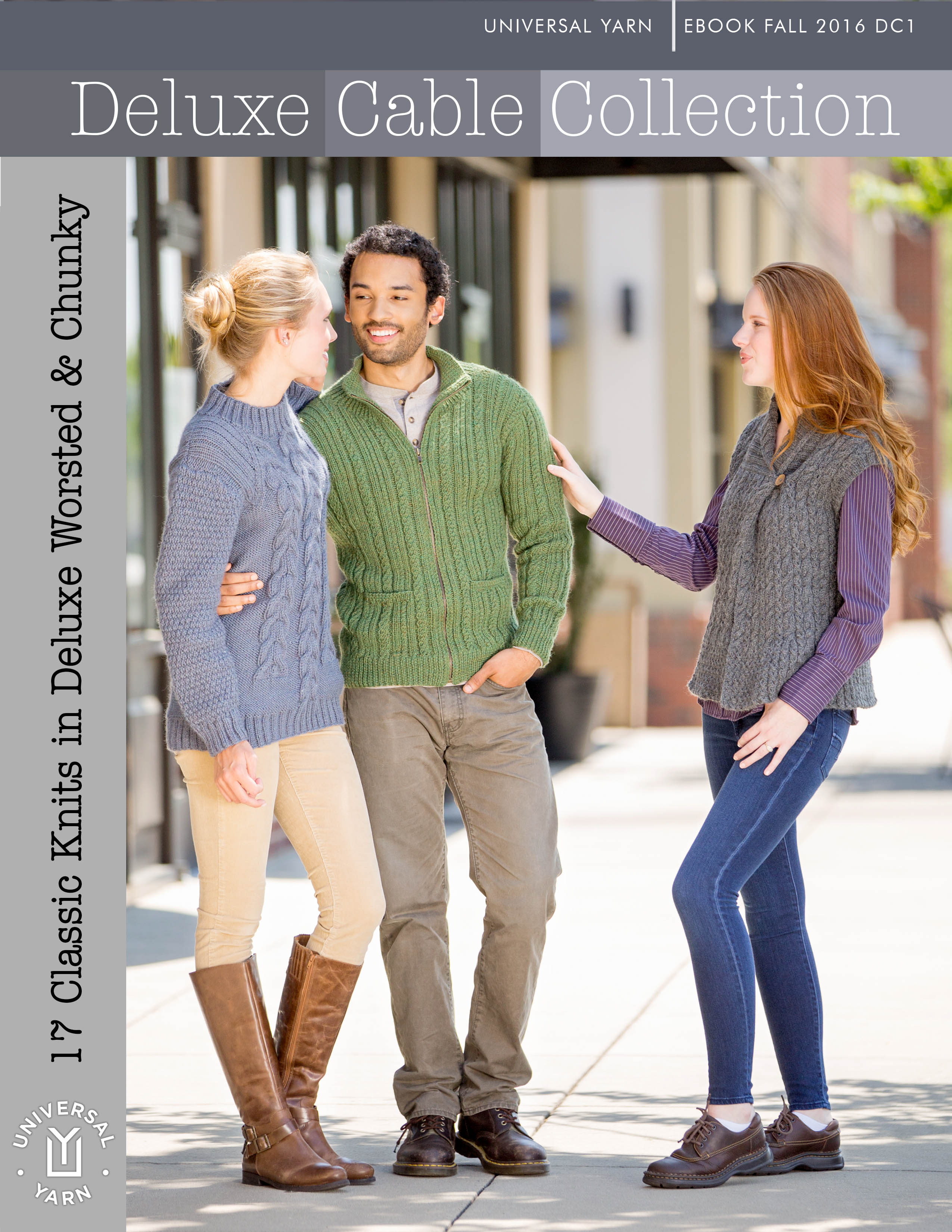 This digital collection features a 17 projects all made in either Deluxe Chunky and Deluxe Worsted. Let me introduce you to them! All details of the knitalong will be at the end of this post.
Let's start with accessories. First, we have Dilworth Shawl, knit up with 4 hanks of Deluxe Worsted 13111 Russet. Though there are a few 3-stitch crosses that call for use of a cable needle, if you're comfortable cabling without a needle, it would be easy enough to do so. All other crossed stitches are worked using right and left twists. It's knit from the top down into a crescent shaped, and is finished off with a sweet picot bind-off.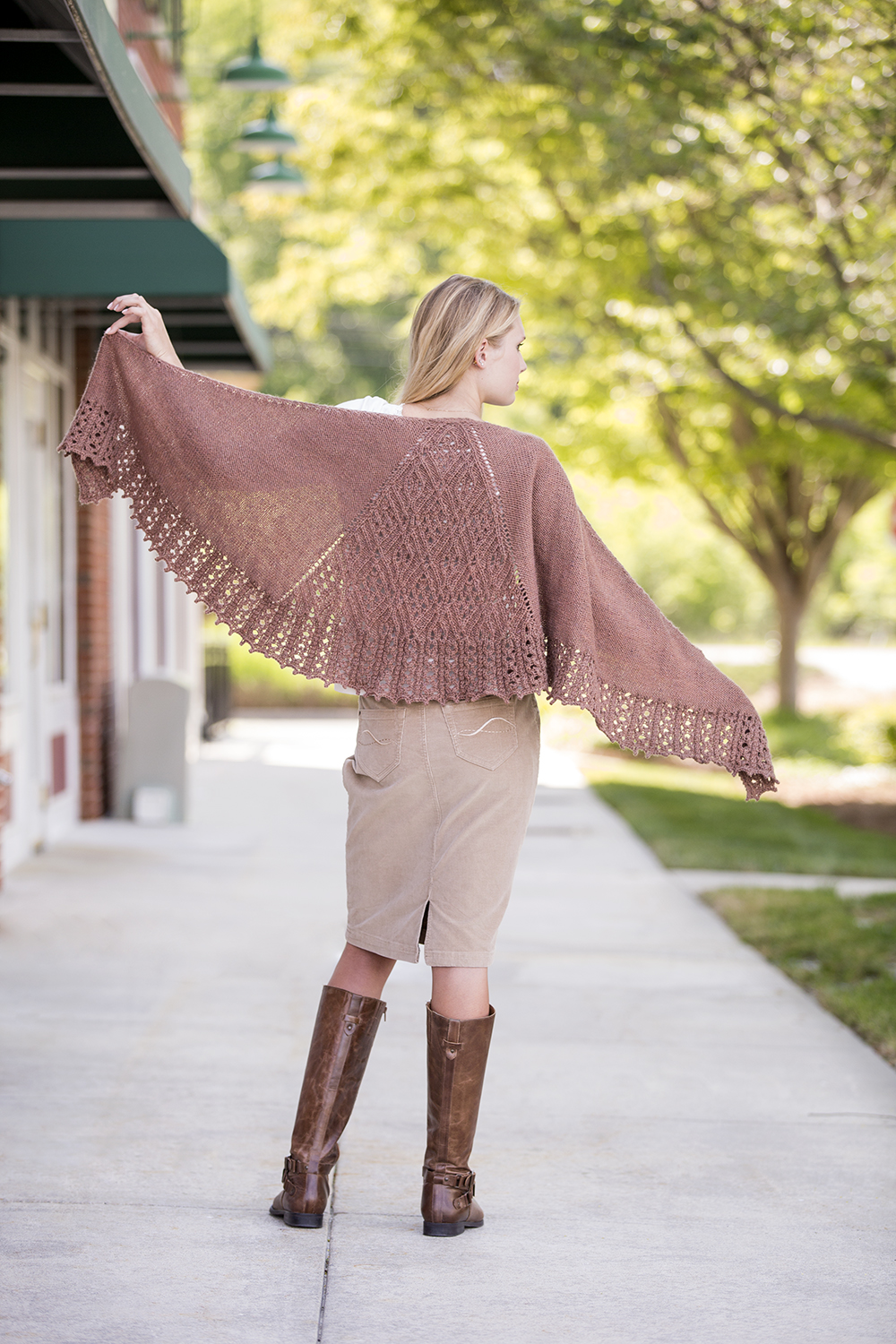 Next, we have a couple of hats. The Rutherford Beret in Deluxe Chunky and Cold Mountain Hat in Deluxe Worsted. Both hats take just 1 hank each.
There are a few of us here in the office making hats. Angie in customer service is a newer knitter, and is going to take this opportunity to learn how to do cables for the first time on Cold Mountain. Exciting! Social media guru, Heather, is planning a 2-color version of Cold Mountain, and I'm planning a 2-color version of Rutherford.
Tillery Socks round out the group of accessories for the ebook. Knit from the top down, this is another crossed-stitch pattern that doesn't require a cable needle. The pair takes 1-2 hanks, depending on foot size. Heather is also planning on knitting a pair.
There are also several projects designed for men. We have the Chapel Hill Vest, featuring a super fun cable down the front while keeping things a little simpler in the back:
The Greensboro Cardigan in Deluxe Worsted is flattering with its all-over vertical lines of twisted cables and rib, yet ultra practical with a zipped front and pockets. Our graphic designer, Jannie plans on getting her feet wet with cables on this project. She's chosen to use Deluxe Worsted Tweed Superwash, as the gauge is the same as regular Deluxe Worsted. This is a sweater that could easily be worn by men or women.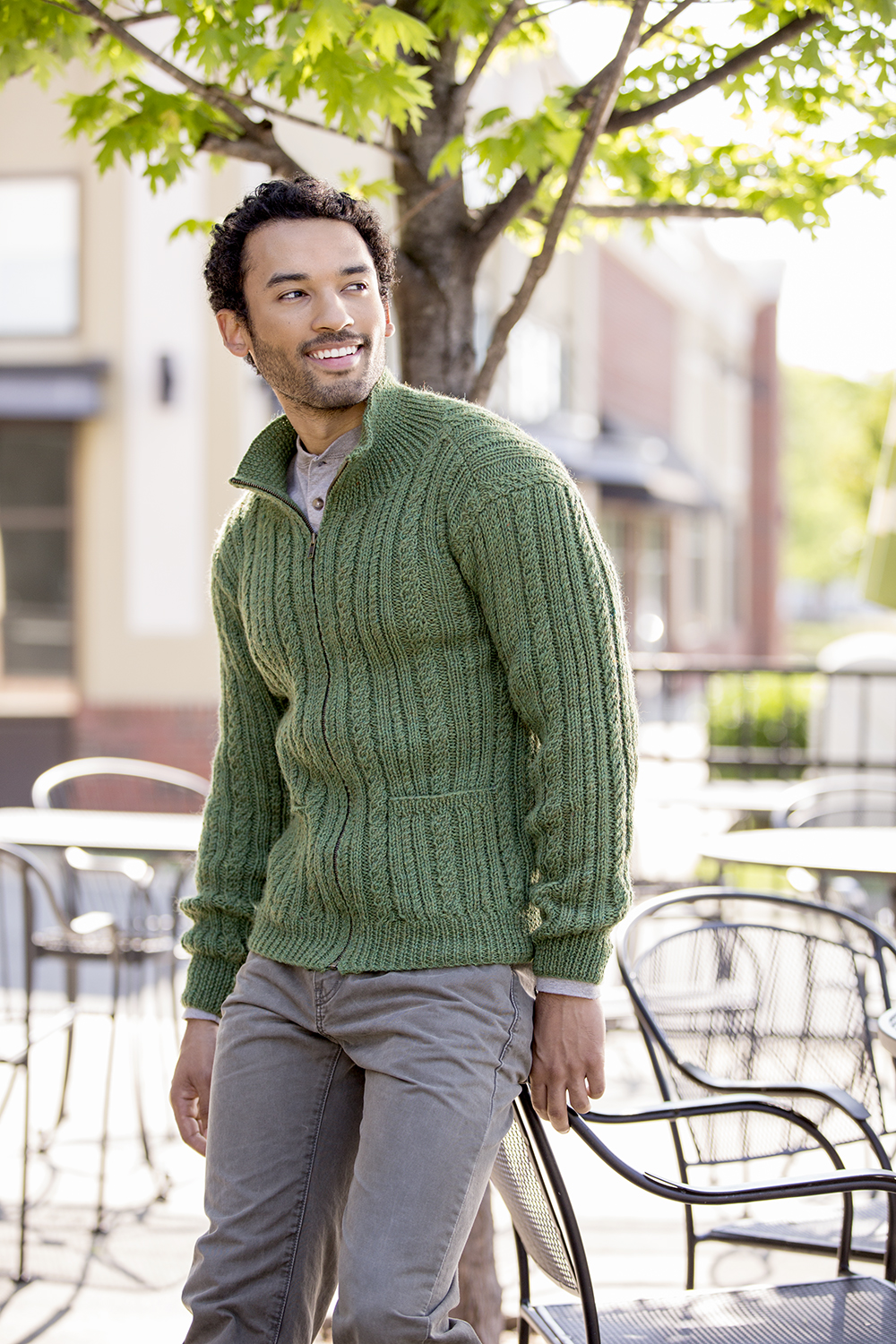 Wesley Heights rounds out our pieces designed for men. A sampler of sorts, this is yet another piece from the collection that doesn't require the use of a cable needle. I've been having a really hard time making up my mind on my knitalong pick! But I've finally decided that I am going to knit Wesley Heights, but modify it to have a zipped front and standing collar like Greensboro.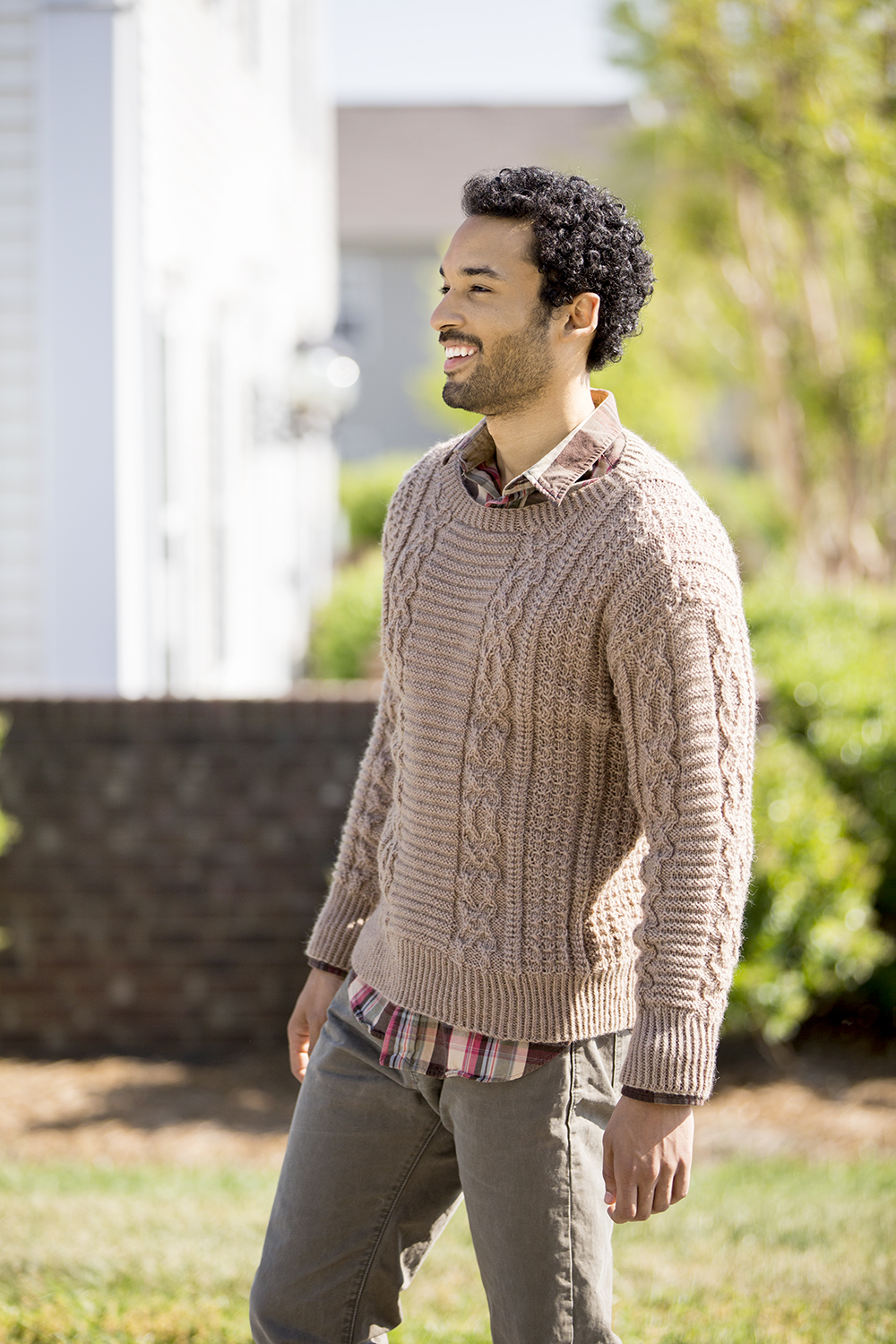 There are lots of sweaters for women to choose from in this collection! First, we have Ashwood Run in Deluxe Worsted. This is sort of a poncho-raglan pullover hybrid, a really fun shape. It's knit seamlessly from the top down, and has a knit-on cabled border along the curved hem. Hattie (here in the office) asked her daughter to pick out a project from the ebook. To Hattie's surprise, her daughter chose Ashwood Run, the same sweater Hattie wanted to knit for herself. Apparently they almost never agree on anything!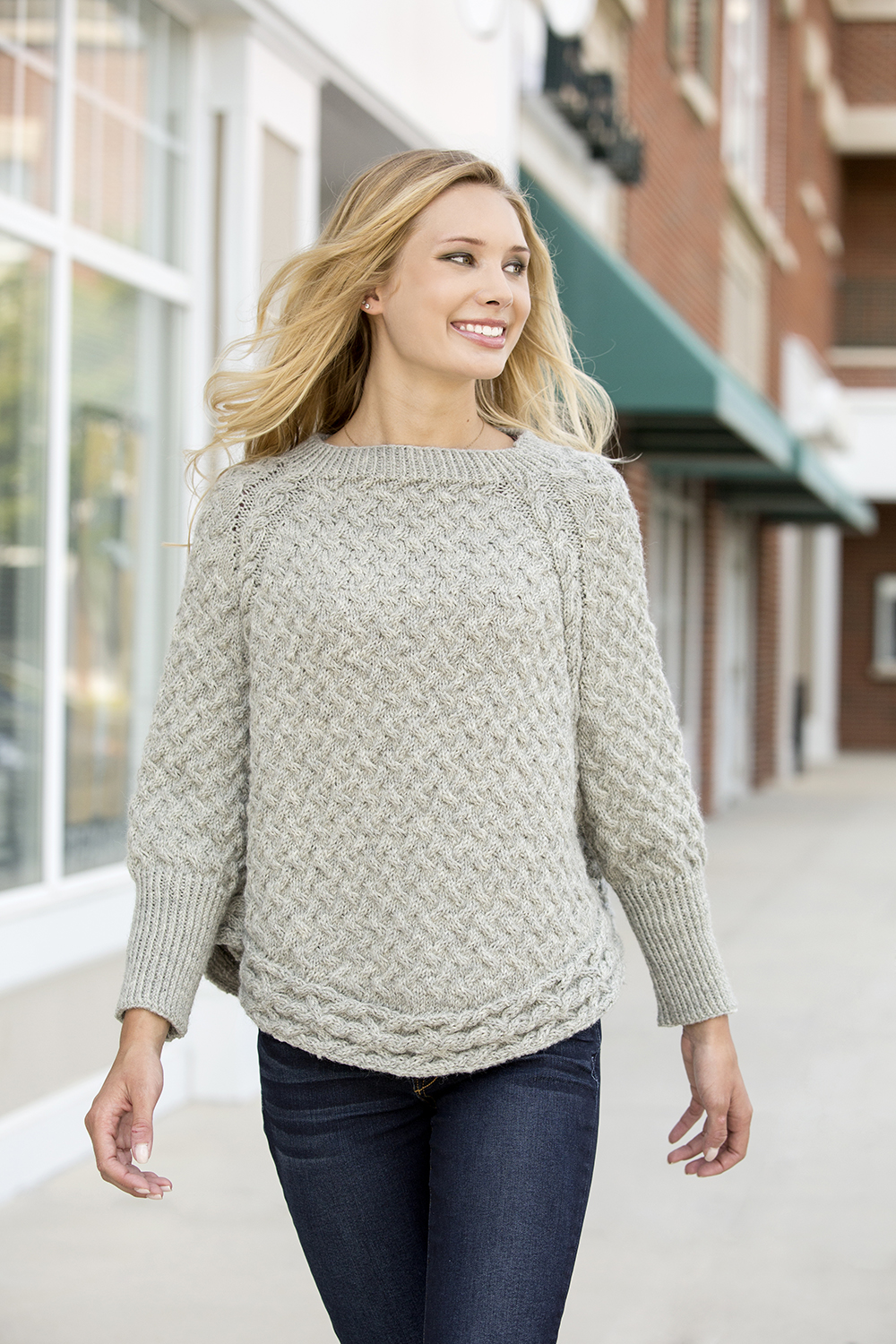 Then we have Hickory Grove Cardigan and Hickory Grove Pullover, both in Deluxe Worsted. Both sweaters feature traveling lines of twisted stitches, welting, and small cable details.
Cold Mountain Pullover incorporates the same stitch patterns as Cold Mountain Hat above. The lace sleeves and sides allow for a little extra ventilation in an otherwise cozy-warm wool sweater.
Tallulah Cardigan is a relatively quick knit in Deluxe Chunky. It has set-in pockets, shawl collar, and an intriguing lattice of twisted stitches. No cable needle required on this one. If I can manage to finish both my Rutherford Beret and modified Wesley Heights, I think I'm going to need my own Tallulah in gray.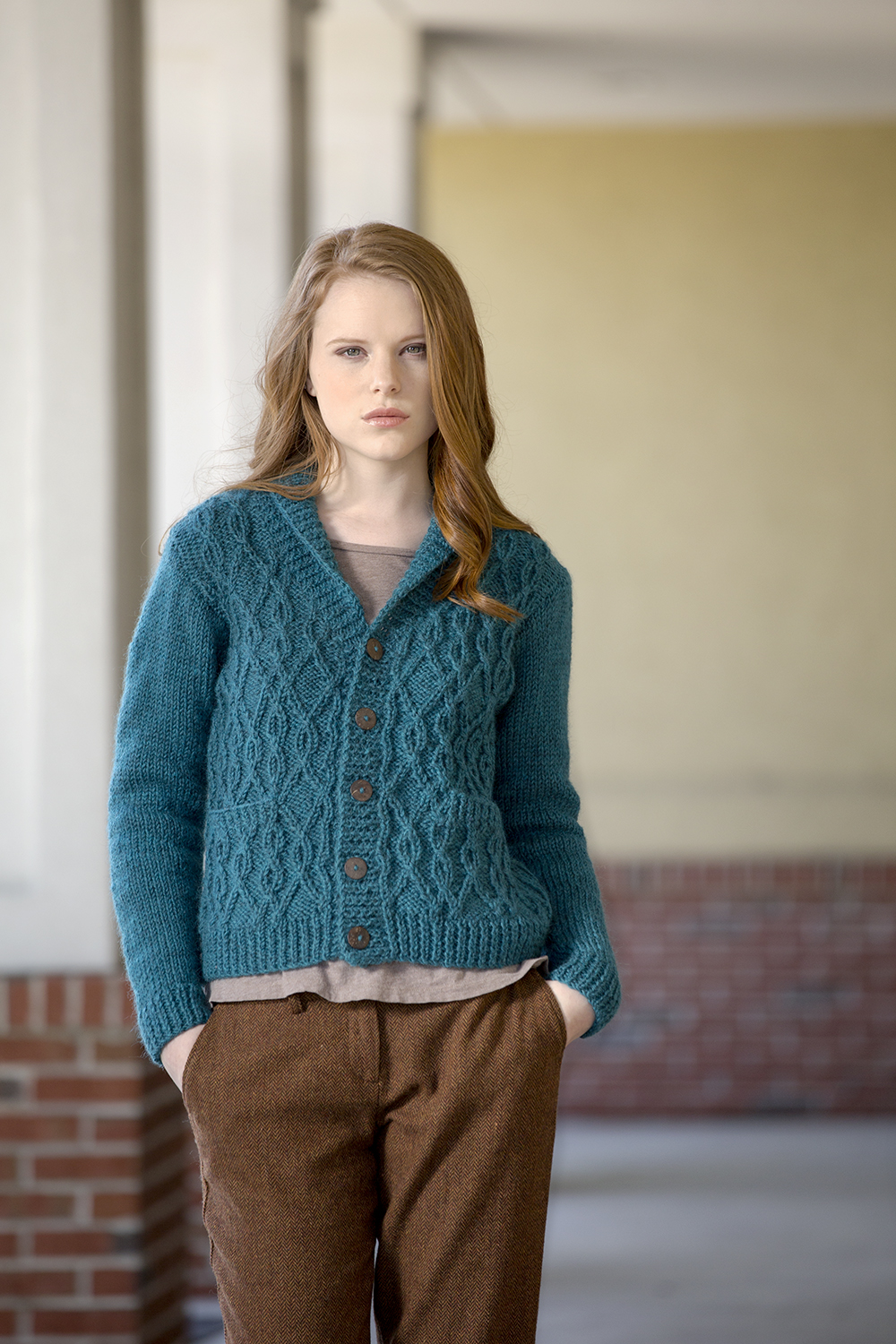 Jen in accounting has already picked her color for Ballantyne Tee – 22285 Cactus. This is another quick knit with Deluxe Chunky. It makes a great layering piece for those of us who get too hot wearing wool with long sleeves. The feminine cable panel seen on the front also runs up the back. A rolled stockinette collar finishes things off.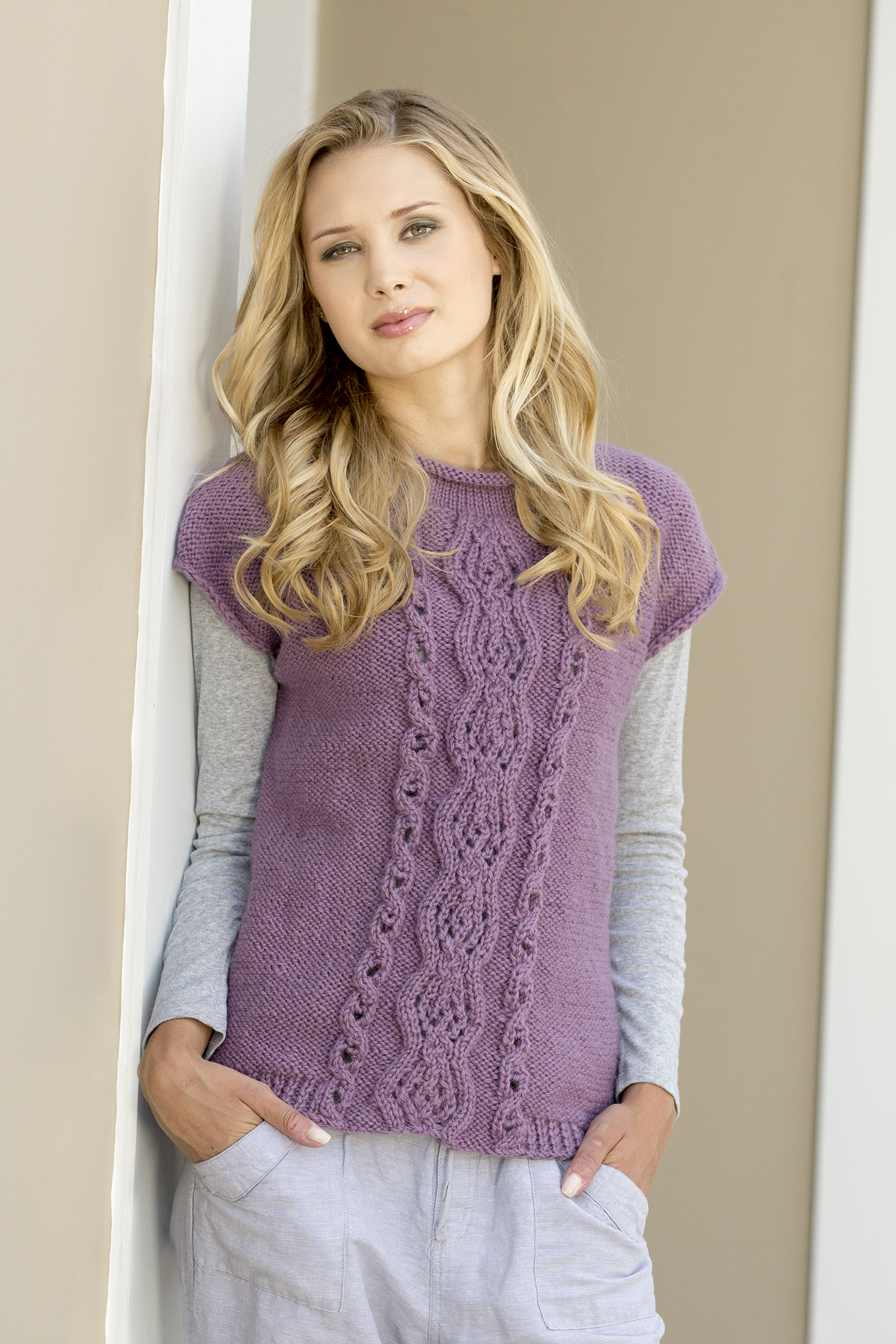 Eastover Vest in Deluxe Worsted provides another great short-sleeved option in this collection. The fronts overlap for several inches across the bust and close with a single button. The lower eyelet ribbing provides the slightest "flounce", giving this vest a bit of a girly feel. Our new designer Tori has chosen to knit this piece in 13104 Slate. There are lots of gray lovers here in the office!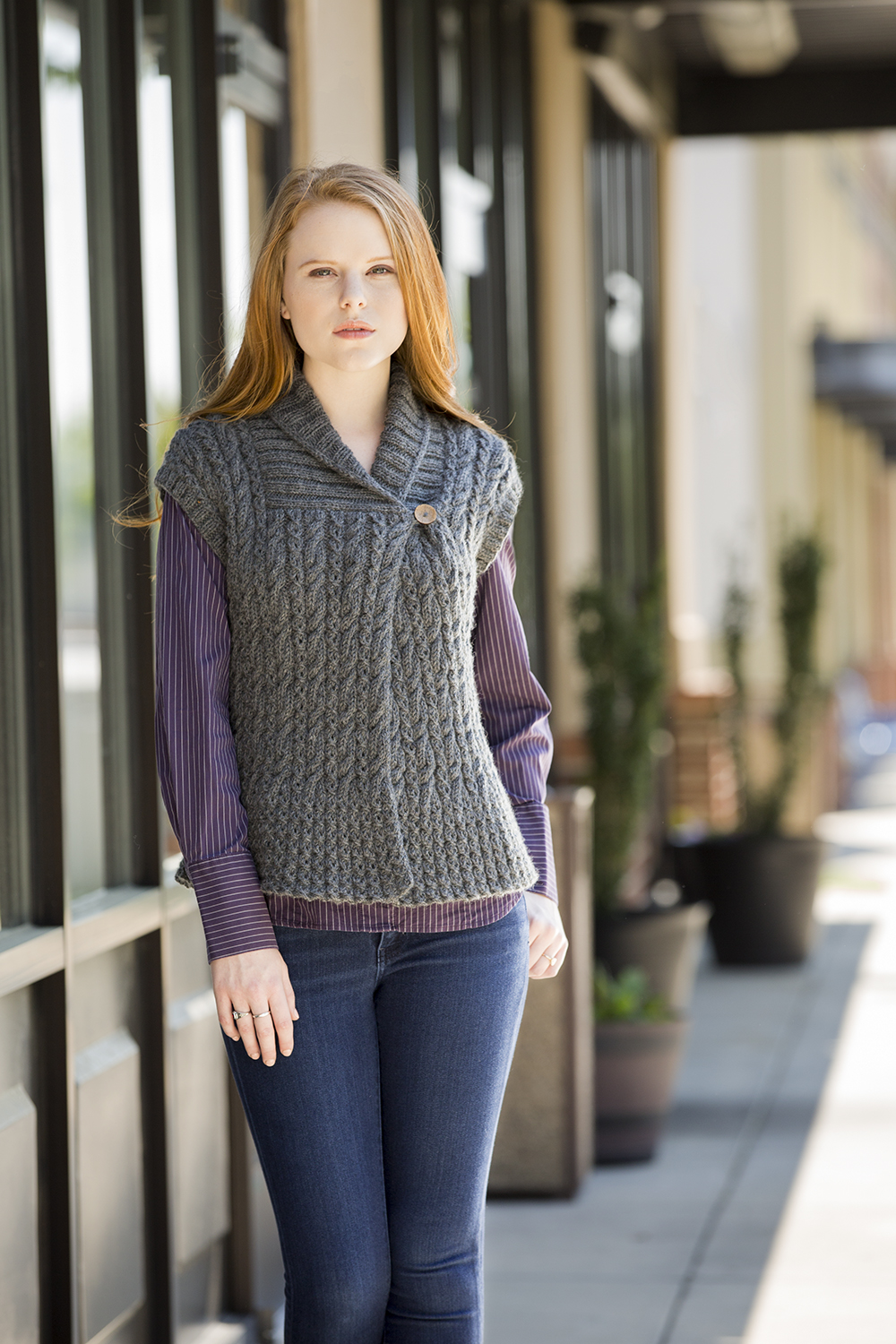 Mount Mitchell Tunic features 3 bold cables along front and back. Slanting lines give the appearance of raglan sleeves, but this sweater actually has set-in sleeves. Another fairly quick knit in Deluxe Chunky.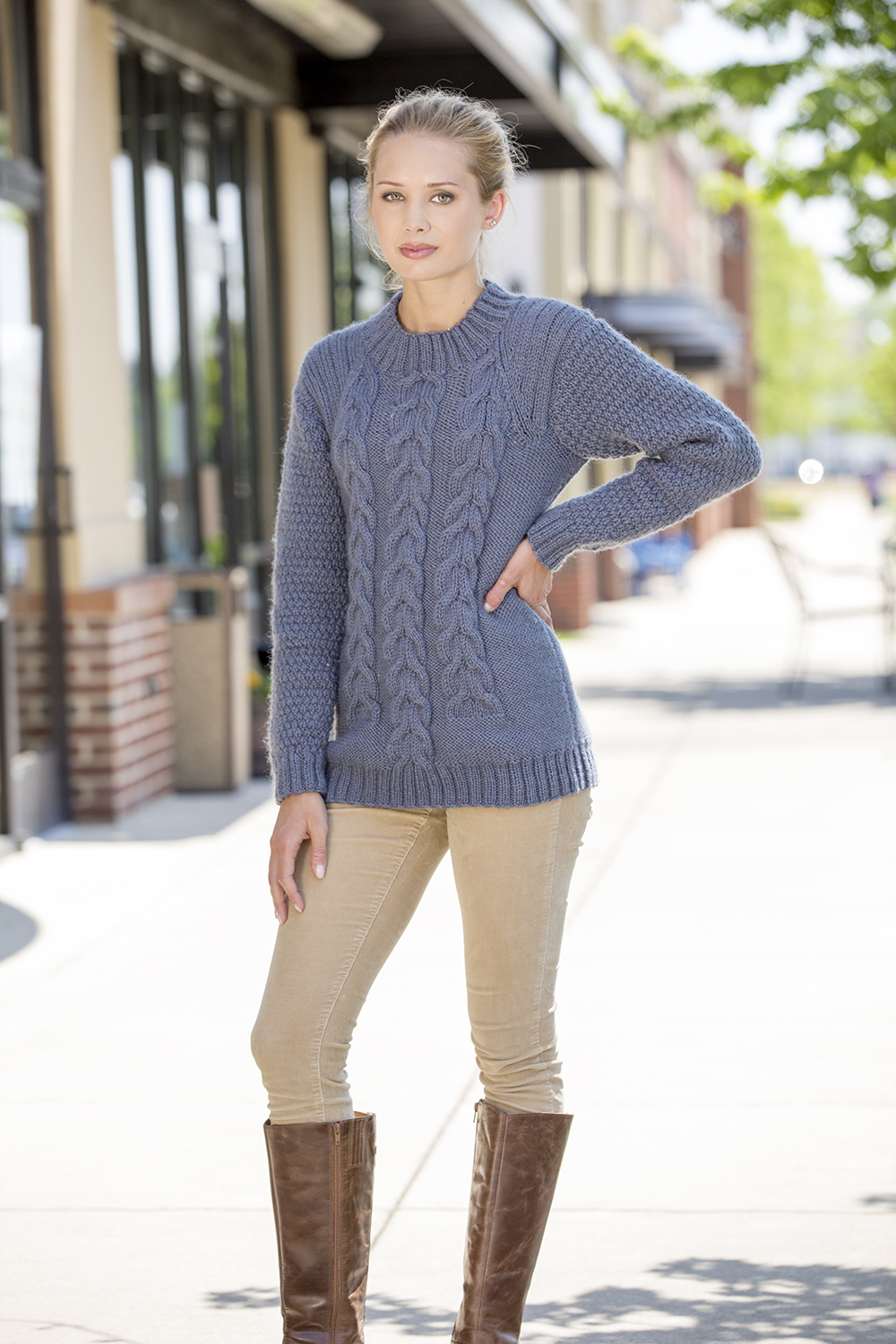 To round out the collection, we have a couple of ponchos. First up is the Cumberland Poncho knit in Deluxe Worsted. This is a one-size-fits-most garment, formed of two identical rectangles. Celtic looking cables are worked using right and left twists – another cabled project that doesn't require a cable needle!
It can be worn with the points in front and back, or set off-center. Our sales manager, Yonca has slated this as her knitalong project.
The Catawba River Poncho in Deluxe Chunky has a different construction than Cumberland. Front and back pieces are knit from the bottom up and joined at the shoulders. The collar is worked separately and sewn to the body. It's a flattering, easy to wear piece with rich texture. This one was also on my short-list for the knitalong! Katie, our customer service lead plans on tackling this project. I think I'm going to be so jealous of her poncho that I might have to make this one, too.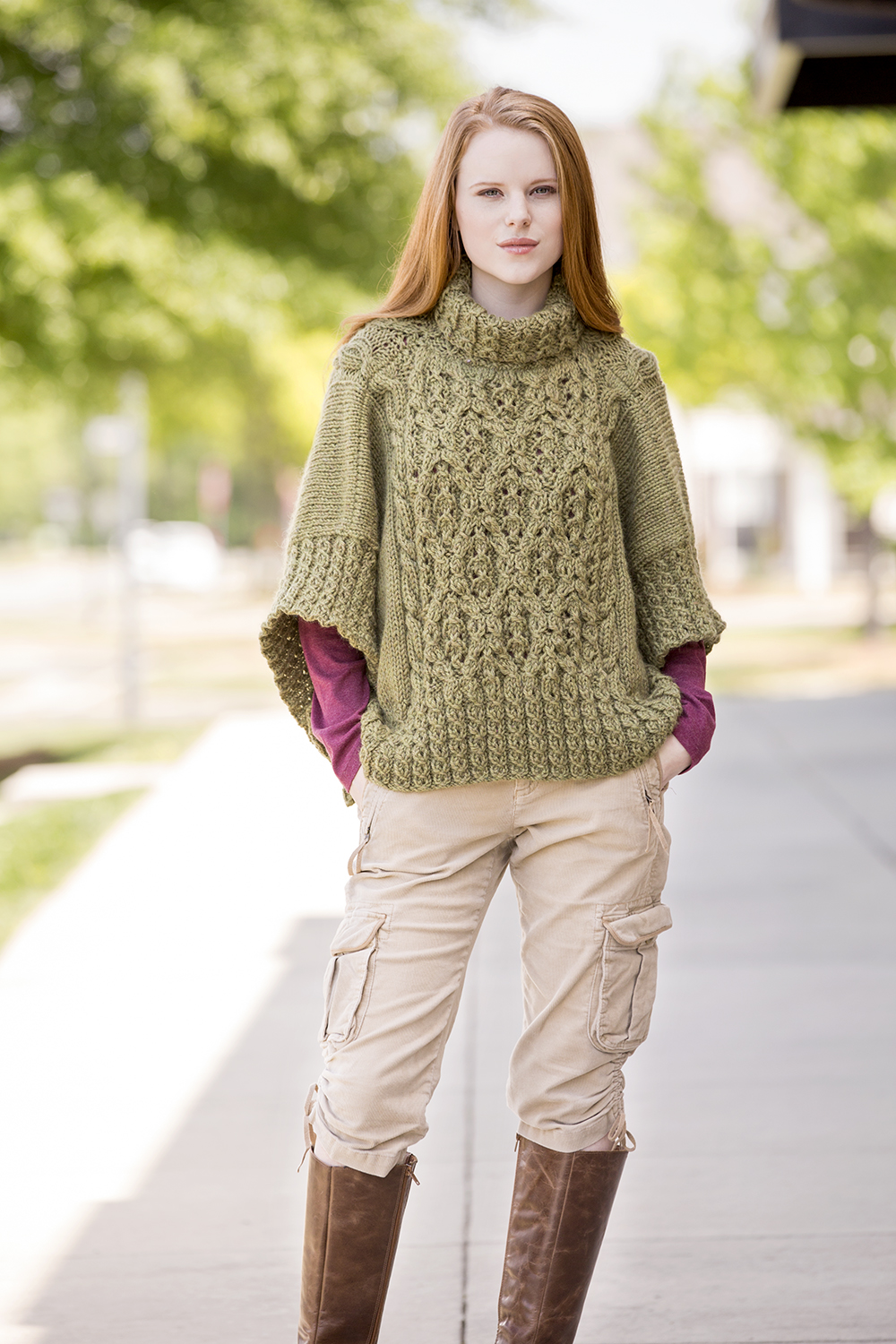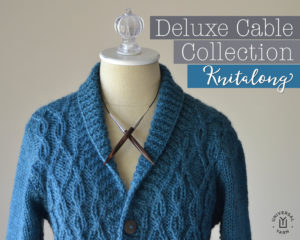 The plan for our official Deluxe Cable Collection Knitalong is pretty simple. To participate, all you have to do is:
Pick any project from the Deluxe Cable Collection (some of us here in the office can't choose, so we'll be knitting more than one!)
Decide on your yarn/color. Any of the projects that call for Deluxe Worsted could easily be substituted with Deluxe Worsted Superwash or Deluxe Worsted Tweed Superwash.
Join in either here on the blog (you can subscribe on the home page of the blog, upper right-hand of your screen) , or over on Ravelry. (link to Deluxe Cable Collection knitalong thread on Ravelry) I'd love to hear from you – what you're thinking about knitting, in-progress photos, etc. Even if you're shy, come by and say hi!
I'll be updating our Ravelry thread and checking in frequently. I'll also be posting here on the blog with in-progress photos from my projects and other folks' projects here in the office. I'll have helpful tips, photo-tutorials, videos, and I'll be available for any questions you might have about your own project. It's going to be so much fun!
The official launch of the knitalong will be Tuesday, August 9th. Grab your needles, pick your color, and get ready to cable!